Since you now have an ATV or Side by Side you might be wondering what kind of accessories you might need? This stuff can slip your mind when you're in the middle of getting an off-road vehicle.
We have compiled a list of all the options I and my customers have run into when out trail riding or even for daily use with their ATV or Side by Side.
Winch is #1
You got to have a winch (Amazon Link Ad). A winch will get you out of that stuck spot or get your buddy out of his stuck spot. Winches have come down in price and are usually easy to install. Sometimes you'll need to go to your manufacturer to see if you need a special bracket.
Don't forget the Mounting Plate.
Cooler
A good place to keep the beverages and food. There are many types of coolers but the Yeti coolers are great. (Amazon Link Ad)
Gear
It's also very wise to have a good helmet (Amazon Link Ad) and riding gear. You'll need a set of Goggles (Amazon Link Ad), Gloves (Amazon Link Ad),  and a good dusk mask (Amazon Link Ad) for dusty riding conditions. The best bet is to go to your local dealer or gear shop to pick out the gear that fits you and your riding style.
Dry Box
You'll need a place to keep your phone and wallets dry. If you're not getting dirty or muddy then you're not riding. A Dry Box like this one (Amazon Link Ad) works great for keeping your stuff dry and clean when you ride.
12 Volt Air Pump
Having a flat tire can end a trip real quick. I always carry a 12-volt air pump (Amazon Link Ad) and even a patch kit (Amazon Link Ad) when I go out riding. Just one sharp rock or even a torn can quickly deflate your tire. Also, it's easy to forget to pump up your own tires once you left the house so having a pump works out great for you and all the people you ride with.
Strap It All Down
One of the best things to have when hauling items on your ATV or Side By Side is a cargo net.  (Amazon Link Ad)Sometimes you can get away with the cheaper option of bungee cords (Amazon Link Ad), but cargo-net works so much better.
The cargo net allows you to drape it over the items you're hauling around while making sure it stays in place. Sometimes ratchet straps can overdo it for smaller items which makes cargo nets the best option for smaller loose items.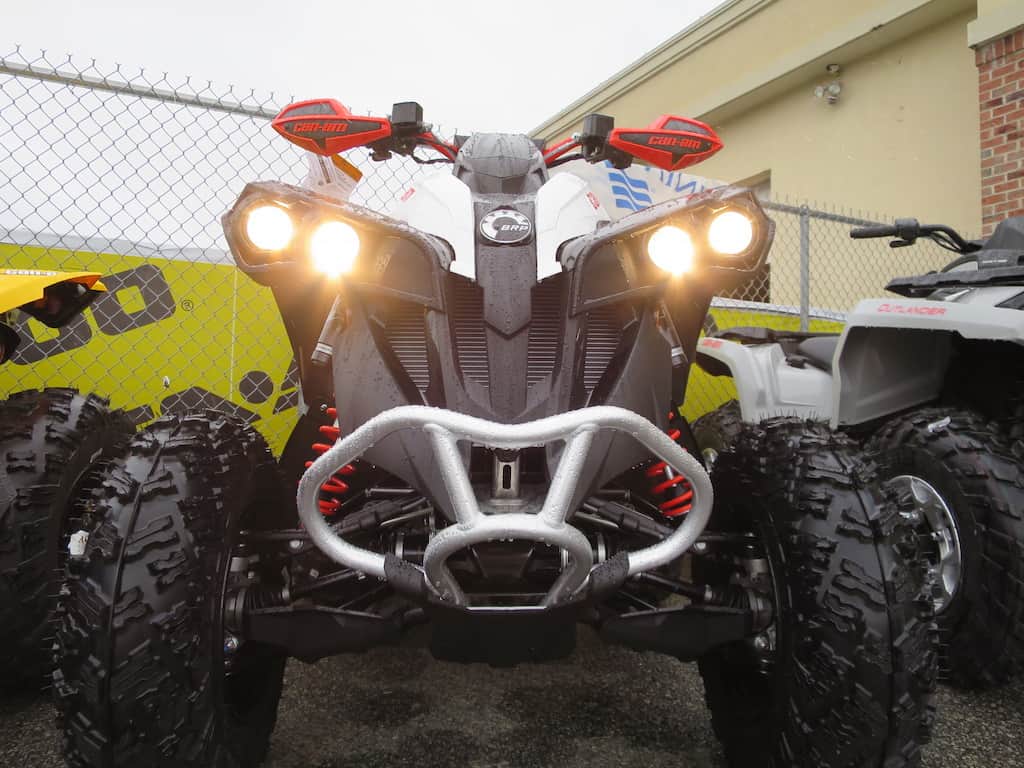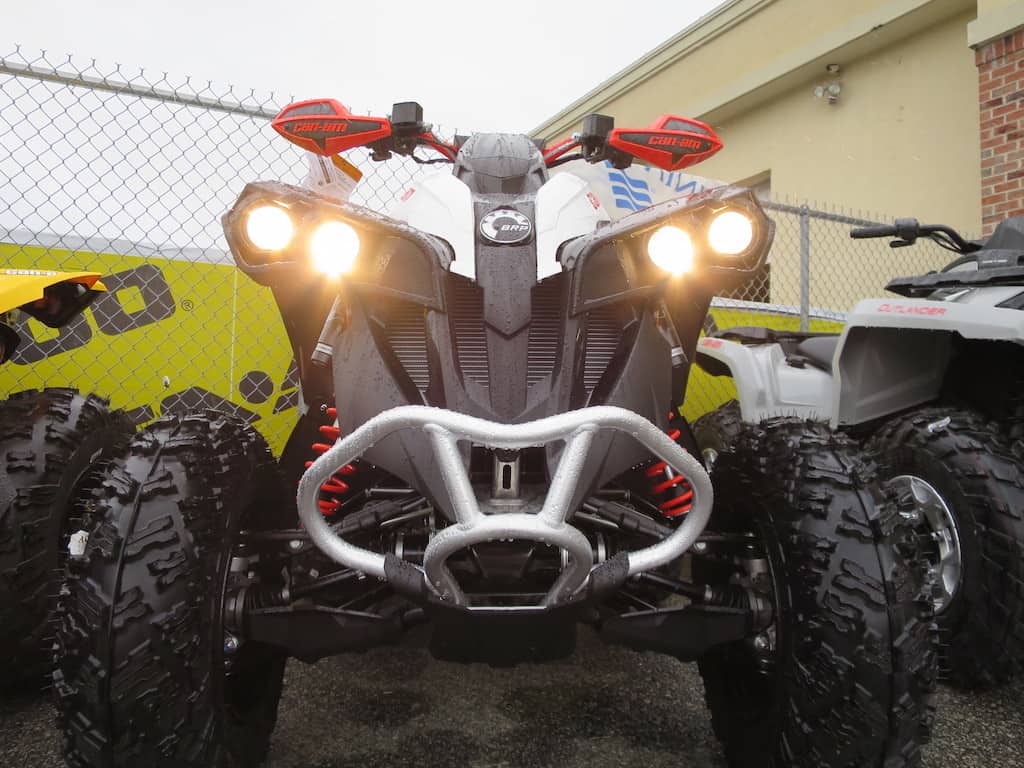 Music in the Woods
Having music on your ATV used to be a difficult and involved process. It used to be a hassle especially if you wanted it to look good. But now we have companies making speaker systems for ATV and Side By Sides like crazy. The best part is that they actually look good. Here is one I use for my ATV since it was so easy to install.  (Amazon Link Ad)
Rear Storage
With all the accessories needed for an ATV or Side by Side, you'll need somewhere to place it all. If you want it to last and really handle the rougher areas then you'll need a box like this one (Amazon Link Ad).
These boxes are usually super simple to install. Check with your manufactures to see if they offer a box. I know Can-AM has boxes that install in literally 3 seconds.
Emergency
It's a really smart idea to carry around some emergency supplies. I always have this emergency kit (Amazon Link Ad)on my machine at all times. It has everything I would need in an emergency situation. Plus it in a small dry pack so it doesn't take up much room.
Also, it's smart to carry a full-on First Aid Kit (Amazon Link Ad).
But I don't stop there. A wise old man once told me to always carry a knife. I have one knife for cutting trees (Amazon Link Ad) and another for general purposes like this one (Amazon Link Ad). I'm the kind of guy where you can never have too many types of knives.
As silly as it may sound I also carry some Duct Tape and even some Zip Ties.
Let's not forget to carry plenty of water when we go riding. The heat from the engine and those hot days can really make you thirsty.
There have been times when I've run out of water, but one of my riding buddies had one of these straws that purify the water (Amazon Link Ad).
Also, learn to carry some extra rags like this style (Amazon Link Ad). The wife loves it and it's one of the things you forget about but it's nice to have.
Many of you may already have a flashlight you carry anyways but this is one I bought and it was stupid cheap. It's probably the brightest flashlight I ever own too.
Having two-way radio may seem a little redundant since everyone has a cell phone, but the places I go there is no cell phone reception. Everyone I ride with have a two way radio like this one which we use to stay in constant contact.  (Amazon Link Ad)
I also carry a Spare Fuel Pack, at least 2 gallons (Amazon Link Ad), just in case. Running out of fuel means that either you'll need to be towed back which consumes the fuel of the machine that pulls you back faster or you're walking. If you have to walk back then the chances of your ATV being stolen go up, because the criminals carry extra gas for this type of situation.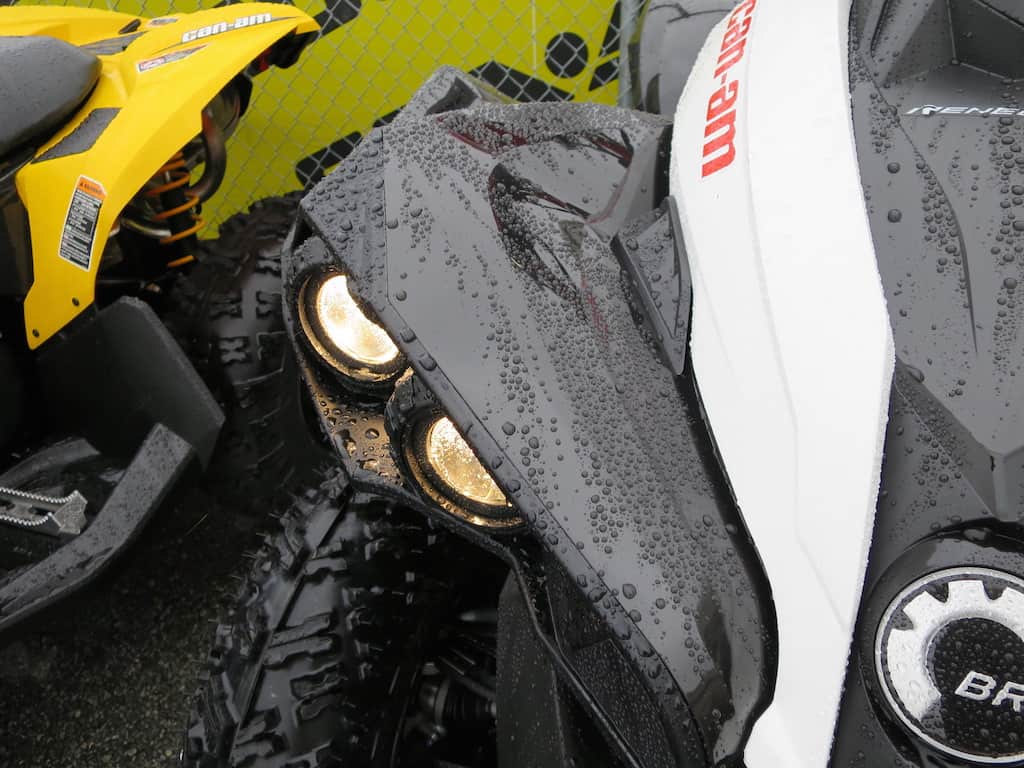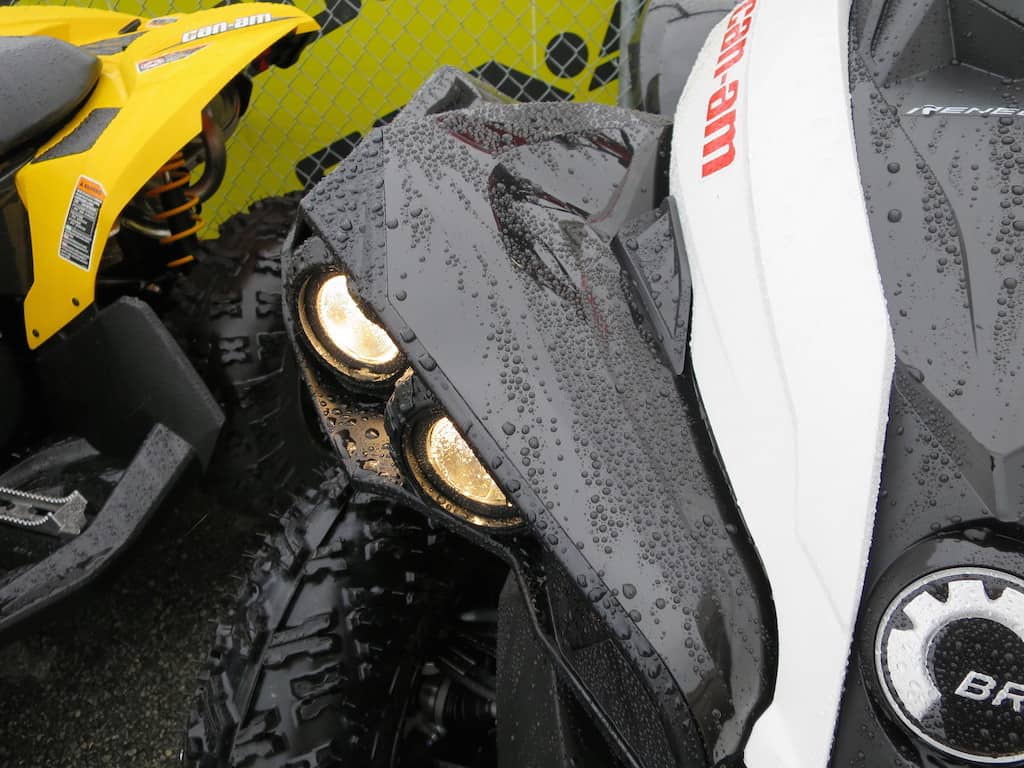 LED Lights
One of the first things I did when I got my ATV was to place some LED lights on it. LED light is an affordable and super bright way to see what's in front of you at night. Plus I wire mine up to where I don't need the ATV to be on to use them. Check out LED's here.  (Amazon Link Ad)
Some of you might think the LED lights wired directly to the battery will drain the battery too quickly. LEDs use far less power than the normal lights on your ATV. Also, I like using my ATV as a generator, so I have it running when doing serious work. I defiantly keep it running when I'm powering my small inverter (Amazon Link Ad) off of it. It doesn't hurt to carry a jumper pack like these compact ones. I also have at home a solar panel (Amazon Link Ad) that I use to keep my battery alive. The solar panel works great as I don't have power in my shed.
Since we're on the topic of plugging things in to our ATV's 12 volt plug don't forget to have a 12 volt phone charger (Amazon Link Ad) that fits your phone.
Getting Stuck
Apart of the fun is getting stuck and then getting un-stuck. This is why I carry a tow strap with me at all times.  (Amazon Link Ad) Then one day I got stuck where I had no one near and no tree either to winch myself out. Times like that are why they have land anchors (Amazon Link Ad).
Loading and Unloading
The great thing about having a truck is that you can easily throw your ATV in the back of it and not have to worry about a trailer. You can get ramps that allow you to drive into the back of your truck. Avoid the cheap plastic ones and get the long aluminum ones.
Also, make sure to get some good straps like these (Amazon Link Ad)to hold your ATV in while towing it.
One cool product I've seen is an adaptor for a truck or even a trailer that allows you to latch the ATV down to the tow ball.
Tools
If your ATV or Side by Side breaks down you might have to do some simple repairs. This is why I carry this exact tool box (Amazon Link Ad)with me. There could be a time when you'll need to replace your CVT belt (always good to carry a spare – contact your dealer to get the right one).
Trailer
If you plan on using your ATV or Side By Side for a real farm like work then you'll need a trailer.  (Amazon Link Ad)
If you need to haul something tongue heavy with your ATV then you'll need something like this to distribute the weight.  (Amazon Link Ad)
All The Rest
Bug Repellent – for keeping the bugs off of you.
Mirror (Amazon Link Ad) – To keep an eye out for the people behind you.
GPS (Amazon Link Ad) – For when your phone fails you in the middle of a trail or woods.
ATV Cabin – When working when it's cold, this offers complete protection from the wind.
Hand Guard (Amazon Link Ad) – This keeps trees and other objects from tearing up your hands when riding.
Plow (Amazon Link Ad) – To move snow out of the way. Works great with the ATV Cabin above!
Dry Box – Keeps your phone dry when you go through the mud pits. Also keeps the dust away from it too.
Cooler – to keep your favorite beverage cold.
Seat Protector (Amazon Link Ad) – Makes the hard seat more comfortable.
Thumb Helper (Amazon Link Ad) – Keeps you from wearing your thumb out on the throttle.