I finally got my hands on the new Can Am F3 Spyder and let me tell you this is not what I expected. This new Can AM Spyder is so different that Its hard to even call it a Spyder. The F3 just screams cool, and definitely the best looking motorcycle on the market!
How cool is this, its a Prototype!
What's New
You can now adjust the bike to fit you with the uFit system. The footpegs offer 5 different positions that can be adjusted with in seconds.
The Handle Bars can be swapped out with just a few screws to better fit your riding style.
The Trunk is smaller but that is due to the radiators being moved to the sides of the bike to keep hot air away from the rider.
The Parking Brake is where the up and down buttons are for the RT windshield, a parking on and a parking off button is your options.
The Gas tank is above the seat with a lock. The key still controls a latch but its for the back seat which you can add a 12 volt outlet.
For all 12 Volt outlets Can Am has decided to do 2 USB ports instead of one 12 volt plug which is great because you don't need to buy the adaptor to charge your phone.
The back seat rest for the passenger can be removed without tools. You just push the backrest forward and up and it comes off .
Heated Grips are a option on the F3 but is only a on/off switch. When on the grips are at the highest setting. The push bottoms are a nice aluminum button that works great if you have gloves on.
It seems that all the accessories for the new F3 install in little effort and the clever part is that when you take off the accessories like the saddle bags it looks like you never had them installed.
By far the most comfortable Sypder in the world.
The F3 does have options for windshields that can be removed and once removed will look like you never had a windshield installed because of how seamless the design of this bike is.
Passenger Pegs are not adjustable but you can upgrade them to the pads that cut down on vibration so you don't get a numb foot after long rides.
Your local Spyder Dealer will have all the tools needed to allow you to adjust the F3 to fit you on the showroom.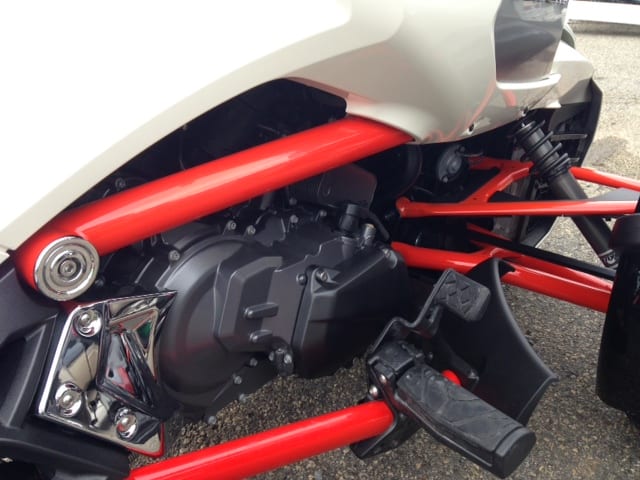 A new Style of Garmin GPS is not available for the Spyders.