Here is the list of all the new Accessories for the Can AM Spyder F3.
Here is the review of the F3 Spyder.
UFit 
The new Spyder F3 has the option to adjust the floorboards and handlebars. The floorboards can be adjusted 5 different ways for your riding style and height.
Cannonball Seat
2-piece driver and passenger seat
1.5" wider than stock
Easy Flow dual density foam. 2 different density
layer foam. Soft touch feel but firmer for longer
rides providing more comfort
Closed cell foam will not absorb water
Deeper driver bucket for more lumbar support
Passenger Seat: more of a saddle shape with
integrated lumbar and raised forward area
Driver & Passenger backrest ready
Detachable Back Rest
Generous width and height for superior lumbar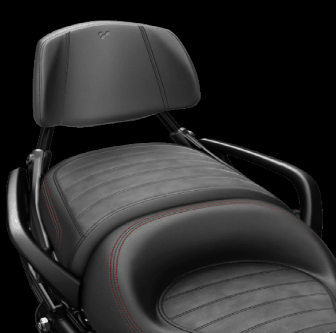 support
Anti-theft feature/ ignition lock
Patent pending spring loaded push and lock system
Integrated theft straps, secured below key locked
passenger seat
Fits on stock and Cannonball seats
10 minute initial installation Simply remove the
passenger handles and insert 4 plastic spool slides
re install and done
No visual brackets
Detachable Backrest
Generous width and height for superior lumbar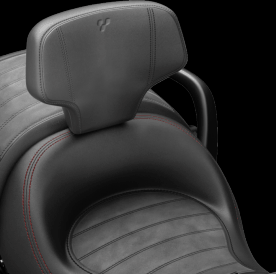 support
Adjustable up to 20 degrees
Folds for easy ingress of passenger
Vehicle/ factory set up to accept, no cutting
Fits on stock and Cannonball seats
Initial install in minutes- 1 bolt to install
Anti theft feature that is secured by the key
locked passenger seat, can be deactivated if
desired
Windshields

(Amazon Link Ad)
We do a short review on the Blue Ridge and Route 129 with the "how to" install them. Click here to find out more.
Fog Lights
Fog lights are a easy install and are pre-wired so they can be installed using plug and play. Install time is about 30 to 40 minutes and you get a aluminum push button that goes next to the key switch.
Link Rods
Since you can adjust the foot pegs on the F3 Spyder you'll need different Link Rods for the Brakes and for the SM5 Shiftier.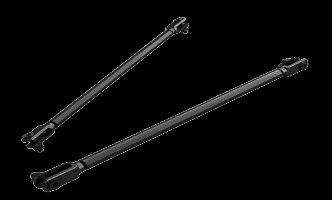 Floorboards
Replace stock pegs for additional
comfort, allowing ample room to move
your feet around during long rides.
Integrated rubber pads to reduce
vibration transfer and mounting
hardware.
Can be adjusted using the Ufit System
linkages in all 5 positions
Driver floor boards work with semi auto
and foot shift
Spyder F3 Saddle Bags
13 gallons (50 L) of storage space
Finished in high-end vinyl and metal chrome side
hinge
Water-resistant and top loading lockable key
Tool-less installation and removable in seconds after
initial installation
Invisible bracket when bags are not installed
Initial install 15 minutes. Front mount / remove access
panel, and replace with new access panel mount
New Garmin GPS
Can Am is using the Garmin Zumo 590LM as the standard GPS for Spyders. This new GPS offers higher resolution, 3D terrain, live traffic and weather, and curvy road mapping. This new GPS is compatible with Garmin Tire Pressure Valve Cover, Garmin VIRB Camera.
Mono Seat Cowl
Transforms your vehicle into sporty 1-up configuration
Adds a little over one gallon (4.5 L) of lockable water-
resistant storage.
Pops into passenger seat space in seconds
Utilizes ignition lock to release / Anti-theft feature
USB power access
Gloss black finish injected plastic
Passenger handles can be removed, when not riding
with a passenger
Urban Rack
Solid aluminum construction
1 gallon (3.37 L) of water-resistant storage.
Integrated, expandable top cargo net for additional luggage top storage
Pops into passenger seat space in seconds
Utilizes ignition lock to release / Anti-theft feature
Integrated lock to secure items
USB port access
Carbon black finish
Stripe Decal
The Stripe Decal comes in Red, Gray, Black, and White options.
Short Rail Back Support
Short Rail, is a low profile passenger lumbar
support
Provides a sporty integrated look
Fixed. Removal requires bolt removal
Installs in minutes
Fits on stock seat only/ not cannonball as it has an
integrated lumbar support
12 Volt USB
New style USB 12 volt power
Installs easily underneath the passenger seat
2 Ports
Fully sealed when not in use.
Looks like traditional 12 from outside, but USB
arrangement inside