If you ever feel like you're buying a new battery for your jet ski every year, then a battery charger is a must-have for you. The reason why your battery dies so quickly is that you're not using your jet ski enough.
Batteries go flat if they don't get used, the same thing would happen to your car's battery if you left it to sit as much as your jet ski.
The next question you might have is "what's the best jet ski battery charger"? This is what we want to answer in this post.
It's not what you might expect.
The Best Battery Charger/Tender For Jet Skis
The best battery charger for jet skis has got to be a solar charger like this one here*. The reasons are simple…
It's easy to set up.
Most are water-resistant (It's a jet ski, so you'll be near water).
Better for the environment (uses the free energy from the Sun).
Works if there is a power outage.
Doesn't need to be in direct sunlight, just needs to go on the outside of the watercraft.
It can be stored away quickly and put out just as quick.
Don't need to be plugged in – great if you store your PWC somewhere with no power.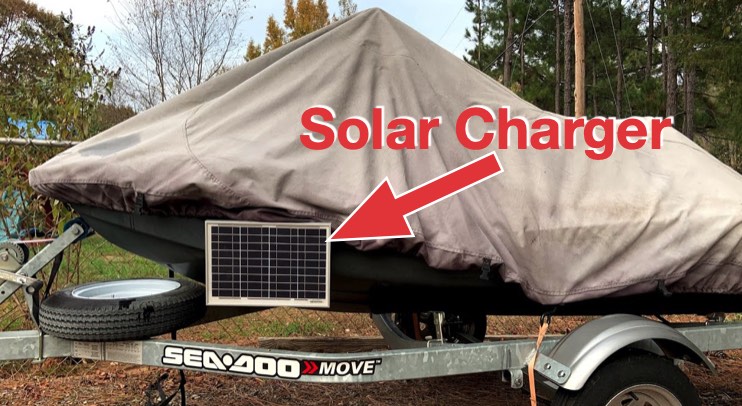 It honestly only makes sense to have a solar charger for your jet ski. I've had customers in the past have me install complicated battery switches and wall chargers for their watercraft to fix the battery dying issue. The results were never that great, especially for battery switches; the ease of the solar charger and the results it delivers is the best solution we got for most people.
Keep in mind, a solar charger is not meant to charge a dead battery, it's meant to keep the battery alive and topped up. The solar charger keeps the battery from sulfating which causes the batteries to die.
To use the solar charger, all you got to do is connect it to your jet ski battery and have the panel somewhere outside. The panel doesn't need to be in direct sunlight, in the picture above I have it hanging off my Sea-Doo and it works fine.
The biggest thing to consider when it comes to solar chargers and your jet ski battery is that you want to stay under 5-watts. I find a solar charger between 1 and 2 watts as ideal. If you go over 5-watts you'll need a charge controller, and it complicates things more than they need to be.
Wall Chargers
You can still use wall chargers, but I only do when the battery is completely dead.
Remember, the solar charger is only for maintaining the battery, so you'll still need a normal wall charger if the battery is dead. Plus, it's nice to have around for other things, like your cars or lawn mowers.
When it comes to wall chargers, you want ones that are 2-amp max, at 12-volts, along with it being a smart charger*. When I say smart charger, I mean it shuts off and on as the battery needs it. If you can get one with a desulfator option, that would be even better!
Keep The Battery Connected To Charger All The Time?
It's okay to keep the battery connected when charging, so long as the charging rate is under 2 amps, it's a smart charger and the battery can vent.
Going over 2 amps could fry the electronics or cook the battery (explode), and this is why they say never to jump a jet ski from a car because it supplies far too many amps.
Fast Charging Jet Ski Batteries
It's best to avoid using fast battery chargers, as they go over the 2 amps that I recommend keeping under.
Plus, a fast charger could fry the electronics of the watercraft.
If you need to quickly start a jet ski, you can use a jump starter pack, but it's best you go ahead and replace the battery. To find out what battery you need, you can go here.
What Drains A Jet Ski Battery?
There are a lot of misconceptions when it comes to jet ski batteries, one is that people think there is a constant draw on the battery.
There is some draw on the jet ski battery, especially older jet skis, but it's not enough to run the battery flat.
What actually kills these lead acid batteries is inactivity of the battery. Sulfation of the plates inside the battery raises the resistance of the cells and kills any power that is in the battery.
What happens most often is that people won't ride their jet ski for months, do to the winter and such, and when they come back to ride the jet ski may not start due to a dead battery.
The good news is that there is a 50/50 shot the battery only needs to be charged, which removes the sulfation on the plates, and it's back to normal. It's also possible the battery will charge, but it's a ghost charge, which won't stay for long, and the sulfation has won.
The solution to this problem is to keep the battery active when you're not using it, and the easiest way is to use a solar battery charger under 5-watts. The solar charger doesn't even need to be in direct sunlight, just outside, and the battery will keep its charge. I do this and normally get 5 years out of my jet ski battery.
Are Jet Skis 6 Volt or 12 Volt?
All jet skis use a 12-volt battery, and you must use a 12-volt battery charger.
Also, you must not charge the jet ski battery over 2-amps when using a wall charger, or stay under 5-watts for solar chargers.
Going over the amps and watts for a jet ski battery will fry the battery or destroy your electrical systems.