It may come as a surprise to many jet ski owners to find out that most models do not have air filters.
There are a few ones with air filters, for a unique reason, but a lot do not have them. The models without air filters don't need them, mostly because it's not that dusty on the water.
Air Filters Are Not Common
Sea-Doo watercraft do not come with air filters, but a few models of Yamaha and Kawasaki can come with them.
The reason why Yamaha will have them is that they repurpose motorcycle engines to use in their PWCs. Kawasaki does this too, but they don't always have air filters.
A jet ski doesn't need an air filter as there is not much dust and dirt while on the water.
If your jet ski came with a filter, it's best you keep it on, as that is how the manufacturer designed it to run.
There are modifications you can do for increasing performance and many of these mods have air filters like in the video below:
Do You Need One?
The reason jet skis don't often have an air filter is because they don't need one – There is not much dust and dirt when on the water.
If yours came with an air filter, it will need it to run, as that is what the engine was designed to run with.
If yours did not come with one, then you don't need to add one.
You may see future watercraft start to come with air filters to keep up with government regulations. The move has been done to Jet Boats, so expect future watercraft to have some type of air filter.
What Models Have Air Filters?
When it comes to Sea-Doo and Kawasaki, they rarely, if ever, come with air filters from the factory.
Yamaha & Honda
Yamaha and Honda, on the other hand, will have most models that come with them from the factory.
Sea-Doo
I say Sea-Doo rarely has any air filters because the company Rotax, who makes the Sea-Doo PWC engines and is owned by BRP who also owns Sea-Doo, will put on jet boats.
Jet boats use the same engines found in Sea-Doo PWCs, but they may have an air filter added. The picture at the very top of this post is a Jet Boat with a Rotax engine with them attached.
The Sea-Doo will certainly have a flame-arrestor, but that is not an air filter and not something you need to mess with.
Marinized
The reason why other manufacturers have air filters is that their engines are marinized motorcycle engines.
This is not a bad thing, but the engines were built for motorcycles first and then retrofitted for watercraft, which are just motorcycles of the water.
Why Do Some Jet Boats Have Air Filters?
Since jet boats use the same engines as jet skis, then why do they get air filters?
The biggest reason why jet boats get them and jet skis don't is due to government regulations. Jet boats also have a catalytic converter and jet skis don't... yet. 
If your jet boat came with an air filter, you need to keep it on it, as it's tune to run with it on. Will it run worse without the filter? More than likely no, but it can affect warranty.
Noise
Another reason why jet boats have an air filter is to cut down on noise – Jet boats tend to be much louder than similar boats.
Changing Air Filter
Since it's not that dusty on the water, many boats air filters don't get that dirty, especially after using it for years.
So changing your air filter is not something you always need to do when you do a service on your boat or jet ski.
It may never look dirty, but it won't hurt to change it at least every 3 to 5 years, as the fibers of the filter do break down over time.
Where PWCs Take In Air
A PWC will take in air mostly around the seat or around the gauge console. There isn't a perfect seal around all the plastics, so air does find a way into the hull.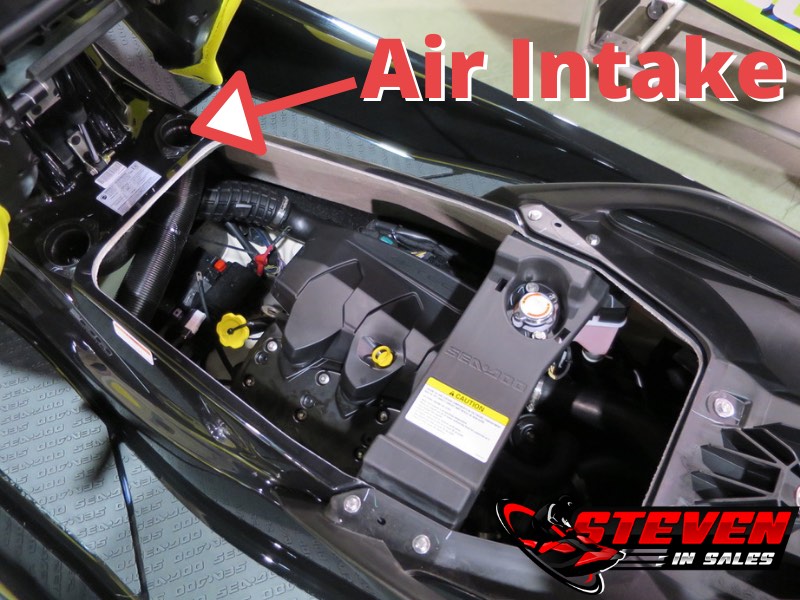 If you look inside, you'll see black tubes either from the seat or around the front console that are used to guide air in. The tubes often go to the floor of the hull to keep water from dumping in too quickly if you flip, when upside down, the lowest point becomes the highest point.