I've talked briefly about jet ski hours in my post on what to look for in a used jet ski. This topic is so vast, I feel jet ski hours deserve their own post.
So let's cover all questions like…
What are too many hours for a jet ski?
Should you buy a jet ski over 300 hours?
How long do jet skis last?
Do jet ski hours matter?
Despite the hours what jet skis to avoid.
How to tell the hours on a jet ski.
How are jet ski hours counted?
Engine hours and maintenance.
Use hours as a gas gauge?
What Are Too Many Hours For A Jet Ski?
The average person puts 30 hours a year on their jet ski. So if the jet ski is 5 years old, I would expect it to have 150 hours.


If that jet ski has under that number, I consider that a win.
If that jet ski has over 40 hours a year, I start looking for other factors to determine if the jet ski is worth it.
These are numbers I expect, on average, and not the max life.
Jet Ski Hour Calculator
Enter the year the jet ski was manufactured and its current hours to calculate if it has a lot, a little, or an okay number of hours.
How Many Jet Ski Hours Is A Lot?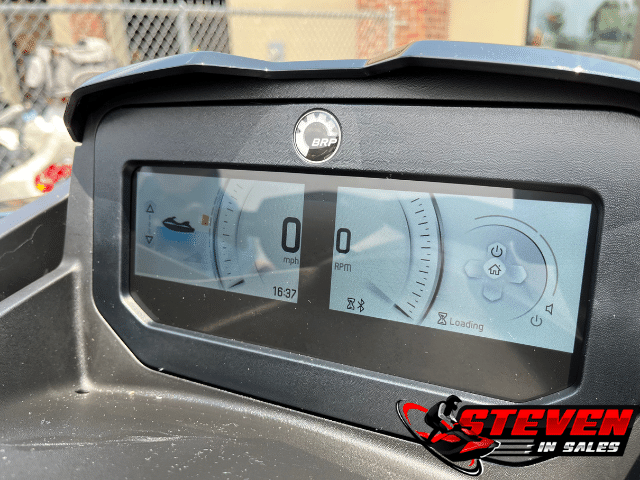 As a general rule, anything over 500 hours is a lot of hours for a 4-stroke jet ski. If it's a 2-stroke jet ski, anything over 300 hours is a lot. But, if properly taken care of, jet skis can go well over these hours.
To know if you have a 4-stroke or a 2-stroke jet ski, go here.
A common trend I'm seeing when buying and selling jet skis is that most people will sell them before 200 hours, and a lot will even sell with under 100 hours on them.
Any jet ski under 100 hours on it is a good buy and still has a long life left in it, especially if it's a 4-stroke.
How Long Do Jet Skis Last?
A jet ski, when correctly maintained, can go for more than 1,000 hours and over 20 years.
Although manufacturers of jet skis typically produce parts for a span of 10 years, this doesn't mean that the jet ski's lifespan is only 10 years. Rather, it means that after a decade, certain components, such as body parts, might become more difficult to get. Engine parts, on the other hand, tend to be available for a longer period since manufacturers do not frequently change these essential components and use them for many models.
In summary, I wouldn't let engine hours be the only deciding factor when considering the lifespan of a jet ski. Some might argue that engine hours become less important when other factors are considered.
Why Jet Ski Hours Don't Matter?
I've made a point in my "factors to consider before buying a used jet ski" that hours don't matter.
I make this statement based on years of experience buying and selling jet skis, during which I've encountered many instances where the hour count wasn't the definitive factor in determining a jet ski's value.
I've witnessed jet skis with over 300 hours of operation outperform those with only 20 hours.
The key point, more than the hours of usage, is the level of care and maintenance the jet ski got.
When people see a jet ski with 300 hours on it, they typically think it's worn out. However, I think of it as a good signal of an owner who has maintained their watercraft, enabling it to get to those high hours.
If someone is selling a 10-year-old jet ski with only 20 hours on it, I begin to question several things. The low hour count suggests that they probably haven't performed much maintenance on the PWC, if any at all. It also implies that they either did not enjoy the watercraft, or there were constant issues with it. You also have the people who simply didn't drive it much, so there is a lot to consider.
I've encountered scenarios where engines failed at just 5 hours, and others where jet skis had accumulated so many hours that it leaves me puzzled as to how they're still going.
All I'm trying to say is that hours are not the end-all-be-all thing to determine a jet skis worth or how long it will last. The context of how well the owner took care of the PWC and conditions of things like the seat are way better-determining factors.
Should You Buy A Jet Ski Over 300 Hours?
It's not like as soon as you hit 300 hours, the jet ski won't work anymore. Most jet skis have a lot of life left in them after 300 hours, and worth buying if nothing else is wrong with it.
The 300-hour mark is an old way of thinking, and mostly for 2-stroke jet skis. Newer 4-stroke jet skis are going way beyond 300 hours, often reaching 1,000 hours.
I would have no problem considering a Sea-Doo GTI with 300 hours, but may pause on a Sea-Doo RXT with 300 hours, mostly because the RXT has a supercharger and requires more maintenance. The lower-HP jet skis do well with more hours as they're simpler, but the faster jet skis need to be looked at more closely when they get higher hours.
Don't Forget the Manufacturer or Lack Of
There are only 3 main jet ski manufacturers today, Sea-Doo + Yamaha + Kawasaki.
There was a time when you could get a Honda, Wetbike, Polaris, Tigershark or Arctic Cat. You can't get these jet skis anymore and no matter their hours, you should avoid them.
It's not that these are bad machines, but the fact that the manufacturer no longer produce parts for them, and simply not in the jet ski business anymore. Aftermarket parts for jet skis aren't typically a thing, used parts can be found, but not many companies are making new parts for older jet skis.
In addition, jet ski manufacturers generally design their watercraft to last for about 10 years. It doesn't mean that the jet ski will be rendered useless after a decade; instead, this is usually the point when manufacturers stop production of some parts, like body and custom-to-that-model parts. If replacement parts are not being made, it makes it more challenging to repair a jet ski if something were to break.
However, the good news is that jet ski manufacturers don't change major components. Things like the engine or pump, which are the most crucial parts, don't change much, and many models today still use the same design from years ago. Since the major parts don't change often, you can often get over 20 years out of a jet ski.
How To Find The Hours On A Jet Ski
Figuring out the jet ski hours is super easy. In the 90s, many jet skis never had an hour meter on them, but those are all 2-strokes, and I don't recommend buying anything that old.
Your modern 4-Stroke jet skis will have hours either displayed on the gauge as soon as you put the key on or revealed when you press the mode button. The button is usually located next to the gauge, or on the handlebars or right below the handlebars next to the glove box.
Tip: The hours on the gauge can lie… well, the owner can. Some bad people will buy a new gauge to "reset" the hours to make their watercraft seem newer than it is. So if the hours seem too good to be true, then they just might be. The good news is that the hours for your jet ski are not only stored in the gauge, but in other places of the PWC. To get the accurate hours of the watercraft, you'll need to take it to a dealership and have them read the jet ski's computer.
How Are Jet Ski Hours Counted?
When the jet ski's engine is on, the hour meter is counting. What you see for hours is engine hours and nothing else.
Even when idling, the hours are being counted, so it's best to turn the engine off when you have docked. Not only should you do that to save on hours, but it's not smart to leave the engine running on your jet ski if you're not riding it.
Jet Ski Engine Hours and Maintenance
When it comes to jet ski hours, the best thing they're good for is telling when you need to service the PWC.
When you get a new jet ski, you'll want to break the engine in and take it easy for the first 5 hours. Then you need to get your first service done, which is anywhere from 10 hours to 50 hours depending on your manufacturer.
From that point, you'll want to get it serviced every 50 hours or once a year.
Your modern jet skis have service timers built in, just like cars; so you'll get the alerts for service for when they're due. But for older watercraft, you'll have to pay attention to the jet ski hour meter to know when you need to service them.
On top of that, specific components like the supercharger need servicing every 100 or 200 hours.
Every manufacturer and model is different, but your owner's manual will tell you what components need to be replaced at certain hours.
Can I Use the Jet Ski Hour Meter as a Gas Gauge?
Never use the jet ski hour meter as a gas gauge.
In a span of an hour, you can use more gas if you're blasting around then you would be cruising.
I know some people use the miles on their car to determine when they should fill up, but jet skis are not as predictable on gas.
The type of gas you put in your PWC matters too, I go over what gas is safe to put in your jet ski here.