Yamaha just released their 2019 models, and I thought I would give you the good, the bad, and the ugly.
Many people consider me more of a Sea-Doo guy but Yamaha has done some great stuff this year, and I really want to point them out. I also want to point out the stupid things they're doing too.
For the full details please visit Yamaha's website. This post is my opinion and I was not paid by any watercraft manufacturer to write it.
The Good
EXR – It Was Done Right
EXR seems to be Yamaha's response to the Sea-Doo Trixx models. Where I got to give them credit is that Yamaha went with more HP first then make adjustments to the Trim second. Update: It was not the trim that was adjusted but the pump was set further back for better thrust and traction. The correction came from the Watercraft Journal. More info in the comments below.
For years Sea-Doo Spark Fans have been wanting a Spark-X, and it looks like Yamaha listened instead. Yamaha is packing 10% more HP in the EXR compared to the regular EX and making it lighter than the EX Deluxe. This is a big deal!
Yamaha is giving you your cake, and you can eat it too.
Sure the EXR lacks the cool graphics, adjustable handlebars, and foot holds but going with more HP is the smartest thing Yamaha could do to compete. This thing is going to be a blast to drive and I can't wait to see how it does.
FX Series
In my predictions post, I made wild guesses about Yamaha and the whole industry and said tech would be the next big thing.
Well, it looks like I was correct and Yamaha is taking tech more seriously in 2019.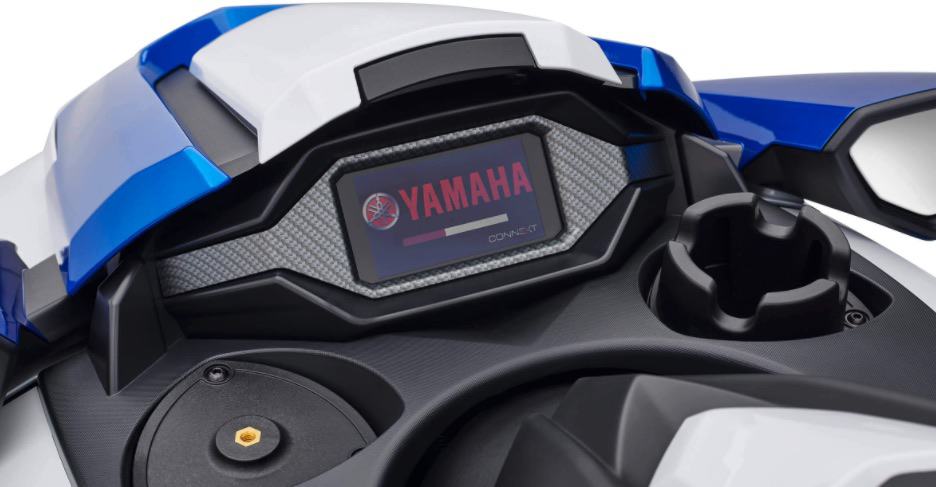 Yamaha is the first to come out with a full color touchscreen. I love how they show it off with someone wearing gloves to show how easy it will be. Not only that but you can do so much more with a touch screen that it's interesting what the future holds for this technology. Things like adjusting the takeoff power and power curve for pull sports is a nice feature that many will enjoy because of the ease of use from a touchscreen.
Yamaha is also taking accessories more seriously in 2019 like the speakers and GPS but also the floating coolers and many more. I love this and I'm sure accessories will explode more in the jet ski world as the margins get tighter on watercraft and accessories will fill the gaps for dealers.
The storage of the FX series has been upgraded from about 33 gallons to about 40 gallons. You can never have too much storage on a watercraft that is for sure. If you include all the storage its a total of 44 Gallons which is a lot for a watercraft.
The Feature That Matters The Most
The feature that is the most groundbreaking and deserves more attention is the Self-Draining Footwells.
It's about freakin time!
This has been a big issue that we've been dealing with for decades – water in the footwells. It may sound silly to new riders, but this is a real issue that no manufacturer has taken seriously.
Even if you kept a cover on your watercraft water would find its way in and get trapped in the footwells. This water would become stagnant and attract bugs and even make a slimy (and slippery) mess. I've also seen tadpoles living in the footwell water before, its a real and annoying issue.
With the Yamaha FX models, they have a drain to help combat this issue or at least make it slightly better. The verdict is still out on how they go about this or how useful it will be, but at least they're trying to solve this problem!
This is such a big issue that I would always have customers mention to me why they don't have a drain or something to keep the water from building up. I got the question so much that it prompted me to write a post on it here.
The water in the footwells and the drain will strike the most significant nerve for customers who already own a watercraft and who are looking to upgrade. This to me will get my attention more than a touchscreen, and that is why I think Yamaha should lead with it in advertising. Silly, I know, but it's not silly if it works.
RAM Mounts
I do love the idea of using RAM mounts for adding accessories like the GPS or speakers. Modular things are great and make customizing easier. This gives you the added benefit of taking the items off and carrying them with you like the speaker to the beach.
You can even add fish finders if you wanted to since it uses the RAM mounts. The 2019 FX series watercraft have got to be the best fishing jet ski around because of the easy add-on accessories.
The Start Button
Fast action start is an interesting one and found on the FX models. You press the start button once instead of holding it down, and the Waverunner starts.
I would see this often with new riders as their cars had the single press of the button to start, but it was harder to get used to the jet skis because they made you hold the button until it started. I like this move, and I'm sure other manufacturers are to follow.
Thicker Rub Rail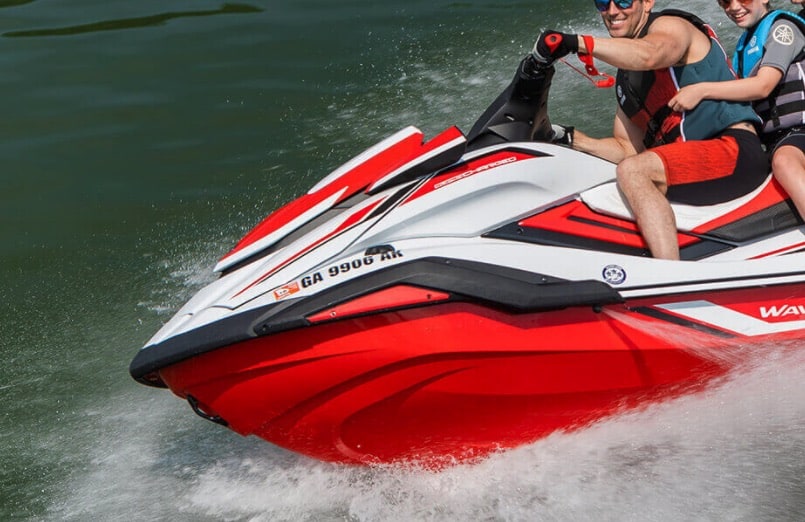 It's hard to miss, and not many people are talking about the thicker front rub rail of the FX series. They beefed them up, especially around the gas fill area. This area of the watercraft is very easy to ding up and making the rub rail thicker and more significant is a big deal.
It's far easier to replace plastic than it is to fix fiberglass. And it's not a matter of "if" you'll scratch your watercraft but a matter of "when" you'll do it.
Reboarding Ladder
I've never seen a reboarding ladder as thick and as nice as the one they're putting on the new 2019 FX series. It's not a bar anymore, its a freaking step you would find in a home. It's huge!
GP1800R
The GP1800 is still sexy and stupid powerful for its weight, but Yamaha has made it better with the GP1800R.
The improved intake will be a machine the racers love. Yamaha is really flexing on Kawasaki and Sea-Doo when it comes to muscle now.
The Bad
The FX's mounting system is nice and you can add many things to it, but it feels like an afterthought.
Sure its better than them being used for cup holders and it allows you to mount the GPS and angle it to the position you want, but features like the Bluetooth speaker could have been done better.
There is also a glaring problem with using a clamp style mount, they wear out. Everyone knows it if they ever used a mount for the GPS in the car. The screws you turn to make it tight loosen up over time and cause the items to flop down. This will be amplified even more on a jet ski because of all the wave jumping.
It's in the right direction, but they should have made the mounts fixed especially when dealing with expensive waterproof GPS units.
Since the speaker system is so small, it's for sure going to be hard to hear them at full speed. Sea-Doo and Kawasaki have complete (and loud) speaker systems that you can listen to even when going full throttle.
The Ugly
The VX-C could have been a winner, but they failed.
Yamaha is going for more of the commercial side (the reason for the "c") for the VX-C. Its pretty much a VX without RIDE. Yes, it lacks reverse. Not a huge deal for a rental company but for the average buyer or family this is a big mess up.
The price of the VX-C would have put it along the lines of the 2018 GTI 90 but the GTI 90 has brakes and reverse. This was what I thought the VX-C was going after and it should have taken over and kicked out the EX Deluxe – I better explain this in my post on the Sea-Doo Spark vs. Yamaha EX here.
This makes the VX-C compete more with the GTS. If you ask me at this moment in time, I can't recommend a family get either the VX-C or GTS as it's not worth it. Rental companies will for sure love them though.
Paddle Wheel Speed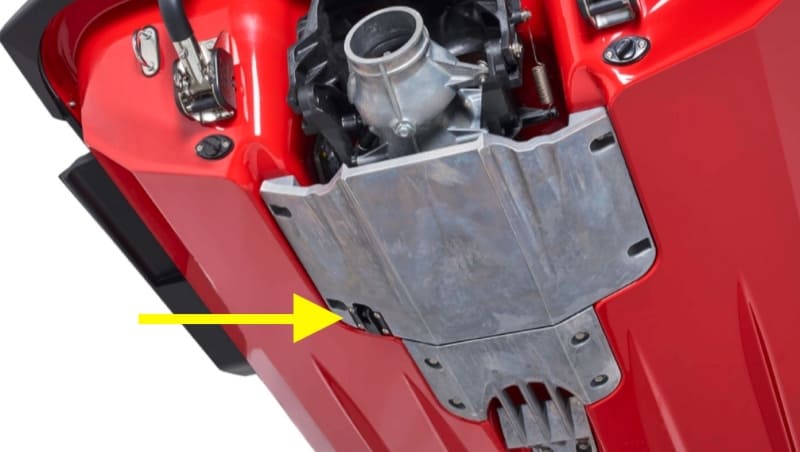 Not a fan of the fact that Yamaha still uses a paddle wheel on their models as seen under the VXR. I love the VXR and its a great machine, but the use of a paddle wheel is a wrong way to tell speed. Sea-Doo has been using mostly GPS to give you the speed of your watercraft which is far more accurate.
The only thing I will say is that don't trust completely what the speedo says as its easy to overinflate the numbers on a paddle wheel system. Not saying they do, let's be clear, but what I am saying no matter what use a 3rd party GPS system to tell exactly how fast the watercraft goes and the onboard speed as a guestimation.
I've got to say, the EXR is a move in the right direction, but the color is so bad. I can't help not to see a 2006 Sea-Doo GTI SE when I look at that thing. Yamaha should have done more extreme graphics, and colors like Sea-Doo does for the Trixx models.
What Do You Think?
I'm curious to hear what you have to say about the new 2019 Yamaha line up. Please feel free to leave a comment below to let me know what you think.