This guide will show you how to figure out used jet ski prices.
You'll also learn the tricks I use to figure out if a jet ski has many problems or is worth buying.
Following this guide will help you get the upper hand when buying used, especially from a dealership.
What You Need To Know Before Getting A Price On A Used PWC
You need to know a few things first before you get a fair price for any used jet ski.
You need to know the…
Without these 3 things, you won't get the correct price.
You Also Need To Know The Lingo
Listing Price or MSRP = This is what the seller wants to get. It also goes by "sticker price" or the "original asking price."
Wholesale = This is what the dealer or seller has in it. The seller can't go any lower than this number without losing money.
Trade-in Value = This is what you can expect to get if you're selling or trading in your jet ski to a dealership. The dealer will offer you a lower number than this if something is wrong with the machine.
Check Out My Used Values Tool
I created a Used PWC Values tool that will tell you the used price, trade-in and original MSRP.
I routinely update this tool to reflect the market as a whole when it comes to what people are selling their watercraft.
Check JD Power Watercraft
Go to JD Power Watercraft Here: https://www.jdpower.com/boats/personal-watercraft
Select the manufacturer.
Select the year.
Select the model.
Enter your zip code.
Pick your engine, it's often the "included" one.
Press "Get Base Value" button.
Leave trailer option alone and press the "Submit" button.
You'll see prices listed.
The "Suggested List Price" is what the thing sold for brand new at that time.
Under "Average Retail" is what you should expect for a clean and well taken care of machine.
Check Real-World Prices
The listing prices that I and JD Power give us are only a starting point. The actual real prices could be higher or lower depending on the market and where you live.
To get real-world prices, we must check websites like…
I like checking PWC Trader first as they make it easy to search for an exact watercraft.
A shortcut is to search Google for the jet ski you're looking for and the word "for sale."
For example, "2015 Sea-Doo gti se 155 for sale".
Leftover Is Not Used
I've had people confuse leftover models with used prices.
A leftover model is a new unit from previous years that has never been registered to an owner. So if it's currently 2024, a leftover model would be a 2023 or 2022, and so on.
Leftover models almost always have discounts from the manufacturer to lower the price.
JD Power Watercraft's prices are for used and not leftover models. A used model will almost always have a lower price than a leftover model because the leftover model is still new.
Finding Issues Or Problems
Not every jet ski is perfect, so you need to know its issues before buying.
Knowing about a particular one common problems can help lower the price and make you better prepared.
How we do this is super easy with the trick below.
The Trick To Find Problem Models
Go to Google and enter your jet ski year, model, and make into the search box.
Then add this to the end…
site:greenhulk.net/forums/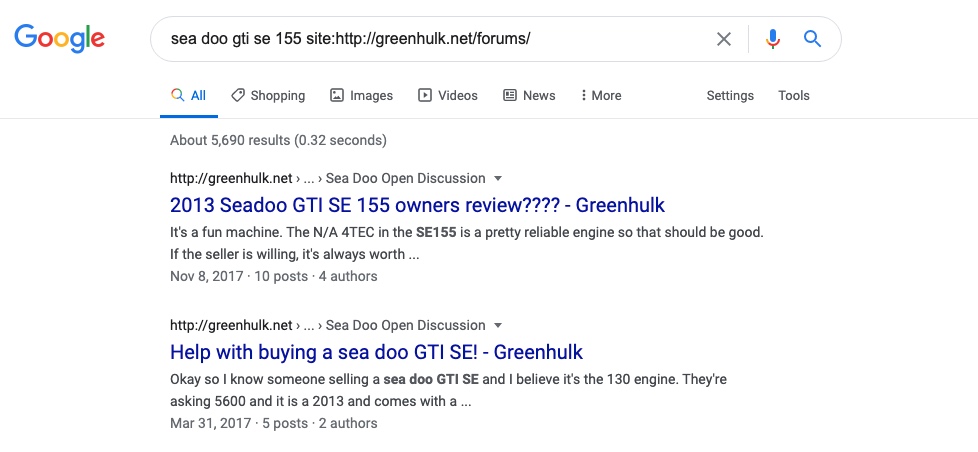 This tells Google to search for this jet ski but shows only results from the website greenhulk.net. The site greenhulk.net is a jet ski forum site where anyone can ask questions about any jet skis. If many people have issues with a particular jet ski, it will indeed show up here.
Adding words like "issues," "problems," or "sucks" to the search term will narrow it down even more.
Note: It's common to see many results, most of the time, it's simple user errors or simple problems. This is only to give you an idea of any issues that the PWC may have. Also, the older the jet ski, the more items you'll find as it's been around longer.
There are other forums you can search…
You can also use their built-in search options to search for the year, make, and model of your jet ski to see if they have any significant problems.
What If The Jet Ski You're Looking At Has A Lot Of Issues?
Don't freak out!
There will be a few people who have issues and will go online and complain about them.
This doesn't mean you'll experience these issues.
This search is more for finding the odd things that stand out.
For example, did that year model have problems with the seat tearing in the same spot? Or was that model affected by a timing chain recall, and if so, did the previous owner fix it?
Having these questions handy when buying helps give you a better idea of problems if they exist and could help with negotiations.
How To Lower The Used Price?
Knowing what I, JD Power and the real prices give us a baseline on where to start.
If you come across a jet ski for sale and the price is much higher than our baseline, then we know something is not right.
They could be throwing in things like a cover or a trailer, and those can raise prices.
One way to lower the price is to show them the prices that JD Power or a similar jet ski go for online. They may not be aware of the price, or the price they want could be based on them owing that much to the bank.
A jet ski must be paid off in full before the bank releases the title. Please don't buy unless it's been paid off and has no liens on the title.
Another way to lower the price is to see what's wrong with it from our previous search online.
Is there a tear in the seat? Getting a seat recovered can cost anywhere from $100 to $500, depending on the seat. If the seat is damaged, ask about lowering the price to cover the cost.
How old is the battery? If it's over 3 years old, you should get a new one. A new battery costs around $100.
Does it even start? If you got a mystery machine, it's a gamble.
Is there fading? If the jet ski is old enough, replacement plastic parts might not be available and must be detailed to restore it.
Is there fiberglass damage, especially under the hull? Fiberglass is not cheap to fix, especially if you want it to look as if it did before.
Was it serviced when it was supposed to? If the previous owner never serviced it, the PWC will need to be serviced right away, and that is a few hundred dollars at a dealership.
Going over the jet ski and looking for any issues can help you lower the price.
Don't forget to be reasonable! Asking too much off for a jet ski will get you nowhere in negotiations.
Keep in mind, the time of year you buy can also affect the price. Jet skis are cheaper in the winter and more expensive in the summer.
You'll also pay more at the dealership than a private sale. But if you buy at a dealership, you have more peace of mind because they know what to look for and more easily fix things before selling them.
How Much Should You Pay For A Used Trailer?
Unlike jet skis, their trailers don't have a website to give us used prices.
You got to use your gut for this one.
If the trailer is old but still works, I usually say around $500.
If the trailer is not aluminum but looks good, I go around $800.
If it's a nice aluminum single trailer, I go for $1,000 to $1,500. Aluminum jet ski trailers hold their value very well, especially in the summer, so don't be surprised if you pay more than that.
If it's a good-looking double trailer, I go for $1,500 to $2,000.
If it's a good aluminum double trailer, I go for $2,000 to $3,000. Though, some higher-end double aluminum trailers can go for double that, like the WC2-2.
I've seen jet ski trailer prices go for more than I've listed above. Used jet ski trailers, especially aluminum and doubles, hold their value very well.
A Note About Trailers
Get the used trailer serviced when you buy it.
The truth is that no one does the proper servicing on jet ski trailers, and this is super dangerous! Trailers need to be serviced!
The bearings need to be greased, bolts must be checked, and the suspension has to be inspected. Even the aluminum trailers still rust on the bolts and suspension.