Not many people realize that you need a license to drive a jet ski in many US states. Also, the license from one state may not work in another.
There is also an age requirement, and many people are grandfathered in who are born before a certain date.
The rules and guidelines that many states, and even countries, have can be confusing. I'd like to clear up some confusion and share some insights from when I took the class. It's not as bad as you might think, but very much worth taking the classes, at any age!
License Explained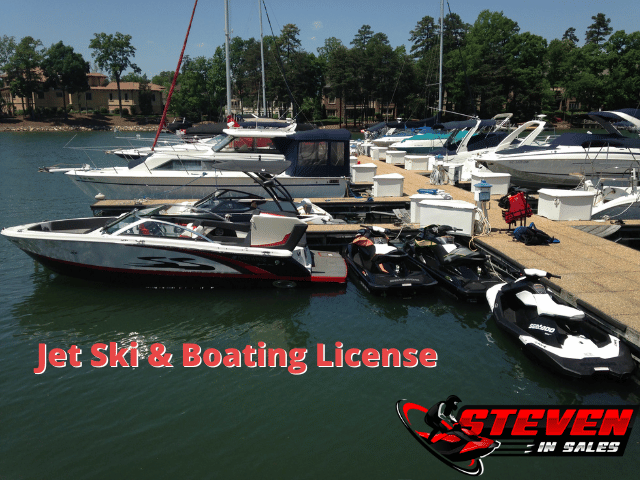 A jet ski license is a legal permit, similar to a driving license, that allows people to drive a watercraft in the state or country that requires it.
A boating license and a jet ski license are the same thing, there is no separate test.
The purpose is to ensure that anyone operating a PWC has the knowledge and skills to do so safely and responsibly. I find the specific requirements for obtaining a license vary depending on the state or country where you plan to ride, but generally involve completing a boater safety course and passing a test.
States That Require It
A license is required for many states and countries, along with age restrictions to drive a jet ski.
I made a chart of the places that require and don't require them to operate a jet ski. This information comes from the US Coast Guard, to get more info go here.
| State | Require A License |
| --- | --- |
| Alabama | Yes |
| Alaska | No |
| American Samoa | Yes |
| Arizona | No |
| Arkansas | Yes |
| Australia | Yes |
| California | Yes |
| Colorado | Yes |
| Connecticut | Yes |
| Delaware | Yes |
| District of Columbia | Yes |
| Florida | Yes |
| Georgia | Yes |
| Guam | No |
| Hawaii | Yes |
| Idaho | No |
| Illinois | Yes |
| Indiana | Yes |
| Iowa | Yes |
| Kansas | Yes |
| Kentucky | Yes |
| Louisiana | Yes |
| Maine | Yes |
| Maryland | Yes |
| Massachusetts | Yes |
| Michigan | Yes |
| Minnesota | Yes |
| Mississippi | Yes |
| Missouri | Yes |
| Montana | Yes |
| Nebraska | Yes |
| Nevada | Yes |
| New Hampshire | Yes |
| New Jersey | Yes |
| New Mexico | Yes |
| New York | Yes |
| North Carolina | Yes |
| North Dakota | Yes |
| Northern Mariana Islands | No |
| Ohio | Yes |
| Oklahoma | Yes |
| Oregon | Yes |
| Pennsylvania | Yes |
| Puerto Rico | Yes |
| Rhode Island | Yes |
| South Carolina | Yes |
| South Dakota | No |
| Tennessee | Yes |
| Texas | Yes |
| Utah | Yes |
| Vermont | Yes |
| Virginia | Yes |
| Washington | Yes |
| West Virginia | Yes |
| Wisconsin | Yes |
| Wyoming | No |
More than 80% of places listed in the chart above require a license to drive a boat or jet ski.
Age Requirements
Every state and country is different about the driving age for a jet ski or a boat.
In some states, you must be 18 to ride a jet ski alone.
Other places let 12-year-olds ride with a boating license if an adult is with them.
—Often, you can't ride by yourself until you're 16 or older and have passed a boating safety class.—
The age requirements vary, but the US Coast Guard has a helpful chart that gives more info. This chart will also show who's grandfathered in some states.
Renting
Many jet ski rentals mandate a PWC license per state law, and licenses from other states may -NOT- be accepted.
How To Get A License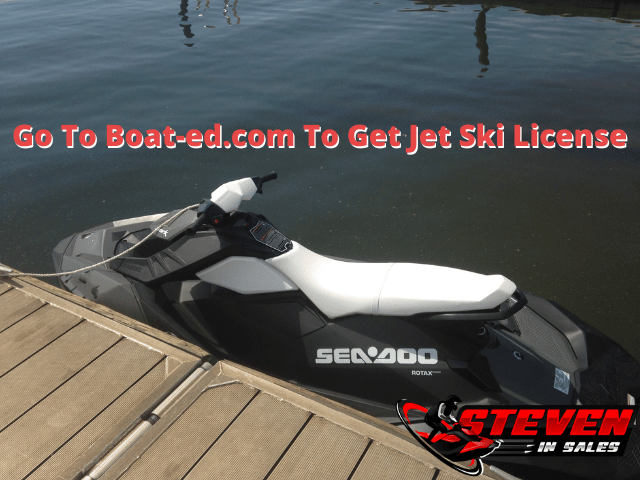 Getting a jet ski license is as simple as going to Boat-ed.com, watching videos, and taking a test. It's how I did it back in 2010 when it was first introduced to North Carolina.
You will need to pay when you pass the test, and you'll get proof you can print out that day.
Every state is different, and some jet ski license permits may not work in every state. So if you live in NC and vacation in SC, you may need a permit for both states.
Also, some states may require anyone under 18 to go to physical classes and pass the tests.
What You'll Learn When Getting A Boating License
Getting your boating license will teach you many things about driving and owning a boat. Here are just a few things you'll learn.
Boating Safety: You will learn how to identify and navigate the water, as well as how to avoid collisions and other accidents.
Rules of the Water: You will learn about the rules and regulations governing boating in your area, including speed limits, navigation rules, and right-of-way regulations.
Navigation: Buoys, no wake-zones, beacons and more navigational items.
Boat Maintenance: Many states require you to learn basic boat maintenance and what to do with old oil, so you don't dirty up the waters.
Emergency Procedures: You will learn how to respond in the event of an emergency, including how to use safety equipment such as life jackets and distress signals.
Pull Sports: Some states have sections on pull sports and the safety that goes along with it.
Environmental Awareness: You will learn about the importance of protecting the marine environment, and how to minimize your impact on the ecosystem while boating.
Why Boating Licenses Are A Thing
Boating licenses have not always been around, it's a fairly new thing.
Boating and jet skis have taken off lately, and with these things getting more powerful every year, accidents started to happen more often. You also had people who didn't know the rules of the water, so something needed to be done.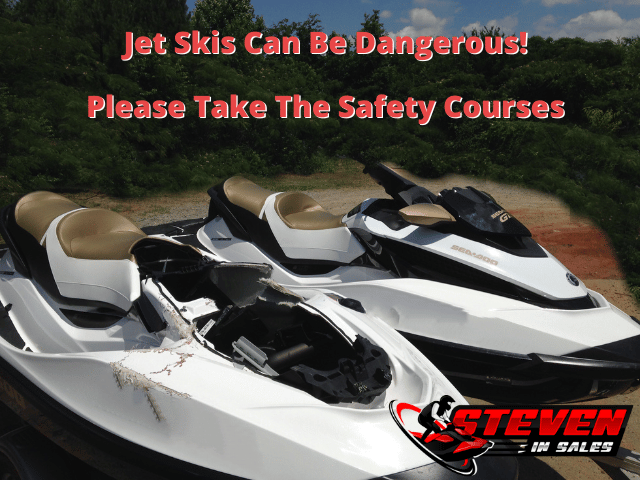 I've seen far too many accidents from young riders, and even older riders not knowing the rules… I'm a big fan of getting one at any age.
Most Require it
Most states and countries now require you to take and pass a boating test before you're allowed on the water. A lot of the focus has been on jet skis, as people tend to be more careless.
Not enough people who own jet skis don't know about the different driving modes and keys that can help new riders along with safety features.