Sea-Doo Just released their new 2018 Watercraft Line-up, and I want to talk about the good, the bad, and the ugly.
While predictions are fun, and my guesses were okay, it looks like Sea-Doo is right, they did some Revolutionary things. There's a lot of little details you might miss that I want to point out. There is also a lot of big issues that I have to point out too. So let's do that!
The Good
Cleats – New cleats are easy to see and use, very smart! I will honestly say that a majority of people would ask me how to tie up their new Sea-Doo because the tie-up points were hidden.
This was one thing Yamaha got right years ago with a few of there models, but Sea-Doo's way of doing it looks a lot cleaner and modern.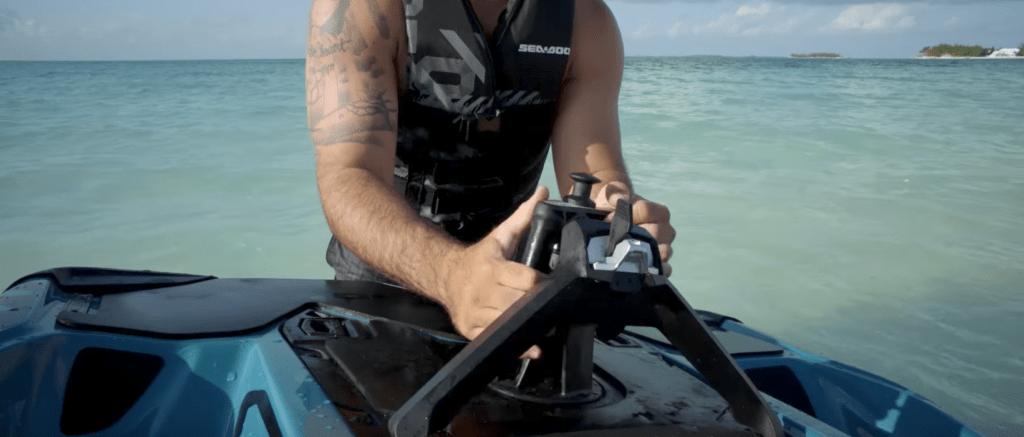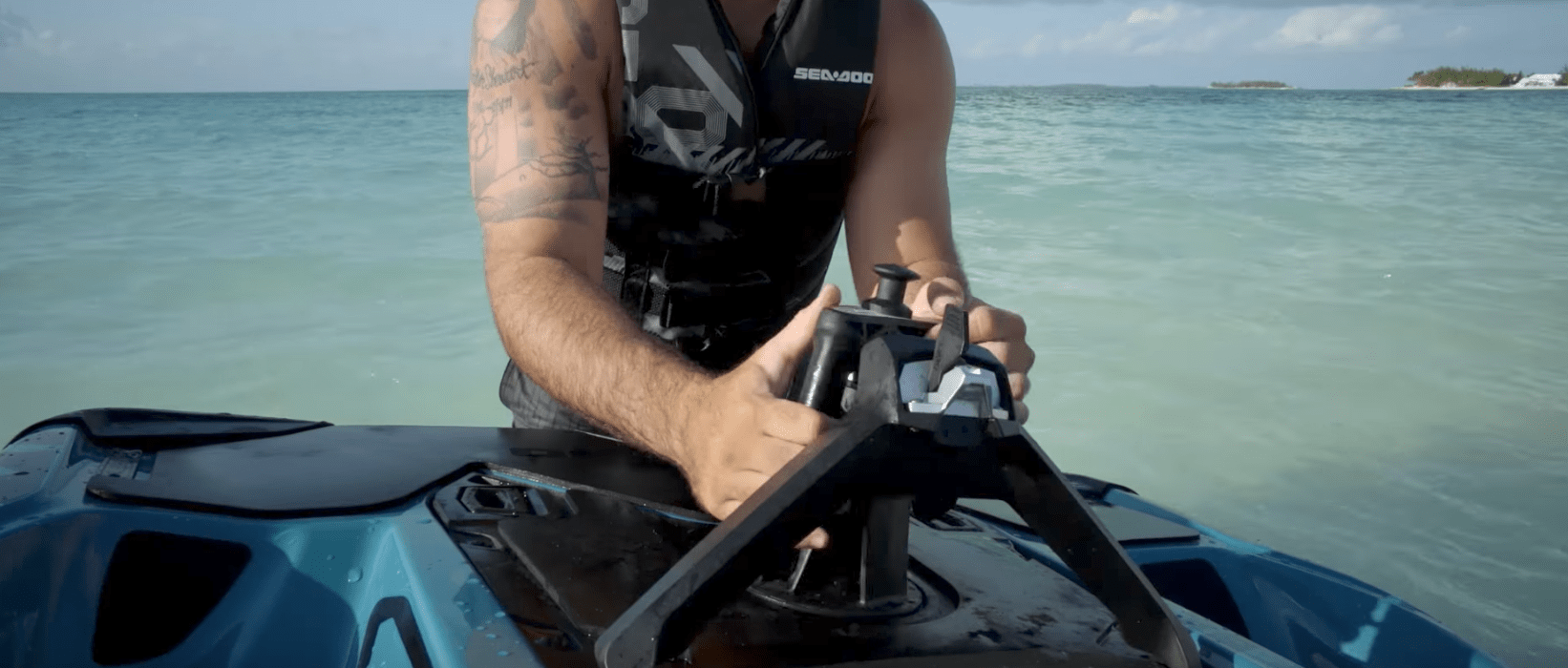 Ski Pylon – They made the Ski Pylon a lot better! It can come off quickly when you don't need it and put on when you do. It also looks like it would be easy to install on similar body Sea-Doo's with the right setup.
Front storage – The front storage has been thought out. You can now access the front storage compartment from the driver's seat without standing up; this is huge! No more front storage ballet and juggle dance to get stuff in and out.
It's going to feel odd, kind of like looking over a bathtub is what I get the feeling of when opening the front storage.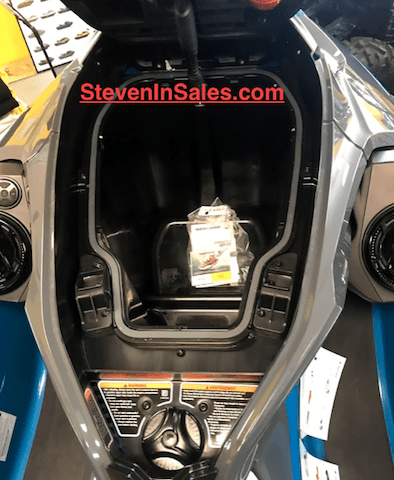 Gas Fill – Sea-Doo thought of everything here, where you put the gas in is right in front of you when you lift the front storage open. This location makes it easier to fill up when at the gas docks. (Gas Fill is in the picture above at the bottom left)
This new gas fill is only for the GTX and RXT lineup, but the GTI lineup was pretty easy to begin with.
Rear Storage Boxes – You can now put rear storage containers on the rear of the watercraft to extend your storage.
They use the LinQ system which is super simple to install, and you don't need tools to do it.
Gas Can – You can now carry extra gas with you using the new attachments in the rear. This new link system has been done on Can-Am (Sea-Doo's sister company) for years now, and it works well.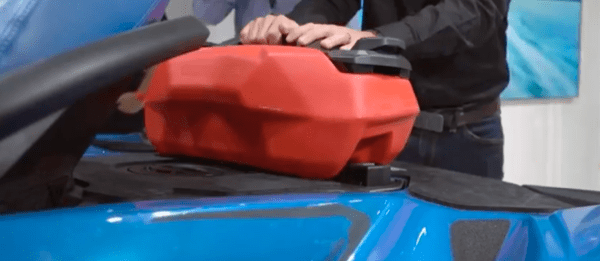 Cooler Attachment – Finally, someone did this! No more drilling holes into your watercraft as now you can buy a watercraft with links that allow you to place a cooler on the rear.
Why did it take this long to this figure out?
Speakers – Looks like you can add on speakers to some of the GTX and RXT models and the GTX Limited has it standard. They look great and seem to be made for them – clearly not an afterthought.
These speakers bring me to my next point…
Little Boats – With a bigger body, ability to add a cooler, and even have a picnic – the latest Sea-Doo's are little boats.
Even the way the front storage lifts up reminds me of the old Speedster 150 Sea-Doo use to sell.
Bigger is Better – Sea-Doo probably made the most stable watercraft on the market. It's so stable you can now board the craft from the side!
I can tell you that stability is in the top 3 concerns new buyers have and Sea-Doo crushed that problem.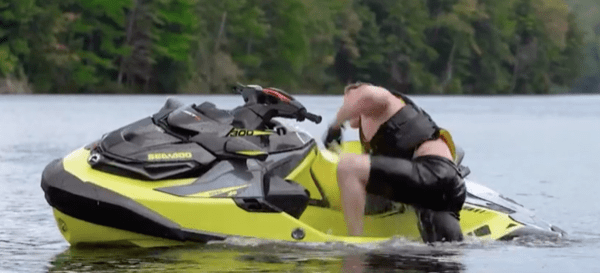 Poly-Tec – Looks like all the GTI's can be bought with the Poly-Tec Body which I predicted correctly, well somewhat correctly.
If you have the option to get the fiberglass GTI or Poly-Tec GTI I say go with the Poly-Tec. It's lighter which can help on gas and pull sports as the engine doesn't have to work as hard.
Lounge – Now you can remove the rear seats and have a nice big lounge to lay out on to get some sun. Kind of looks like a snowmobile which makes sense as that is Sea-Doo's sister company Ski-Doo.
New Glove Box – It's the little things that I love. I love how Sea-Doo is the only manufacturer to remember we live in a world full of expensive smartphones.
Sea-Doo has an option to store your phone in a protected sleeve which can be protected by the dry storage. With the great cameras on many of the modern day smartphones, we should assume that people will carry a smartphone with them on their jet skis.
I even did a post to explain why your jet ski needs a phone here.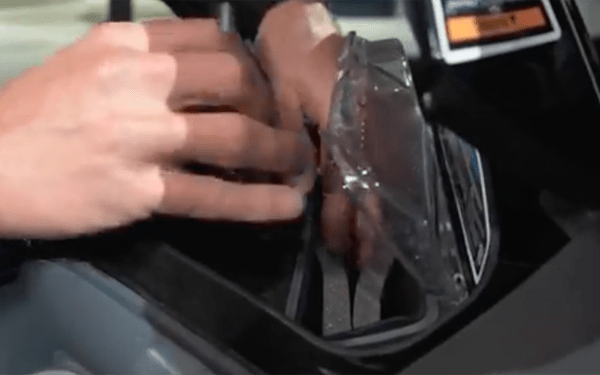 Ergo-Lock and Ergo-Grips – I'm just happy they kept the Ergo seat and grips. These came out in 2016, and it's a game changer then, but with them removing some features, I'm glad they kept this one. Especially since the grips are fantastic for those long rides.
Fishing – With the removable seats you have a little platform to fish off of. No other manufacturer does this, and once again Sea-Doo leads the way. *This kind of brings us back the "little boat" point above!
Pushing Us Forward – Whether you like Sea-Doo or not you must recognize they're the only manufacturer moving the watercraft world forward with innovations.
They Lost Weight – Only Sea-Doo would make something bigger while at the same time making it lighter and more stable. Just plain magic if you ask me.
This weight loss could be part of the things they removed which we cover below in "The Ugly" section.
New Reboarding Step – On the GTX and RXT bodies that have the reboarding step, you will get a wider and deeper step. This is huge. It's the little things that matter more as these little things are what you deal with more than anything flashy and cool.
And if you ever struggled to get back on a watercraft from the water you know how big of a deal this is. Especially if you're not a gymnast.
ST³ Hull – It's wider and handles the chop better. We went from 48.2 inches to 49.4 inches. An inch may not seem like much to you but an inch on a jet ski is a mile.
This combined with the deeper V hull and lower center of gravity will make this a super stable watercraft. The best part is that it will be super stable when not moving which is a must-have if it's to be a "little boat." This will also make you feel more confident at higher speeds and rougher water.
Sea-Doo is even reporting that 3 people can stand on the side of the watercraft and it not tip over. That's a big deal.
New iBR – Looks like Sea-Doo is on its 3rd generation of braking which they say stops even sooner. Looks to be a new bucket design from what I can tell.
Interesting fact: Sea-Doo was the first watercraft company to have a brake. Sea-Doo released it back in 2009 along with the first suspension system for a PWC too. Not every jet ski has a brake on it, but it is a feature that I consider a must-have especially if you never rode a PWC before or have kids. Probably the biggest reason to get a watercraft with iBR as it makes docking so much easier.
Larger Plastic Corner Bumpers – I know this may seem like I'm stretching here, but I think having larger plastic corner bumpers is a big deal. People are not as graceful as they might hope to be when on anything that floats.
Having something that is easy to replace in case you do bump against something else is nice to have, I mean, it's the same reason people have cases for their phones.
The Bad
Rear Cleat – I give Sea-Doo some credit, the new cleats and how easy they are to get to is a huge benefit. But that rear cleat – looks like trouble to me.
It's at the most rear point of the watercraft and right above the pump and all I see is people sucking up tow ropes.
I recommend getting a shock tube to help lower the chances of sucking up ropes. Or maybe look into the new Ski Pylon as that would be ideal and solves this issue.
Storage – In 2016 Sea-Doo went to 42 gallons of storage, and that was huge for the GTX and RXT lineups. Now for 2018, we have 27 gallons of storage or a little less than the GTI lineup. Sure, you can add the box storage to the rear, and you don't need as much storage as you did before as you can now buy a cooler that hooks on the rear that replaces the cooler you would have put in the front storage.
The storage is big enough for covers, life jackets, and all the other little details you need to carry.
It kind of feels odd as the storage looks bigger than what they say. When you lift open the front hood and look in, you get the feeling of a vast storage.
The Ugly
Ummm… Suspension? – Where's my Suspension Models Sea-Doo? You were the first to do it, and now it looks like the last. Why would you take away suspension? It works great in the choppy waters, and people with back pains know for a fact how great it was.
Even if you got rid of the iS and just kept the basic S suspension, we would be happy. But to get rid of it you seriously put a hurting (literally) on a good portion of your buyers.
I know you're pushing the new hull design which is supposed to take the chop better. I know it was a matter of center of gravity since the suspension models had a really high center of gravity, but still, the suspension was great to have around.
Retractable Dock Line Is Missing! – Once again, what happen here Sea-Doo? I'm searching the GTX Limited for retractable dock line, and I don't see it anywhere.
This was such a useful feature for quickly tieing up at the gas docks, and you took it away? I'm not sure if you can add it or even see a place to add it.
Sure it was not made for long-term storage, and sure it sucked when it first came out – but it became a must have over the years. I'm sure you can still get it for the other models like the GTI and Spark, but the best model (GTX Limited) you sell doesn't have it standard?
I hope I'm wrong and Sea-Doo can comment on this.
The only solution I know to do is pick up some bungee dock line like this here*.
Front Storage Is Odd – I love the way you can get to the front storage, but it reminds me of jet skis from the 90's. This design is not new, and this was the way to get into the engine compartment for the XP DI back in the day. Even Yamaha did this with older 90's waverunners to get to the engine.
Sure, it's different as you're getting to the storage and not the engine on the new Sea-Doo models – but I can't get the image of older jet skis out of my mind.
Too Many Options – Too many engine options and too many body options. When you have too many options, it's more confusing than helpful. This is a good thing for me as I can write more about all these watercrafts and what works best for you… and this brings me to my next point.
More To Come
Of course, there is a lot more to cover, and I could spend days talking about it. I didn't want to fill these first impressions post with everything as I have a lot to say, so be sure to stay tuned.