If you own a jet ski, you'll be putting fuel in it quite a bit, so you'll need a few gas cans.
While this sounds simple enough, when you start looking for cans you'll soon realize many of them are not that great. All the cans made for lawn mowers and other small engines are messy and simply don't work well with jet skis.
This is why I've created this guide to help you find the best gas cans for your PWC and the best way to fill them up with ease.
Important – Gas and gas cans are dangerous! Please follow all laws and instructions for your gas can! What works for me and what is best for me may not be best for you, so please follow all laws, regulations, and instructions when dealing with gasoline!!!
The Best Gas Cans
The 3 best gas cans for jet skis are the…
Each one solves its own unique problem.
The best gas can for most people will be the Justrite AccuFlow in our number one spot.
The Justrite AccuFlow will be the safest and best all-around can to use.
Another option, and one I, personally, use is the racing utility jug. Combined with a fuel transfer pump, it can make easy work of putting gas in your jet ski.
What I don't suggest is the plastic jugs you get at the department stores as they end up making a bigger mess and are hard to use.
Justrite AccuFlow 5 Gallon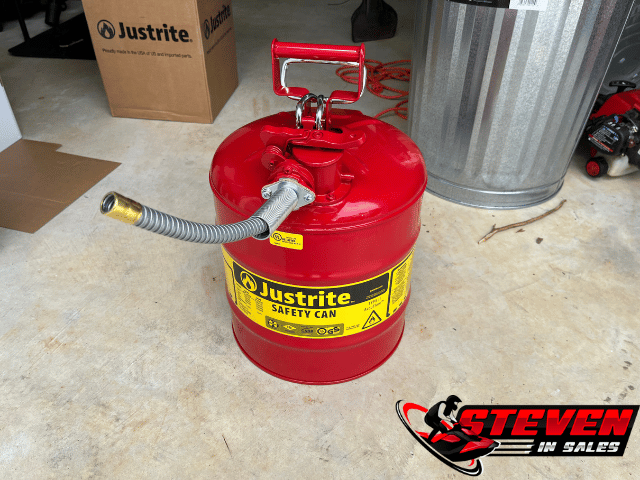 I put the Justrite AccuFlow 5 Gallon at the top as it is the best gas can you can have.
This gas can has all the safety features without it being annoying (unlike the gas cans at the department stores!).
You get an auto-closing lid which keeps the vapors from leaking out into your garage or wherever you may transfer the fuel. You can get a long pour hose that works well getting the gas into the jet ski. Not only that, but you also have the metal mesh that works as a flame arrestor, which is a huge safety feature!
Overall, the Justrite AccuFlow 5 Gallon gas can is the best gas can you can get for your jet ski.
Racing Utility Jugs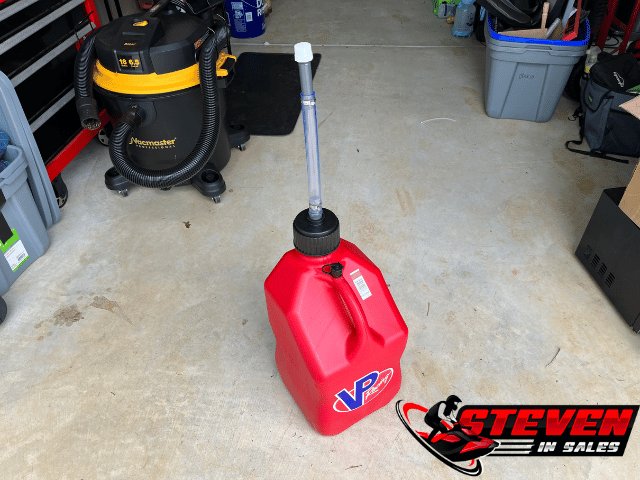 The racing utility jugs are what I, personally, use, but not something I recommend to most people.
These jugs don't have all the safety items on them, so extra caution must be given when filling, emptying and storing them. These jugs must be stored in a well-ventilated area and away from kids and pets.
I like using the fuel transfer pump as it makes quick work of it and I don't have to lift anything too high.
Most Dealerships Use
These racing style jugs are what most dealerships will use because you can get a lot of them, and they simply just work.
You can easily fill them and pour fuel into a jet ski; I just grew to love them because I used them about 10 times a day for years. So I understand how to handle them, but it's not my go-to for new people to jet skis, and will often push them to the safety cans.
LinQ Fuel Caddy
The last option for a gas can is the Sea-Doo LinQ Fuel Caddy.
To be clear, this LinQ Fuel Caddy only works with Sea-Doo that have the LinQ system, so any Sea-Doo GTX or RXT 2018 or later and Sea-Doo GTI 2020 or later.
This fuel caddy is meant for people who do long rides and need spare gas to carry on their jet ski. This fuel can is not ideal for people who keep their jet ski on the dock at the lake but it won't hurt to have it if you live far from the gas dock.
Gas Dock
While the gas dock is not a "gas can" option, it can be the easiest if you live on the lake and located near one.
Getting fuel on the lake is more expensive than the fuel at the gas station, but the convenience and being able to fully fill up can't be understated.
If you don't have a gas dock near you or simply want to save money on gas, then getting a few gas cans is the best option.
Tips
1. Buy 2 To 3 Cans
The two jugs at the top of the list hold about 5 gallons of fuel.
Most jet skis have either a 15 gallon to 20 gallon gas tank. If you have a Sea-Doo it's 15.9 to 18 gallons, Yamaha is 18 gallons, and Kawasaki can be from 15 to 20 depending on the model.
If you own a Sea-Doo Spark, it holds about 5 gallons of gas and the EX is about 10 gallons.
For most people, I suggest getting 2 to 3 jugs to store fuel to cut down on the trips to the gas station.
2. Fuel Transfer Pump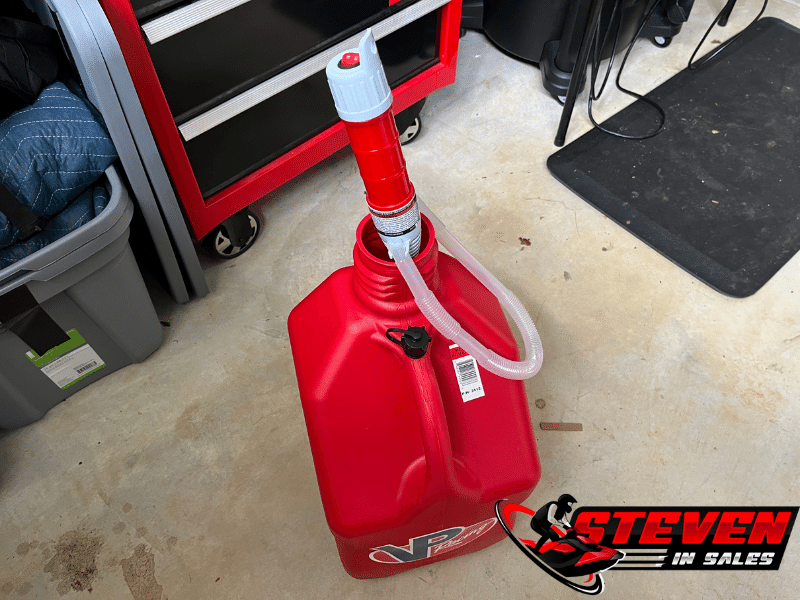 Gas cans and jugs are heavy when full of gas, and you often have to lift them up to get them into the filler of the jet ski.
Not only is it heavy, but it can be messy!
So I suggest you get a fuel transfer pump like this one here*.
These fuel transfer pumps run on batteries and work very well to get the gas out of the gas can and into your jet ski. It may pour a little slower than the gas station, but you don't have to lift as much and can do it at the dock.
Tip: This type of fuel transfer pump also works well for getting water out of the footwells of your jet ski. Just make sure to let it dry out as you don't want water in your gasoline or gas in the lake/ocean.
3. Most Gas Cans Suck
You can easily get gas cans from your local Lowes, Home Depot or Walmart that are made for lawn mowers… BUT THEY SUCK!
They suck because the government wanted to stop gasoline leakage. So they forced all gas cans to not have a vent hole anymore and to have auto closing lids. While it was a good idea in theory, in practice it made things worse. With no vent, the gas glugged out and spilled more while also making them harder to handle with all the latches and buttons you needed to press.
Even worse, since there are no vents, the gas can inflate and burst due to heating and cooling.
This video does a good job of explaining it more. I don't suggest doing the modifications like the video does.
Should You Add Fuel Stabilizer To Gas Cans?
You should only add fuel stabilizer to your gas cans if the gas will be sitting for more than a month.
Gas goes bad and jet ski engines are very picky, especially if it's supercharged, so adding stabilizer is smart but only if it will be sitting for months.
Otherwise, there is no good reason to add fuel stabilizer to the fuel in your gas cans.