There are many options when it comes to jet ski trailers. You have steel, galvanized and aluminum options.
You also have many jet ski trailer manufacturers and features that each one offers.
So, it begs the question, what is the best jet ski trailer? What type of jet ski trailer do you need and what extra trailer features you need to consider?
The Best Jet Ski Trailer!
The best jet ski trailer you can buy is a Triton Aluminum Trailer.
In general, an aluminum jet ski trailer is the best type of trailer, but the company that makes the best aluminum trailer is Triton.
Triton Jet Ski Trailer Pros:
The frame is made of aluminum, so no rust, a must for anyone who rides in saltwater.
Aluminum is lighter than the steel trailers.
Triton uses recessed lights, so you don't have to worry about breaking them as much.
Extra features can be added like built in retractable ratchet straps.
Single, double and 4-place options.
They have trailers made just for the Sea-Doo Spark and Yamaha EX Rec-Lite category.
Options for tandem and torsion axles.
Triton Jet Ski Trailer Cons:
Usually, aluminum trailers in general are more expensive.
Bolts of the trailer still wear out, they're not made of aluminum.
Can be harder to find compared to other jet ski trailers.
Triton trailers did not pay me to write this post, they truly are the best trailer you can get for your jet ski.
The Second Best Jet Ski Trailer?
Aluminum trailers tend to be the best option for jet ski owners, but also come at a higher price.
The second-best option is a galvanized jet ski trailer. In fact, this is the trailer I use for my Spark.
I went with galvanized, mostly for the cost, but it's still holding up well to corrosion. I also mostly ride in lake water, so saltwater is not a huge concern for me.
With a galvanized jet ski trailer, you get the benefits of aluminum, but it is heavier at a cheaper price point. You also don't get as many features and tech, but it's a trailer that gets your jet ski where you need it.
Steel Painted Jet Ski Trailers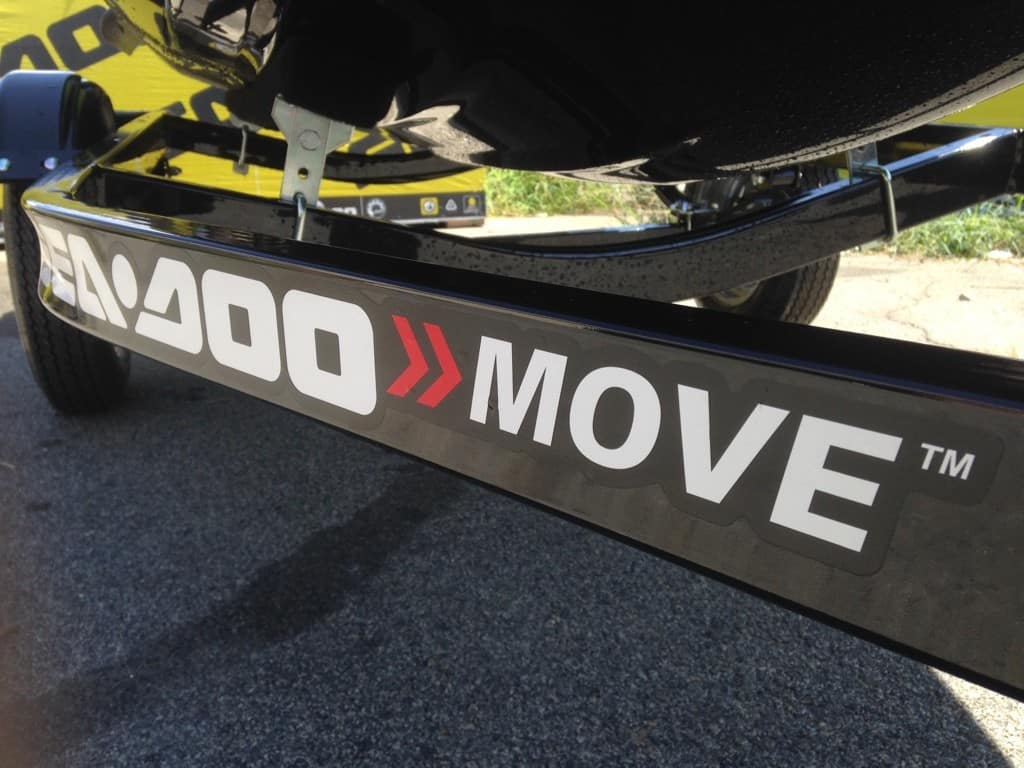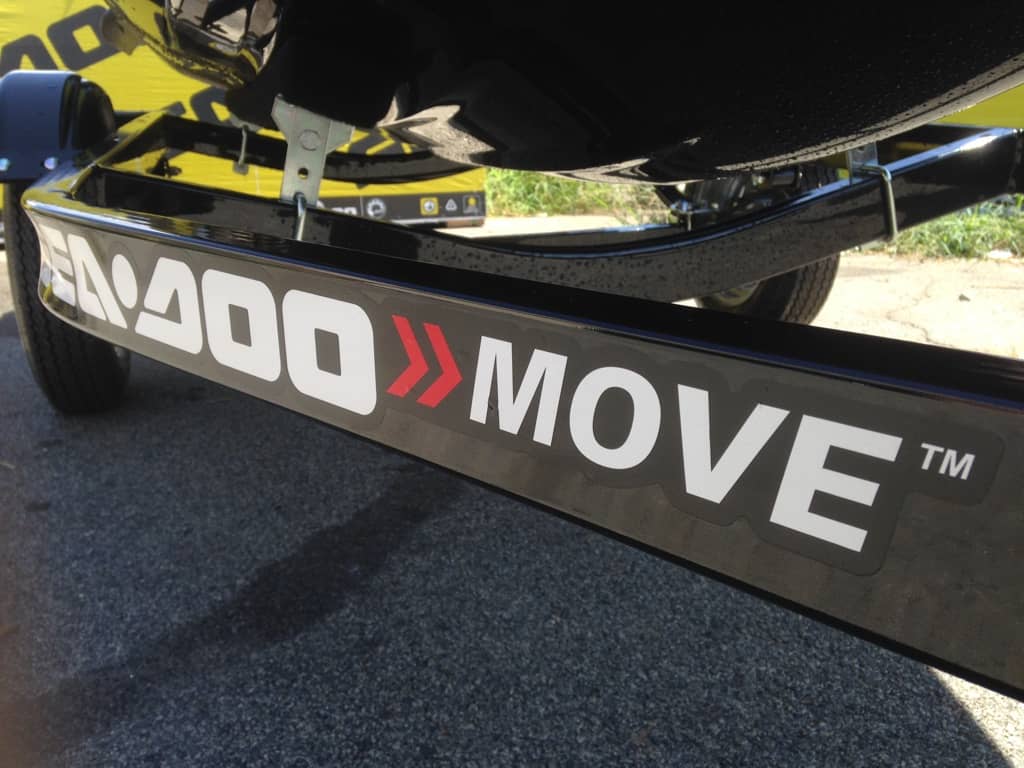 I don't want to say that painted steel jet ski trailers are the worst option, but they're definitely not the best.
A painted steel jet ski trailer is great for someone who doesn't use their jet ski trailer much and only needs something cheap and simple.
People who should avoid painted steel trailers are anyone who rides in salt water or the ocean. Even though they're painted, rust still finds a way. The trailer will get scrapes on it over time and the trailer will corrode. Unless special paint or bed-liner is applied, steel will rust.
The Honest Truth About All Jet Ski Trailers!
All jet ski trailers need maintenance!
Parts do wear out, and even parts on aluminum jet ski trailers will corrode over time. While the frame is aluminum and holds up to the corrosion, the bolts that hold the frame, fender and bunks together will corrode eventually.
The axle bearings need to be greased once a year or before a long trip.
And the tires, please replace them when they dry rot. Every older jet ski trailer I see has dry rotted tires. Please replace them when they dry rot or at least every 3 to 5 years! It's super dangerous to have a jet ski tire blow out on the interstate, and a dry rotted or older trailer tire is more likely to blow.
Also, when you wash your jet ski or flush it out, give your trailer a rinse off with the fresh hose water to get all the barnacles, plant life, and dirty water off. Then using silicone lubricant spray* anything shiny, avoid the frame or fenders as it will make it slippery as people use that to get on the PWC.
What Kind Of Trailer Do You Need For A Jet Ski?
What kind of jet ski trailer you should get depends on where you ride and how many jet skis you want.
If you ride in saltwater or ocean water, you need to stick with an aluminum jet ski trailer. You can get away with a galvanized jet ski trailer, but aluminum will be the best option. Aluminum is also good if you have a towing limit, as they're the lightest jet ski trailers.
Galvanized is the best cheap option as they run cheaper than aluminum and have better protection against rust and corrosion compared to painted steel trailers.
A painted steel trailer is good if you only need a trailer to bring in your jet ski for service or storage. You mostly keep your jet ski on the boat lift and need something for the few times you take the jet ski out of the water.
What Size Jet Ski Trailer Do You Need?
Jet skis come in many sizes, you have the single, double, and 4-place
Single: A single is a one jet ski capacity trailer.
Double: A double is a two jet ski capacity trailer.
4-Place: A 4-Place is a 4 jet ski capacity trailer.
There are very few 3-place trailers, as most go with a 4-place.
For more information on jet ski dimensions and sizes, check out our post here.
Important Jet Ski Trailer Sizing!
Keep in mind that jet ski trailer sizes can vary, while it may carry two jet skis, it doesn't mean it can carry YOUR two jet skis.
They make small double jet ski trailers that are made for two small Sparks or EX's, so they won't fit a Sea-Doo GTX or Yamaha FX.
Also, older jet ski trailers were made for jet skis of that time. Newer jet skis are bigger, much bigger, than the ones from 20 years ago. Even jet skis made in the last 5 years are bigger than ones before that, so it's important you pay attention to the carrying width and length of the trailer.
A jet ski too wide won't allow another similar size jet ski on the other side of it. Even more important is the length, as a longer jet ski will make the trailer too tongue light, and it will bounce off the ball or smack you in the face when you go to take it off.
How Much Are Jet Ski Trailers Worth?
Jet ski trailer prices can vary from $500 up to $15,000 depending on what you need.
To see how much jet ski trailers cost, go here.
Are The Jet Ski Trailers You Put Together Any Good?
You can buy jet ski trailers from hardware stores or online that often have you put them together.
While these trailers are cheap, they're not that good and don't fit most jet skis.
Unless you have a Sea-Doo Spark or Yamaha EX, these trailers will not work for you. Even then, you still need to put one together, get it registered and inspected, and you still end up with a painted steel trailer.
You're better off going to any local dealer or anyone who sells jet ski trailers, and buying those.
A used jet ski trailer will be a better deal than the "build your own" jet ski trailer.