Leaving Jet Ski In Water
It's recommended you don't keep your jet ski in the water for extended periods of time.
If you're in a crunch, you can leave a jet ski in the water for a day or two, but I would not push it anymore than that for saltwater.
Fresh water is more forgiving and a week will be fine, but you'll need to check on the jet ski often to make sure it's okay and not taking on water.
Freshwater Vs. Saltwater
Where you keep your jet ski is the real concern.
If you keep the ski in saltwater, then you don't want to keep it in there for too long.
I won't leave my jet ski in saltwater for more than two days; the saltwater will corrode things fast.
If it's freshwater, like a lake, I've been known to keep my jet ski in the water for a week. Freshwater lacks many of the strong minerals like salt that can corrode metal components and destroy your watercraft.
But you're NOT entirely safe when in freshwater.
Components still corrode in freshwater (just slower), and you still have other things to worry about, like the scum that builds on the bottom of the boat, and animals eating parts of the pump.
To give you an idea of why you should not leave your jet ski in the water 24/7 even if it's freshwater, look at the image below. That ski was left in freshwater non-stop, and you can see all the corrosion and scum that built upon it. It's so bad that the green anti-freeze is leaking out of it because it is so corroded.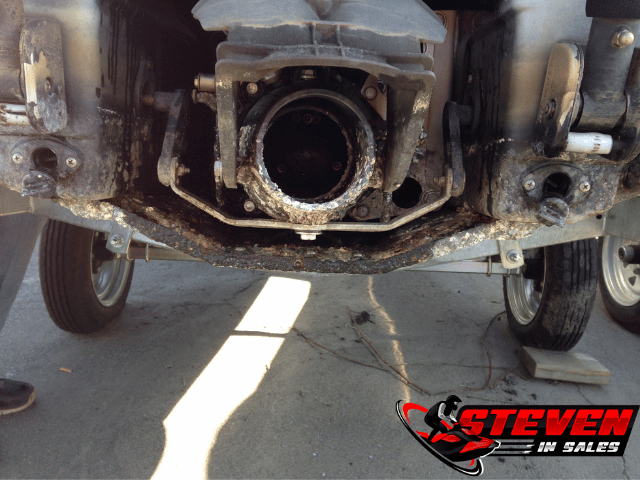 Long-Term Storage Vs. Short Term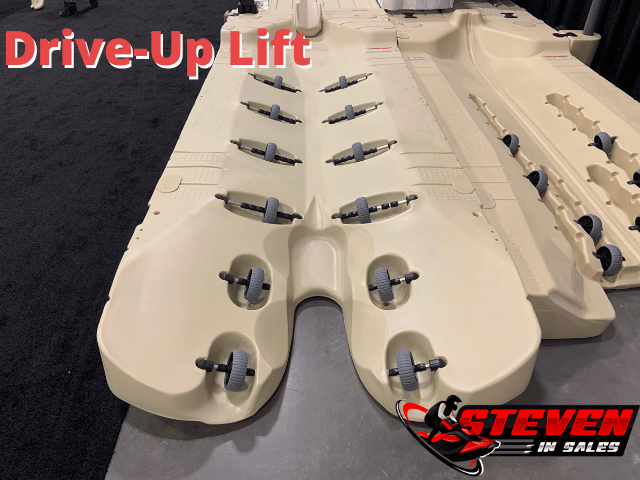 It's fine to leave your jet ski in freshwater for a few days.
I would recommend checking on it every day or more to see if it's taking on water. I know that can be overkill, but if it's the first time in the water, it's better to be safe than sorry with your watercraft.
The way you can check to see if it's taking on water is to lift the seats off. It's normal to see some water in the hull, but when you have about 2 inches or more of water in the bottom of the hull, then you have issues. I have a post here that talks about what to do if your jet ski is sinking.
If you keep the jet ski in saltwater, you have an even shorter time frame; I would avoid keeping a jet ski in saltwater for more than two days.
For long-term storage, you need to keep your jet ski out of the water. The best way to go about this is to get a drive-up lift, electric lift, dry dock It at a marina, or keep it on a trailer out of the water.
My personal favorite is a drive-up lift, here is a video showing you how they work.
What Happens If You Leave A Jet Ski In The Water?
Here is a list of reasons why you don't want to leave your jet ski in the water for too long.
It could sink.
Metal parts of the jet pump will corrode.
Build up scum under the watercraft can slow it down.
It's more easily stolen if not properly secured.
Animals and fish start to eat them, yes it's a thing.
Water will seep into any fiberglass damage and cause cracks to get worse.
Fading, especially at the water line as the sun hits the water and back onto the jet ski.
Steering could fail as it corrodes at the rear of the jet ski that is touching water.
Brakes and reverse systems can fail as they corrode do to over exposure to water.
Trim and VTS can fail due to over exposure to water.
Ride plate can leak and cause the jet ski to overheat, as seen in the picture at the very top.
Jet pump swelling and causing running and starting issues.
What To Do After Keeping Your Jet Ski In The Water For Too Long?
If you kept your jet ski in the water for a long period of time, there are a few steps you should take to make it's okay and ready for more rides.
Check the engine compartment to make sure it took on no water. If it's full of water, then it's most likely hydrolocked and needs to be fixed.
Get the jet ski on a trailer, or somewhere you can clean the bottom.
Use a pressure washer and cleaner to get off the algae and scum that builds up under the watercraft. Make sure to really clean the pump, too.
Flush your jet ski on the hose to make sure it starts and runs fine. Check the functions of the jet ski, make sure it starts, brakes and reverse work, throttle responds, and doesn't so odd or fills with water.
Using a silicon spray*, coat anything metal and shinny with a good coat to protect and lubricate parts.
Nature Destroys Jet Skis
Besides corrosion, another reason to keep your watercraft out of the water is nature. Some lakes have muskrats that like to eat significant parts of watercraft that help keep it afloat. With the PWC in the water, this makes it easy to eat away. It can be rare that they go after boats, but it does happen.
Another reason is storms.
The image below is a Sea-Doo that fell off its lift because of a bad storm.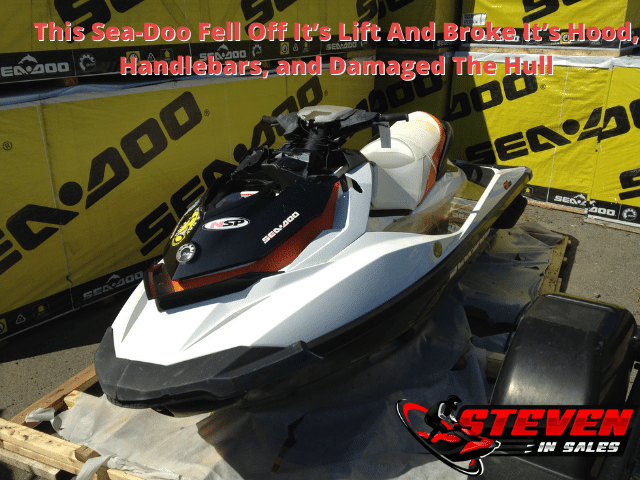 One massive storm can trash your jet ski and crash it into your dock. Or even worse, the dock lines holding it can break, and the jet ski could end up crashing into the rocky shore. I've seen this happen many times before.
I've even seen dock lines break and the jet ski drift away and never seen again, or crash into a neighbor's dock causing damage. It's best not to risk it.
Let's not forget the scum that builds under the jet ski, too. Barnacles and other nasty stuff will start to stick to the bottom of the watercraft. This can slow it down and make it stink too.
You'll also have to worry about this scum finding its way inside the jet ski's cooling system. They can even build up so much that it can block the cooling system and cause the ski to overheat.
One more point, if you have fiberglass damage under your jet ski, it's very important to not keep it in the water. Water can get into that damage and expand the fiberglass and make things worse.