The biggest changes for Sea-Doo in 2023 were a few new models like the Sea-Doo RXP-X Apex 300, Sea-Doo Explorer Pro 170, Switch Cruise 18 – 230 and a few color changes.
A majority of models like the GTI, WAKE, WAKE PRO, and the whole Fish Pro lineup had no changes and were carry over's from 2022. This is not unusual, sometimes Sea-Doo will carry over a model for several years.
The next thing you may notice is a price increase, but it seems people are getting a little confused, so we'll talk about that.
What's New
See Sea-Doo video of what's new for 2023 here.
Let's get the new stuff out of the way, I'm sure many of you already seen the videos and posts.
If you haven't, The Watercraft Journal does an amazing job of covering this stuff, so check them out here.
2023 Sea-Doo RXP-X Apex 300
The coolest watercraft to come out in 2023 so far is the Sea-Doo RXP-X APEX 300. Simply a great-looking machine with a great name.
All new color with a carbon-fiber hood and some on the mirrors top too. You get the second seat attachment along with the racing seat back rest. You also get launch controls for a perfect drag race!
The bad news, it's a 2023 only model with deposits set to end November 30th, 2022.
The other bad news, it's still the 300HP ACE engine in the regular RXP-X 300. I wish they would have teamed up with RIVA or done something more, especially with a name like APEX.
Unless you like one of a kind watercraft, I would stick with the regular RXP-X 300. This is not the first time Sea-Doo has released something like this, we had the 2001 RXX back in the day that was similar.
2023 Sea-Doo Explorer Pro 170
If Sea-Doo had released the Explorer Pro at the same time as the FISH PRO, I doubt the FISH PRO would have sold as well as it did. It had me in 2019 wanting it, and I don't fish.
The Explorer Pro is what many PWC owners have been craving and building themselves.
With the Explorer Pro, you get a removable windshield, 170HP engine, ST3 Hull, Bench style seating with Sea-Doo saying more padding was added, gunwale footrest, 7-inch Garmin GPS and fish finder and extended rear deck like Fish Pro. Let's not forget the front bumper, where you can use it to help you beach the jet ski or have something to grab onto when at the docks. It honestly looks like a Can-AM ATV meets a Sea-Doo PWC, and I love it!
The Explorer Pro will have more LinQ attachment points, so you can carry more items than the FISH PRO.
The Sea-Doo Explorer Pro will be a huge hit for 2023.
Interesting enough, this is not the first Sea-Doo Explorer, as they had a 2-stroke one with inflatable tubes.
Explorer Pro Windshield
I know a windshield may sound silly on a jet ski at first, but I think this is going to take off and other models will get them or at least it'll be an add-on accessory.
We have windshields for our motorcycles, ATVs, side by sides, Jeeps and just about anything else fun, so why not our jet skis?
With the wind hitting you all the time, the bugs slapping you in the face, and the rush of water over you, especially when it's cold, a windshield just makes sense.
And if you don't like it, you can remove the windshield from the Explorer Pro.
2023 Switch Cruise 18 – 230
The last new item that Sea-Doo added for 2023 was an 18 foot 230HP version of the Cruise.
The Cruise is the higher-end of the Sea-Doo Switch and will be perfect for someone who wants all the features but don't need a large boat.
2024 Sea-Doo RISE
Sea-Doo teased us with an electric hydrofoil called the RISE.
An all electric "jet ski", you could almost say, that will be here in the summer of 2024.
Not much is known about it, but it can't be too terribly expensive and a great option for those that want to be on the water but can't afford a full jet ski. This is also a first, real foray into the electric world by Sea-Doo. They have the electric scooters, but I don't count them.
You got to give it to Sea-Doo, they try new things and really push the jet ski world to new places.
Sea-Doo Pricing
Sea-Doo, just like everyone else in the world, have raised their prices.
Sea-Doo will also continue the commodity surcharge as the price of goods to make the PWCs keeps going up through the year. Once the MSRP is set, they can't change it due to laws set by each country.
I've noticed that on Sea-Doo's website they say the Spark starts at $7,699, but this is not completely true. The 3UP 90HP does, but not the base 60HP. If you go in to the build section, you can still find the base model 60HP 2up Spark for $5,999. I'm not sure what is going on here, could be a mistake? Or Sea-Doo may have more of the $7,699 model Sparks? I don't know, but it was confusing.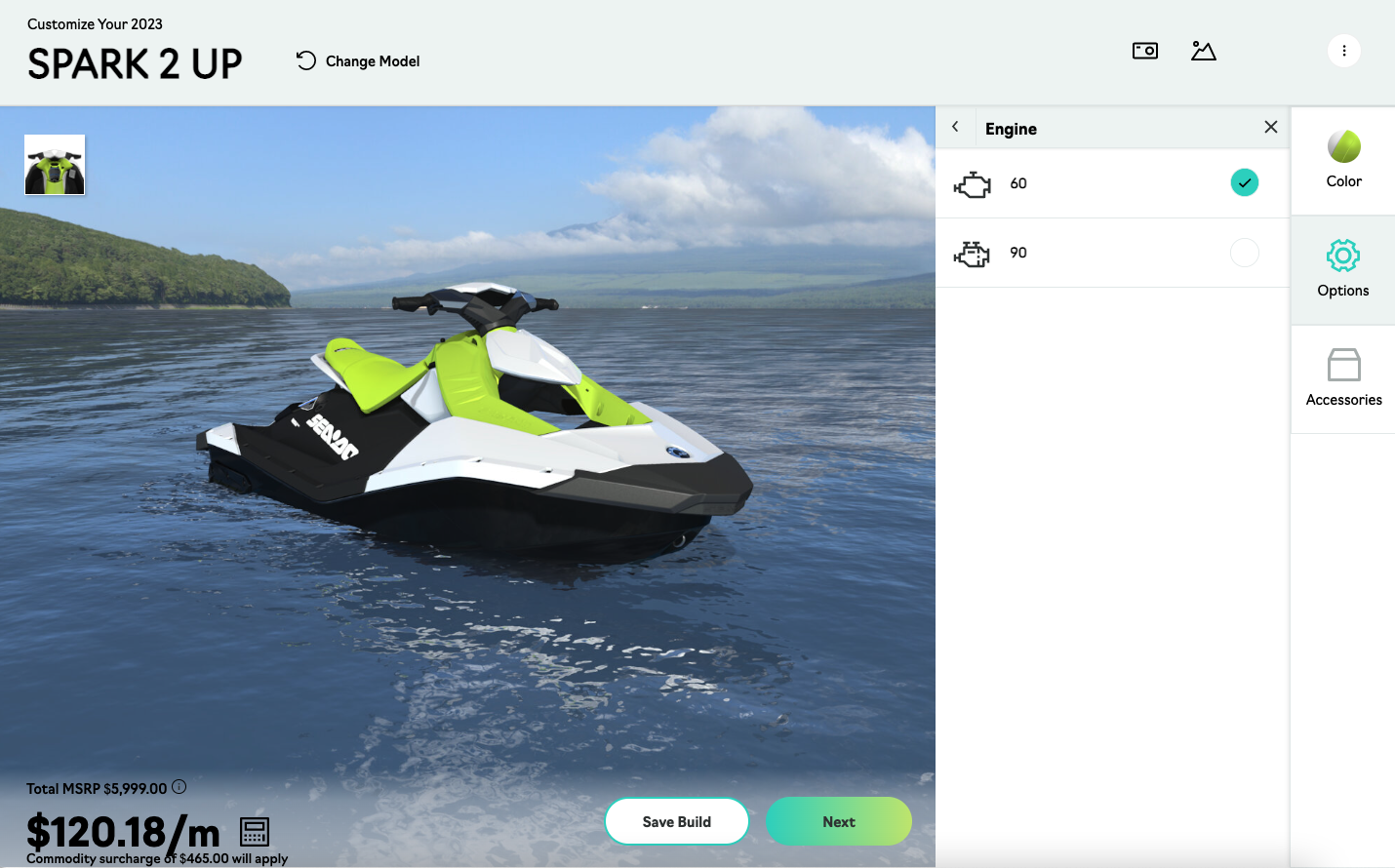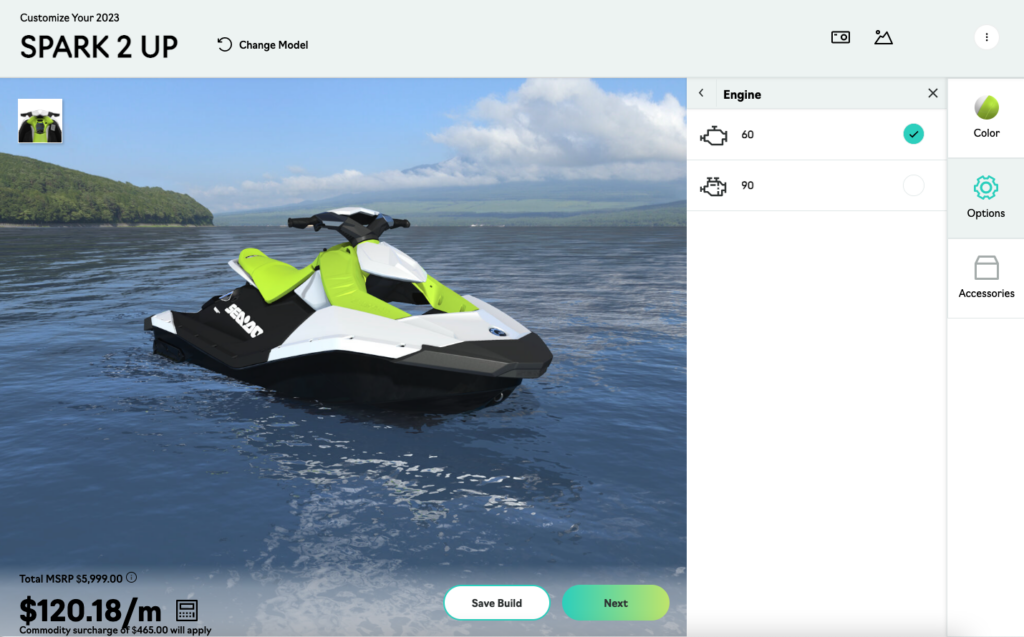 Sea-Doo Spark
It seems they're only making the Sparks in one color this year, the white with manta green.
Having only one color, and a color they can get easily, is one of those things you'll see many manufacturers doing as supply chains are still tight. It's also why you're not seeing many color changes from last year for other models. It's a cleaning up and trimming of models that I find to be a good thing.
When the Spark came out, there were 5 color options, two drive options, and two seating options. You ended up with 60 different SKUs, and it was just a mess. You had the engine but the wrong color for the customer, or you had everything right, but they don't want iBR. Cutting things and streamlining it is great, get to the starting point and let the customer build what they want.
Cutting things continues for the 2023 model lineup.
No GTI 90
It seems Sea-Doo has cut the GTI 90 out of the lineup, which sucks, as I really liked that PWC.
You still have the GTI 130 and GTI SE 130, but no more 90HP engine option.
With Sea-Doo Switch having the 100HP ACE engine option, it really makes sense to get rid of the 90. It maybe a good time to get rid of the GTI 130 and only have a GTI 100. Or perhaps, they were planning the new Spark 100, and it didn't make it through this year?
Before Sea-Doo got rid of the iS models, they started stripping them and made them only S models the next year. It may not be a strong indication, but something with a 100HP engine is coming soon, and hopefully, it's in a Spark!
RXT-X 300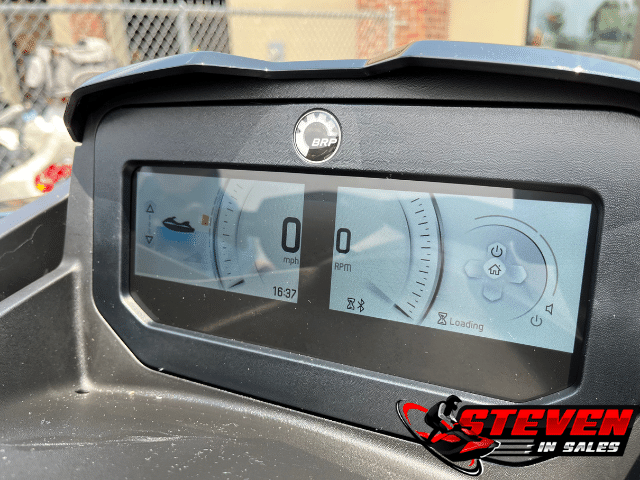 The RXT-X 300 now has the Tech Package as standard. This is the wide color screen display that the Sea-Doo GTX Limited that can also be tied to your phone for GPS and music control.
The Tech Package does include the stereo system too.
The color and everything else stayed the same on the RXT-X 300.
iDF
iDF the debris free system to get seaweeds and other items out of the pump of your jet ski.
The iDF can be added to more models like the GTI, it's not standard.