The Sea-Doo Switch pontoon boat is a groundbreaking product that has shaken the boating world.
Thanks to Lake Norman Power Sports, I was able to take a Sea-Doo Switch out for a ride and go through my paces, so I can give you my honest take and review on the Sea-Doo Switch pontoon boat.
Sea-Doo Switch Review And Test Drive Video
Sea-Doo Switch Review – My Thoughts
My first thought on the Sea-Doo Switch was that it was going to change the boating industry, and I still hold true to that today.
There is nothing like the Sea-Doo Switch pontoon boat on the market and may never be, with Sea-Doo's tight grip on the Polytec patent.
The reason why the Sea-Doo Switch exist today is the same reason the Sea-Doo Spark came to be, price!
Pontoon boats used to be the affordable way to get on the water, but today pontoons are costing more than most other boats and even some houses. Pontoon boats have lost their way and cut many people out of the market.
The Sea-Doo Switch is the answer to the problem that has been created by other boat manufacturers reaching for bigger margins and ignoring the people who got them where they are today.
The Sea-Doo Switch price point, features, and options put it in a category all on its own that other pontoon manufacturers can't touch. The ease of driving, the predictability, the repairability, and the reliability that Sea-Doo has shown with the Polytec materials is just hitting on all the right spots.
Sea-Doo Switch Specs
Here are the specs for the Sea-Doo Switch along with other details to help you when buying.
Sea-Doo Switch Sizes And Options:
The Sea-Doo Switch length varies from 13 feet to 21 feet depending on the model you want to buy. An extension platform can also be added to some models to give you an extra 2 feet.
The image below shows you the length and model options of the Sea-Doo Switch.
Sea-Doo Switch Seating Capacity:
The Sea-Doo Switch seating capacity varies from 5 to 9 people depending on the model and size you need.
Sea-Doo Switch Engine Options:
130HP (Only on the base model)
170HP
230HP (The only one with a supercharger)
All Sea-Doo Switch engines are Rotax powered, owned by BRP who also owns Sea-Doo. The same company that makes the boat also makes the engine, this makes warranty work a lot easier.
They're purpose built marine engines with 3 cylinders and use closed-loop cooling. It's also the same engine that Sea-Doo has used in their jet skis, so it's not a new or unknown engine, it's tried and tested.
Sea-Doo Switch Top speed:
130 HP = 26MPH
170 HP = 34 to 37MPH
230 HP = 44MPH
Other pontoons boats on the market top speed vary from 18MPH to 50MPH, so the Sea-Doo Switch falls inline with other pontoons on the market.
Sea-Doo Switch Trailer
All Sea-Doo Switch come with a trailer included in the price.
It's a Sea-Doo branded trailer with a protective coating.
The Best Boat For Beginners
The Sea-Doo Switch has to be the best boat for beginners I've ever seen due to the handlebars, throttle controls, brakes and everything at your fingertips.
With the Sea-Doo Switch, you're moving fingers and not your whole arm and body to control it like other boats. You feel less fatigued, more in control and less stressed as everything is so predictable and easy.
Driving a boat can be very intimidating, especially for new boat owners, you need to turn the steering wheel multiple turns to get small movements and flip a throttle lever that is disconnected from the steering. While the Sea-Doo Switch has everything on the handlebars, you don't need to move the handlebars nearly as much, and with the jet drive, you're always processing water which gives you finer grain control (you can steer in neutral!).
TIP: If you're new to boating, you'll need a few things to get you going on the water. I cover the must-have boat accessories here!
The handlebars feel like a crossbreed between a steering wheel and a joystick; there is a reason why joysticks are making their way to boats, as it's so much easier than a steering wheel and levers.
Driving The Sea-Doo Switch
Driving the Sea-Doo Switch is not like driving any other pontoon, or any boat for that matter, it's easier.
The Sea-Doo Switch feels like driving a large and heavy Sea-Doo jet ski.
The larger size of the Sea-Doo Switch makes things move more slowly around the dock and trailer. Along with the handlebars and control levers at your fingertips, you feel more confident in your movements. The jet drive is always processing water, so you're always in control and can even steer the pontoon in neutral.
I joke that driving non-jet-drive boats looks like the man behind the curtain from The Wizard of Oz, but it's true. Compared to the Sea-Doo Switch, you move very little, and have such greater control over the Switch.
Jet drive boats are always processing water, this means when the engine is on the impeller is moving, and you're always in control. Driving the switch feels like driving a helicopter, where you have complete control of the craft and can put it where you need it. After driving the Sea-Doo Switch, driving other boats feel like driving a Semi-Truck, where you're shifting a lot and moving a large steering wheel, and just overall other boats feel clunky compared to the Switch.
Brakes & Steering
The Sea-Doo Switch comes with brakes. The bucket in the picture above moves up and down to control forward and reverse direction of the thrust. The brakes work by dropping the bucket when you're at speed to create drag. Learn more about iBR braking here.
I know that may sound crazy to some, but brakes have been a thing for Sea-Doo watercraft since 2009.
The brakes, or iBR as Sea-Doo calls them, really do work and will stop sooner than other boats.
Brakes on a boat are not common, and only the Sea-Doo Switch Pontoon has iBR.
While braking is nice to have, what makes iBR so useful is when you're docking or boarding your trailer. The control iBR gives along with the predictable nature of the Switch makes it so easy to dock.
A nozzle behind the reverse bucket controls steering of the Sea-Doo Switch. Since the Switch is only moving a small nozzle, you don't need to move the handlebars much. The nozzle is also lightweight, so there is no hydraulics to maintain like you have with other boats.
iDF On The Sea-Doo Switch
iDF (Intelligent Debris Free system) is a Sea-Doo system to unclog your jet pump from debris.
Ski Mode
With Ski Mode, you set the take-off power and top speed you want to pull a tuber or skier.
When in Ski Mode, you keep the same predictable pull which skiers and tubers love.
If you're doing any pull sports, make sure you get a shock tube* to protect your impeller.
VTS And Trim Tabs
The Sea-Doo Switch does come with Sea-Doo's VTS (variable trim system) and trim tabs you can set.
Trim is used to level the boat out or to adjust the nose in different riding and towing conditions.
Since the Sea-Doo is a jet drive, bow rise is not a huge issue compared to other boats. You don't trim the Sea-Doo Switch much, if at all. During my test ride, I saw no need to trim the Switch unless it was really rough, or I was towing someone. Learning how to trim a boat is a huge hurdle for new boat owners, but with jet drive, there is not much need to trim as often as you would with other boats.
Security Key
Something that gets ignored, but kind of a big deal, is Sea-Doo's use of the DESS key.
The DESS key is a digitally encoded security system. This key works as the kill switch for your Sea-Doo and also is programmed to your boat.
You don't see security taken a seriously on other boats, most of the time it's a standard cut key with no protection. Shoot, many of them have the wires of the keys within easy reach to make jumping the connections easy.
With the DESS key, no one can start your Switch unless they have the right key. There is no bypass for DESS, you must have the correct key. So, theft is much harder on a Sea-Doo than other boats.
No Exposed Prop
The Sea-Doo Switch uses a jet pump to power the boat, this means there is no exposed prop.
Props are sharp, and if you're not careful, you can hurt yourself.
The Sea-Doo Switch, on the other hand, has its impeller tucked up inside the center pontoon. There is no prop for someone to get cut on, and there is no lower unit to drag or hit either.
You still need to have the engine off when someone is boarding the Sea-Doo Switch, and you can't go in less than 3 feet of water.
Loading The Switch On The Trailer
I've loaded a few pontoon boats on trailers, and they're not fun.
The bunks are skinny, and you need to get it just right.
The Sea-Doo Switch was a lot easier, the bunks are large and very forgiving. The center pontoon is just a GTI bottom hull, so just load it up like a jet ski, and you're good.
Bimini Top Is Easy To Put Up and Down
A Bimini top is a must for any boat if you ask me.
The problem is that many Bimini tops suck and are a pain to put up or down.
The Sea-Doo Switch Bimini can be put up by one person, and to take it down only requires pressing two buttons on each side of the tower.
The coverage of the Bimini is good for the captain and the passengers behind him. Sea-Doo does sell a front Bimini top that gives you complete coverage as it attaches to the rear Bimini.
I'm just a little over 6 foot tall and had no issues standing and moving around under the Bimini. I could see someone at least 6 foot 5 inches having no issues either, plenty of headroom.
Sound Dampening On The Switch Is Very Good!
People like to rag on jet drive boats because they're louder than other boats. This was true 10 years ago, but not so much these days.
I've ridden many of Sea-Doo's older Jet Boats before they stop making them in 2012, and they were quite loud. But they got it right with the Switch, and it was the first thing I noticed when I launched the boat into the water. I couldn't stop saying it in the review video, that's how impressed I was.
With the engine under you and closer to the middle of the boat, it really helps dampen the sound and give a better ride. While other pontoons have the outboard at the rear giving off heat, throwing off the weight and making all kinds of sounds, especially when shifting in and out of forward and reverse.
The Switch in comparison with the center engine, iBR system, and open space feels more premium. There is no clunking into gears, it's all smooth. No hot engine getting the passengers at the rear. And no shaking of the boat when shifting either, it truly is a more enjoyable experience driving the Switch.
Vinyl Clear Sides
Sea-Doo went a different approach for the siding of the Switch.
Other pontoons use aluminum siding and have so, well, since the start of pontoons.
Sea-Doo instead uses a clear vinyl that they claim won't yellow over time. This cuts down on weight, but more importantly it improves visibility for the driver. You can see through the walls of your Switch, which is very handy when docking.
Another benefit is that it's easier to replace your Sea-Doo Switch siding, as it unzips and uses Velcro.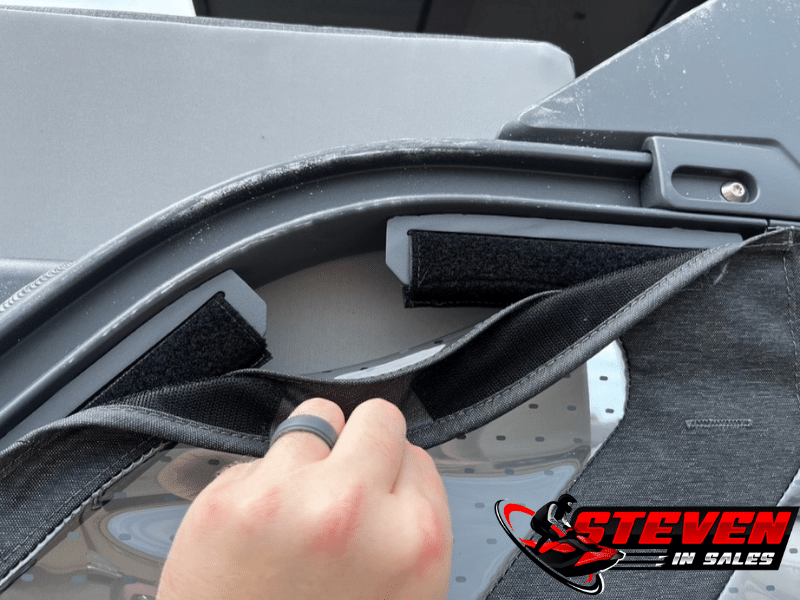 Everything Is Modular!
As talked in the last section, you can remove the vinyl siding if it gets damaged or dirty, or you want to get new ones to freshen up your boat.
That is not the only thing that can be replaced.
While everyone is talking about being able to move the seats anywhere in the boat, which is a nice feature, what makes me the most happy is the siding on the pontoons can be popped off and replaced.
People will hit docks, storms will happen, and who knows what else, and being able to pop those panels off and get new ones to fix the boat is a huge deal. No need to take it to a fiberglass repair shop and wait weeks or months. No denting your pontoons or the siding of your aluminum frame and that costly repair. Nope, just replace the panels on the Sea-Doo Switch.
Move The Seating On Your Switch
The biggest selling feature of the Sea-Doo Switch has to be the ability of easily removing your seats and build a custom layout of your choosing.
Anywhere you see the circle cut-out you can place a seat, no tools required.
While picking your own layout is cool, most will pick one and stick with it.
What makes this feature shine to me is how easy it makes it to clean the boat. Just pop off the seats, set them to the side, and power wash the deck of your Switch.
The seats still offer storage under them, but being able to take them out is a huge plus. We've all had someone spill something on the seat or something leak out when in storage of the seat, and to be able to remove the whole seat to clean it just seems like a bigger deal then custom layouts to me.
The idea that you can make the Switch into a fishing pontoon boat for the weekend and a family boat for the holidays by swapping the seats around is a huge deal!
LinQ System
LinQ is Sea-Doo's system to attach accessories to your craft.
The Sea-Doo Switch has many LinQ points that will attach things like coolers, gas tanks and more accessories without the need of tools.
It's a clever idea that really expands the capabilities of the Switch. You could even get fishing rod holders and make this into a nice fishing boat if you wanted to.
Engine Is Super Easy To Get To
The engine placement and ease of access is something that the Switch has really done well, and I feel doesn't get much attention.
Every boat owner needs to check their oil, battery and other components, and making these things hard to get to seem to be a growing trend with other manufacturers. A lot of other boats you need to be upside-down to replace the battery, as I've learned a few times.
Sea-Doo also uses their own engine and not some repurposed Chevy engine block. Yes, a lot of the boat engines on the market are just SUV engines blocks with some changes to make them "marine" engines.
The Rotax Sea-Doo engine is purpose built for watercraft, the dip stick and the ease of access to the oil filter gives this away. Other manufacturers will use the repurposed SUV engine which still has the oil filter on the bottom, makes sense for an SUV but not so much for a boat.
Closed Loop Cooling For The Sea-Doo Switch
A feature found on all Sea-Doo's watercraft is closed loop cooling.
Sea-Doo uses anti-freeze and a ride plate, similar to how your car cools its engine, to cool their boat engines.
This means your Sea-Doo does not take in any lake or ocean water to cool the engine. They do take in water to cool and muffle the exhaust and intercooler if you have one.
Doing it this way cuts down on corrosion and keeps the engine more predictably cooled.
Sea-Doo Switch Images
Here are images of the Sea-Doo Switch that show off more features and items.