Ok, the hard part is over. You got the jet ski you love and you're ready to hit the open water and play! Before you go out and ride you'll need a few jet ski accessories to keep you legal, safe, and having fun!
It doesn't matter if you have a Sea-Doo, Yamaha, or Kawasaki as these accessories for PWCs will work for you.
1. Jet Ski Life Jackets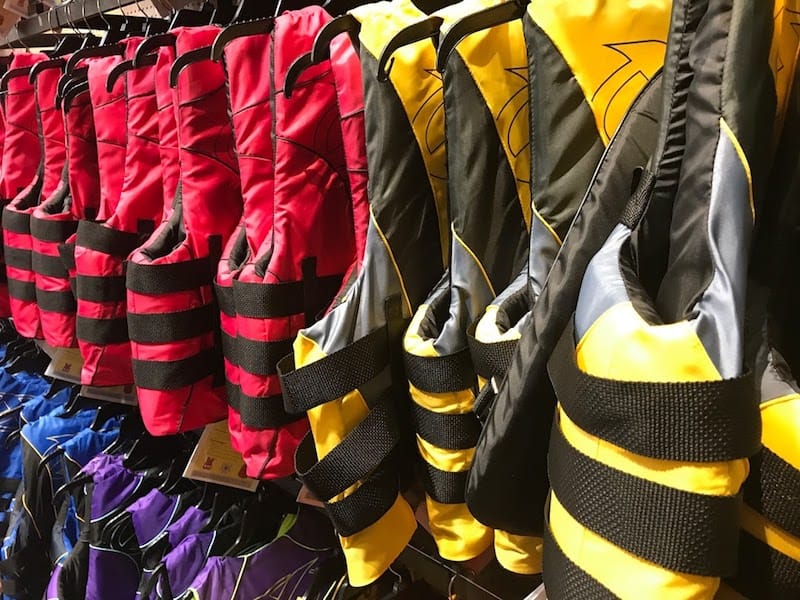 One of the most crucial jet ski accessories to have is a life jacket. Not only are life jackets required by law but they could also save your life. A life jacket will keep you afloat if you get hurt and fall off the watercraft.
Getting the right size life jacket is very important – too big you'll slip out of it when in the water or could put your head below water and too small doesn't have enough buoyancy to keep you afloat.
You'll also want a couple of vests in a variety of sizes for when guests come over and for passengers that ride with you.
The O'Neill Men's Superlite USCG Life Vest* is what I like to use.
2. Dry Box For Your Phone
With phones getting more expensive every year it only makes sense to get the correct protection for it when on your jet ski.
They make waterproof pouches and they work okay but I say stick to the small dry boxes like the Plano Guide Series Waterproof Case*. The Plano box will have soft padding inside of it to protect your phone from the bumpy ride. Throw a rag with your wallet + keys in and you'll be ready to ride.
If you think about it, your smartphone is one of the most important jet ski accessories you can have. You can make a call from it if you get hurt or need a tow. You can use Google or Apple Maps to plot where you need to go by water. You can even use the "Find My Friends" app if someone is lost on the water and you have to find them.
3. Jet Ski Dock Line
Marine dock line such as double braid nylon dockline is used by most for tying up to the docks.
I prefer Bungee Dock Line* because it's the easiest to use when wrapping around cleats. The bungee dock line also works great because it has the slack that is needed if the water is choppy so your PWC can freely move. Bungee dock link is for sure something you should put in your shopping cart.
If you want to learn how to tie up a jet ski or any boat here is a great video showing you how.
4. Jet Ski Anchor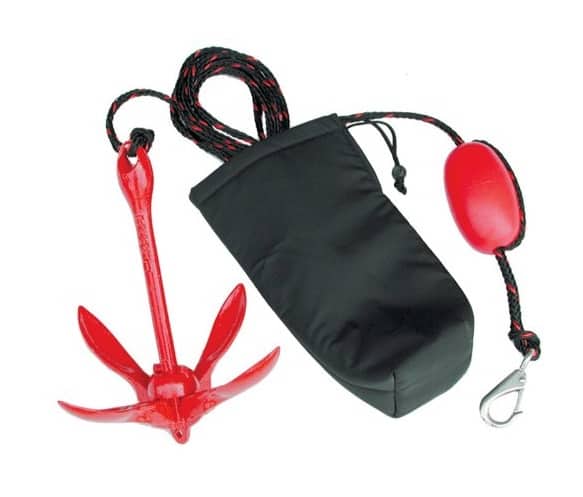 If you plan on hanging out in a cove, fishing, or exploring the water, then you'll need a jet ski anchor. Not any anchor will do as many won't fit in most jet skis, so that is why I created this guide here to help you find the best anchor.
Sandbag vs. folding anchors vs. all the other types of anchors do get confusing. To keep it simple check out my guide above.
Anchors are great watercraft accessories to have so you can securely beach your PWC.
5. Solar Battery Charger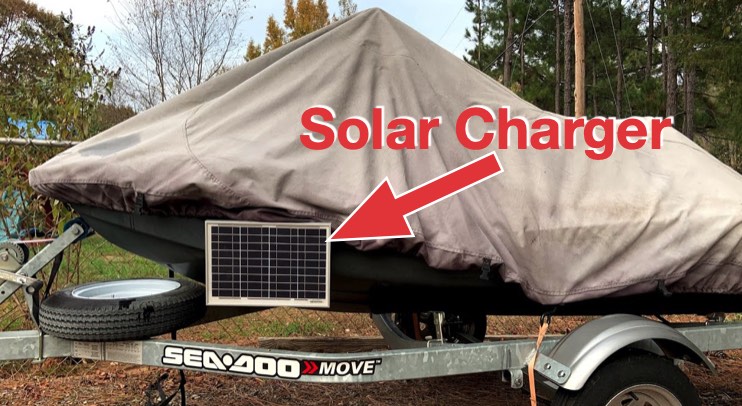 A solar panel battery charger is one of the smartest jet ski accessories you can buy. Let me explain.
Driving your car every day keeps the battery charged and active for years.
You don't drive your jet ski as often, and its battery goes flat quicker because of this.
Keeping your jet ski battery charged and active for years is easy with a solar battery charger.
You'll want to stay under 5-watts for solar chargers, anything more will damage the battery. Solar chargers are meant to trickle charge and also maintain batteries which is perfect to use for the offseason to keep your battery from dying.
I'm a fan of the ALLPOWERS 18V 5W Portable Solar Car Battery Charger* for my watercraft but anything that charges a 12-volt battery and is under 5 watts will do. These solar panel chargers will work for any Kawasaki, Yamaha, Sea-Doo, Honda, Polaris, or even a Stand-up Jet Ski.
6. PWC Fenders/Bumpers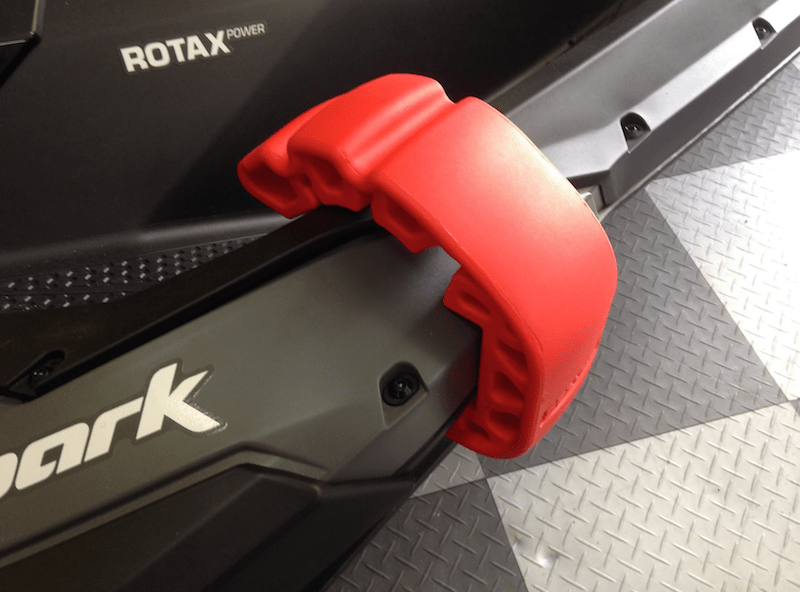 Fenders (also called bumpers) are a must-have accessory when you dock your watercraft and don't want to damage the hull.
Even though many PWC's have thick rub rails it's still a good idea to get fenders. A PWC can take a nice beating in a rainstorm from the wakes if you don't have any fenders on it if left in the water.
Fenders for the front and rear on one side are all you need. The kemimoto PWC Boat Fender* works great because of its hinged design.
Tip: Before docking, you'll want to have the fenders out and on the side you plan on docking at.
7. Shock Tube for PWC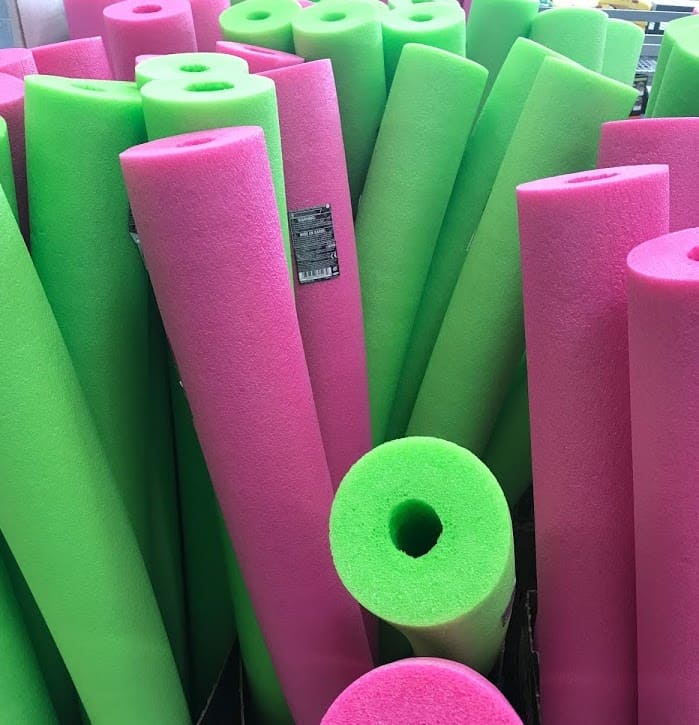 Sucking stuff up in your jet ski propulsion system is the same feeling as getting a flat tire in your car. Both are not fun, and both leave you stranded until you get the problem fixed.
What if they made a tool that lowered the chances of getting a flat tire, I bet you would buy it. That is what a shock tube or also known as an impeller protector* does; it's a tool to keep you from sucking up your towing lines.
I would put the shock tube on the definitely buy jet ski accessories list because sucking up a rope is a pain to fix and time-consuming. If you're wondering why it goes by shock tube that is because it doubles as a damper in the off chance the tow rope breaks it doesn't smack the person being pulled.
If you have sucked something up, I have a guide on what to do here.
8. Towable Tubes That Work With Jet Skis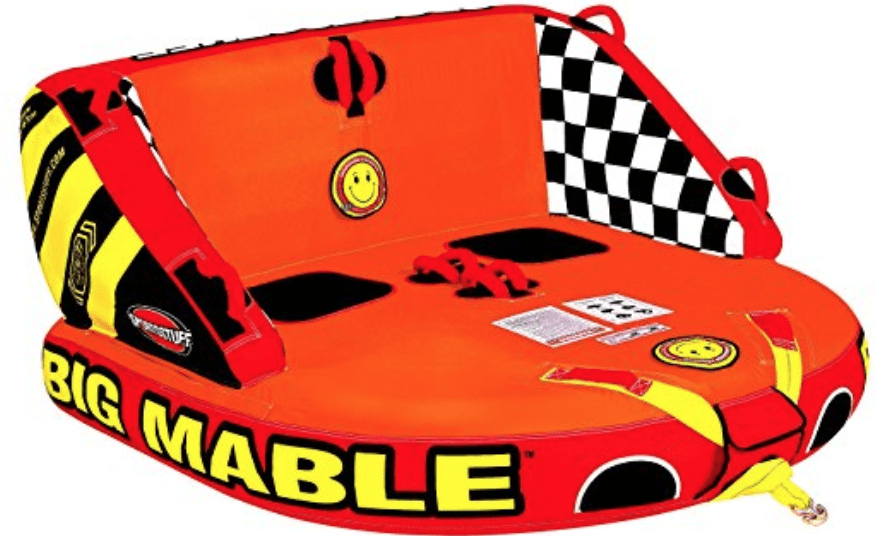 Being pulled on a tube is the best experience you can have on the water! There is nothing else like it, and it's a perfect activity for the whole family to do. This is why it made it to our must-have jet ski accessories list even though it's more of an add-on.
If you needed a reason to buy a jet ski, you have found the reason in towable tubes!
Every tube is different, so it's essential to get the one that fits your style of riding.
Airhead Rebel 54 Inch 1 Person Durable Towable Tube Kit* – A great starter tube that is a playful one-seater. You'll have more fun on a single-rider tube like this one than many of the bigger and heavier tubes.
SPORTSSTUFF 53-2213 Big Mable Towable* – A personal favorite of mine, the Big Mable is easy-going and perfect for someone new to tubing. You'll still have a blast with this tube but it has more handles and a plusher ride than other tubes. One of the best-selling towable tubes I've seen.
SPORTSSTUFF 53-2030 4K Booster Ball for Towables* – This is not a tube but something you add if you want to enhance the experience.
AIRHEAD AHM2-2 Mach 2 Towable* – A 2 person tube that allows you to sit in a cockpit which gives you a more secure fit especially for the kids.
WOW Watersports Thriller Deck Tube Water Towable Tube* – Not for the faint of heart but instead for someone who wants a real tubing experience. All I can say is hold on tight as you're in for a wild and fun ride!
Check out the 8 Craziest and Oddest Tubes on the Market!
9. Accessories For Towable Tubes
Let's not forget about the accessories that go along with towable tubes.
12-Volt Inflator.
Tow Rope.
10. Telescoping Paddle For Jet Skis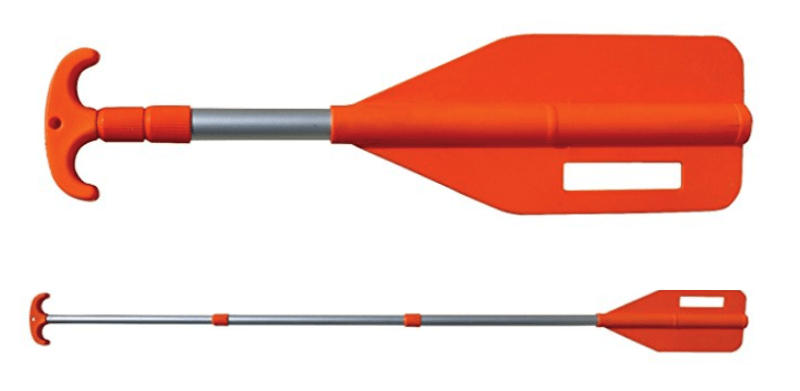 A paddle is something you'll never need until you really need one. A paddle falls under the jet ski accessories that everyone should buy! You may never have any problems listed below but if you do you'll be glad you got a paddle.
You could use a paddle…
if you run out of gas.
if you sucked up rocks.
if you sucked up a rope.
if your battery is dead.
if you need something to wave down passing boaters.
As a tool to extend to someone hurt and floating in the water.
A paddle even makes a great Christmas or Birthday gift for the boater in your life!
The Attwood Emergency Telescoping Paddle* is what I use. I like it because it's telescoping so it stores neatly and compactly in the vessel.
11. Jet Ski Cable Lock
So you got your Jet Ski home and on the dock. You might be asking yourself, "how do I lock this thing down"? The best way is with a cable lock around the front bow hook.
Most drive-up docks have a place for you to wrap your cable lock around. Be sure to still use dock line for holding the watercraft along with the cable lock.
The cable lock will also work for trailers, lifts, and any other way you want to lock down your vehicle. If you don't want your jet ski stolen this is a solid investment! Don't forget the cable lock at checkout!
I recommend the Master Lock Python Adjustable Keyed Cable Lock Here*
12. Whistle/Air Horn
Most states require you to have a whistle or an air horn within reach.
What I do is buy a bunch of whistles and attach them to every life jacket I own. This way, no matter what I always have a whistle and so do my guest.
Most states want you to have a safety whistle* because of its high visibility. I might be a little paranoid, but I also carry an air horn too when I ride my ski.
13. Dry Bag For PWC
A dry bag works great to keep your phone, wallet, registration, insurance papers, spare clothes, a towel, and everything else you carry dry.
I've always been a big fan of bags like this* for the color and quality of the bag. A great feature with dry bags is that they're buoyant enough to float if you drop them in the water.
Important: It's easy to lose your wallet, keys, phone, and other important and valuable things when jet skiing. This is why it's important that you secure these things in your dry bag and store it safely in your personal watercraft before you ride.
14. Clothing & Gear For Jet Skis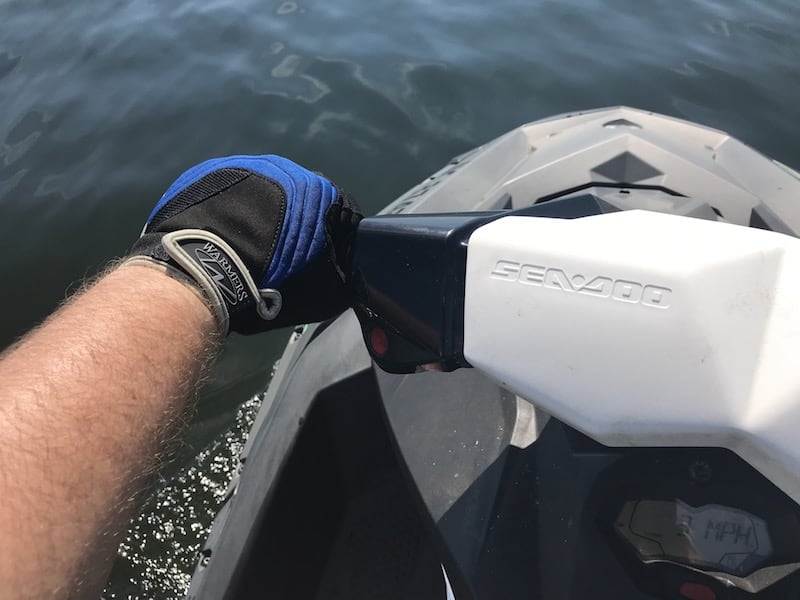 Here is a list of recommended clothing and gear you should have when riding a jet ski.
Sunscreen (Got to stay protected from the UV light!).
Sunglasses.
Water Shoes (keeps you from slipping and hurting your feet).
Wetsuit/drysuit (A must if you ride when the weather is cold or crummy).
Wetsuit bottoms (Read the warning stickers at the rear of the PWC for why).
Towel.
To see the complete list of what to wear on a jet ski click here.
15. Jet Ski Cooler
When it comes to jet ski coolers you want one that is flexible and not a hard body. Storage compartments on jet skis are oddly shaped openings and a hard cooler won't work.
I recommend getting a cooler that collapses like the CleverMade SnapBasket Soft-Sided Collapsible Cooler*.
A cooler is a must-have to keep your food and drinks cold. Many lakes have islands where you can beach the watercraft and get out the cooler and have lunch. One favorite spot of mine is a restaurant on the water and having a cooler where you can bring back leftovers is a nice plus.
16. Jet Ski Fishing Accessories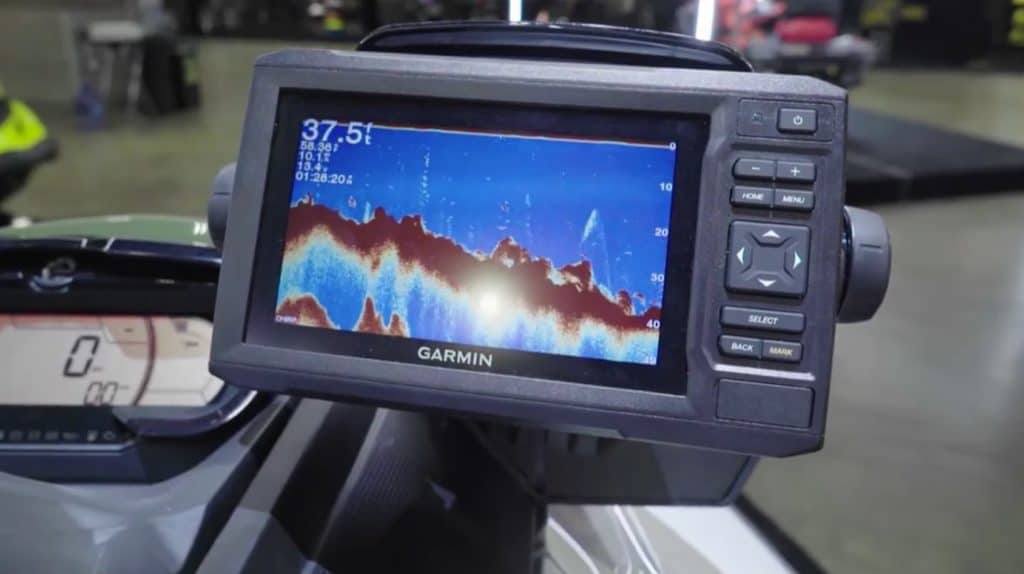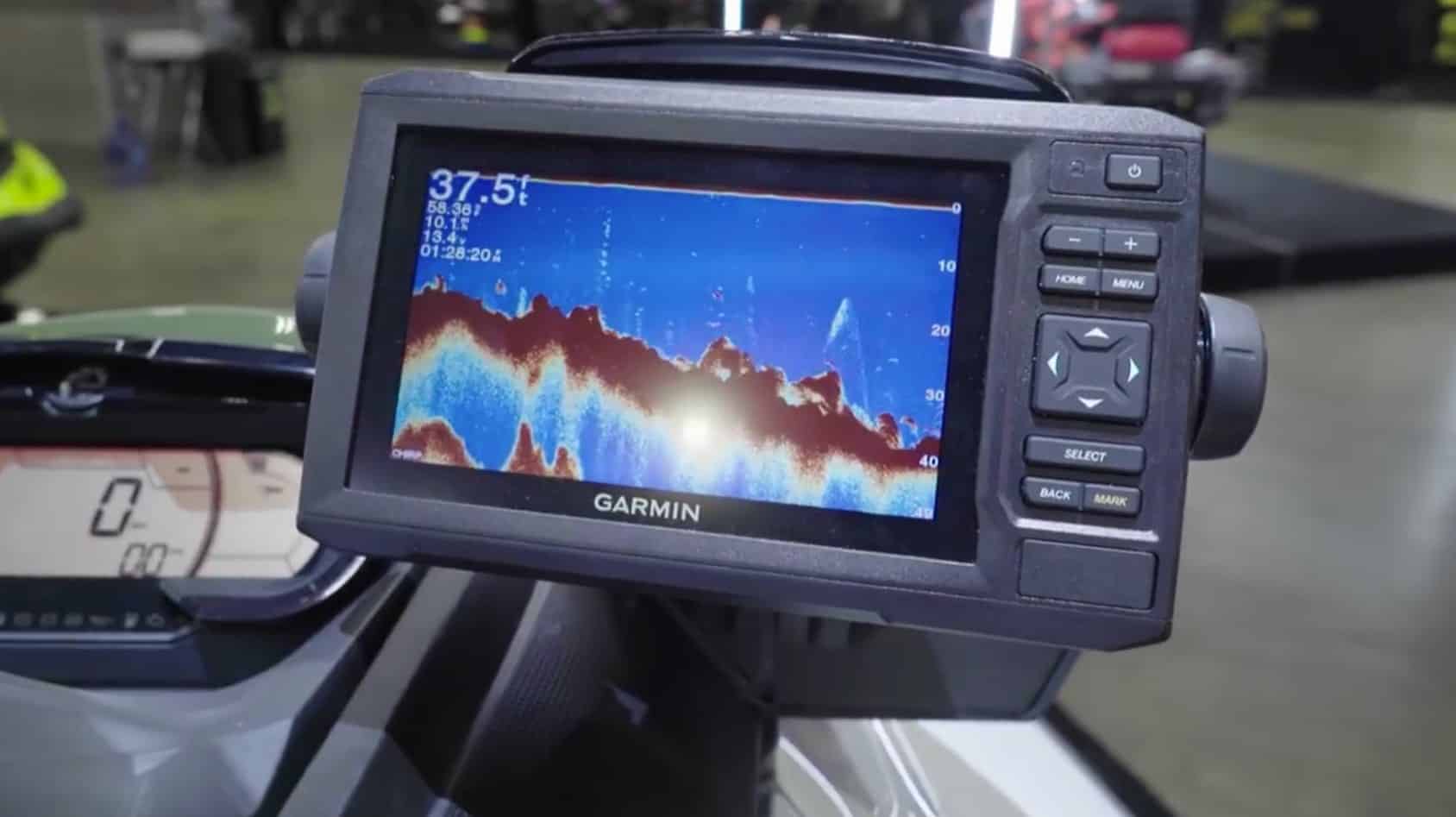 If you plan on using your PWC for fishing you'll need a place to put your rods. Sure, you could lay your fishing rods in the footwells of the watercraft but why do that when they have fishing accessories that work better.
You can buy fishing racks* and rod holders that fit on the back of many watercraft.
Sea-Doo came out with the Fish Pro which has the racks, rod holders, and even GPS with fish finder from the factory. Worth a look at if you're serious about fishing.
17. Jet Ski Ladder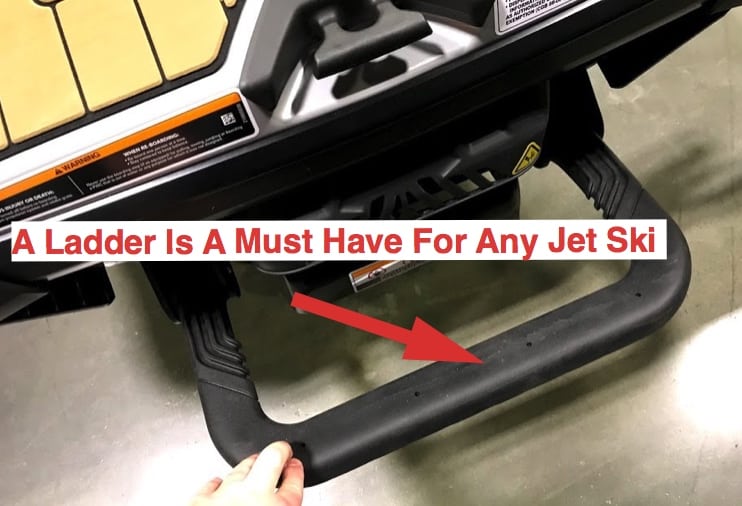 Boats come with ladders but some jet skis don't. It's easy to overlook a ladder in the buying process but it's one of those things you come to find out you really need. You might also find that the ladder you have now isn't long enough or simply doesn't work for you.
If you don't have a ladder or the one you have now won't cut it then you can get the Hardline Products EZ Riser Boarding Ladder*. It does have a 300-pound weight capacity and is easy to store away too.
18. PWC Sound System
Nothing better than listening to your favorite music while riding on your jet skis. Many jet skis don't have a built-in stereo system but there are wireless Bluetooth speakers available. Check out the Waterproof Bluetooth Speaker on Amazon*.
I also have a guide here to cover the options you have for jet ski speakers and Bluetooth systems.
A sound system on your jet ski is one of those jet ski accessories you don't know what you're missing until you get one installed.
19. Jet Ski Lanyards
It doesn't hurt to keep an extra lanyard around as it's a good chance it'll get lost in the future.
If you're not sure what Lanyard to get then the universal style like the JET LOGIC UL-3 Ultimate PWC Safety Lanyard* will work for Kawasaki, Yamaha, Polaris, Honda, and some Seadoos. They are tethered to either your wrist or your life jacket and are the kill switch if you fall off your jet ski.
If you have a modern Sea-Doo with the DESS key then you can't buy just any lanyard, you will need to program your keys and we go over that here.
20. Jet Ski Covers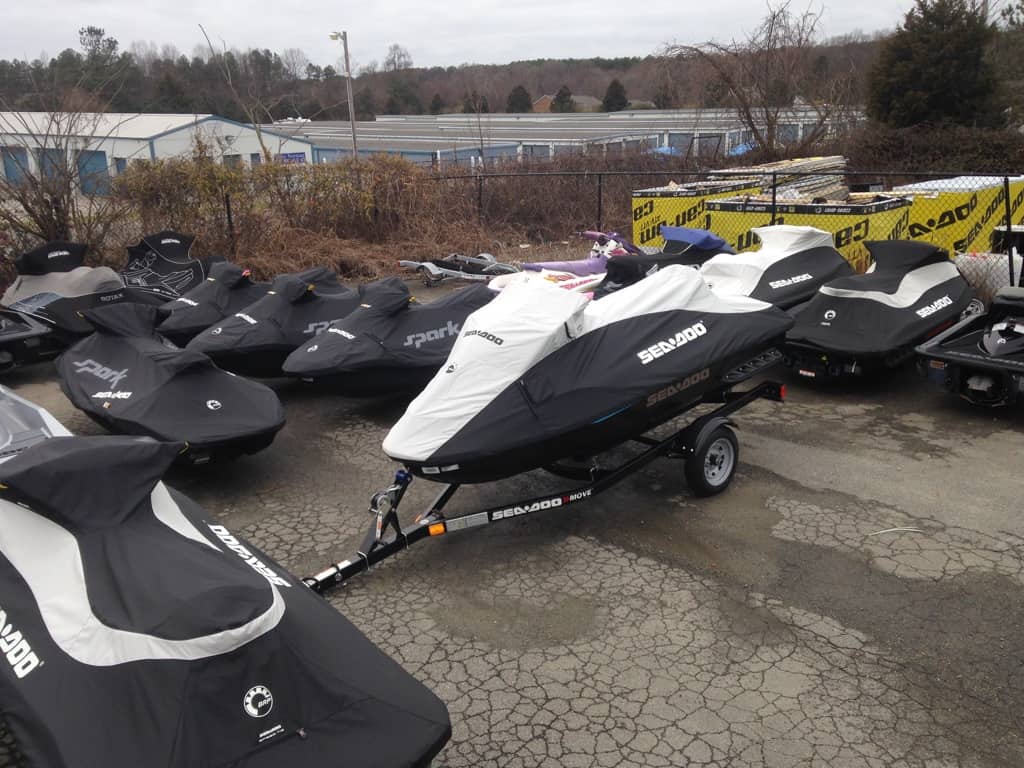 Of all the jet ski accessories listed in this article, a cover should be something you need no matter where you live. The sun is not your friend, especially if you don't wax your jet ski constantly. Even a universal cover like this one* is better than not having a cover at all.
If you're not going to be using your watercraft for a few days then it's best to keep a cover on it.
A cover keeps the sun, water, and bird poop away. The sun will fade your jet ski if you don't keep it covered. A faded jet ski is hard to resell and faded fiberglass damages easier.
I have a guide here on the best jet ski covers and I also have another post on the common questions and tips someone might have about covers.
21. Jet Ski Trailer Accessories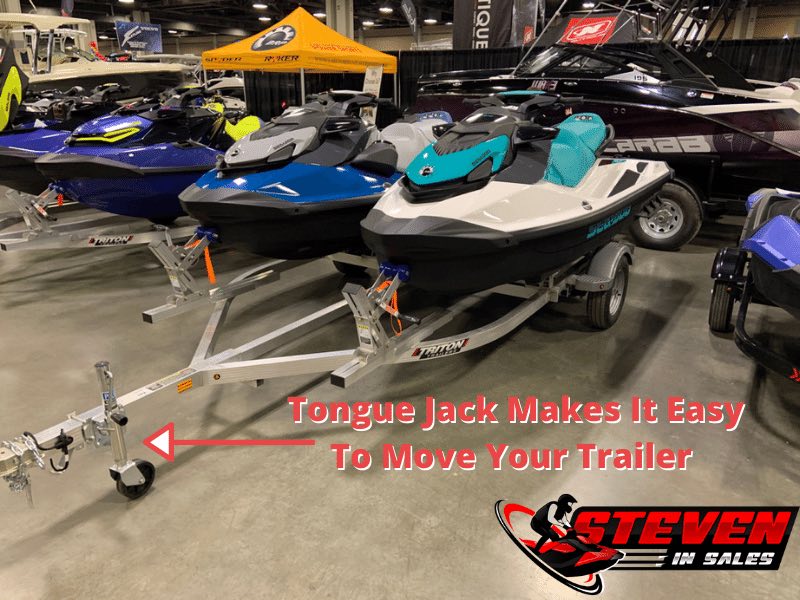 Here is the list of must-have jet ski trailer accessories.
To see more trailer accessories check out our post here.
Tongue Jack: Trust me, you want to get a tongue jack; it's a real back saver! Installing a tongue jack is not hard and only a few tools are required. This video does a great job of showing you how to install a tongue jack.
Ratchet Straps: There is a learning curve for ratchet straps but you need them on the rear of your jet ski when hauling on the road. This video does a great job of showing you how they work.
Trailer Light Adapter: Most newer trucks need the trailer light adaptor as jet ski trailers still use the older rectangle plug and newer trucks have the larger round plug.
22. Safety & First Aid Kit
You never know what can happen so a safety kit is nice to have.
You can build your own kit by getting the items below and putting them in a dry box.
Jet Ski Saftey Kit List
Screwdriver, phillips and flathead.
10mm and 13mm wrenches.
Needle-nose pliers.
SOS flashlight.
Extra whistle.
Extra dockline.
The number to TowBoat or any boat towing services.
Spare cash.
A small first aid kit*.
Knife (There have been a few times that I needed to cut rope or something to get my ski freed).
Bookmarked my website in your phone for the times you suck up ropes or your jet ski won't start.
The 10mm and 13mm are the most common bolt sizes you'll run into. There have been a few times I've had a jet ski not start because the battery cables were loose and using the 10mm wrench had me back running.
More than likely you'll never need this safety kit but it's nice having one especially if you do long rides.
23. Jet Ski Cleaner and Polish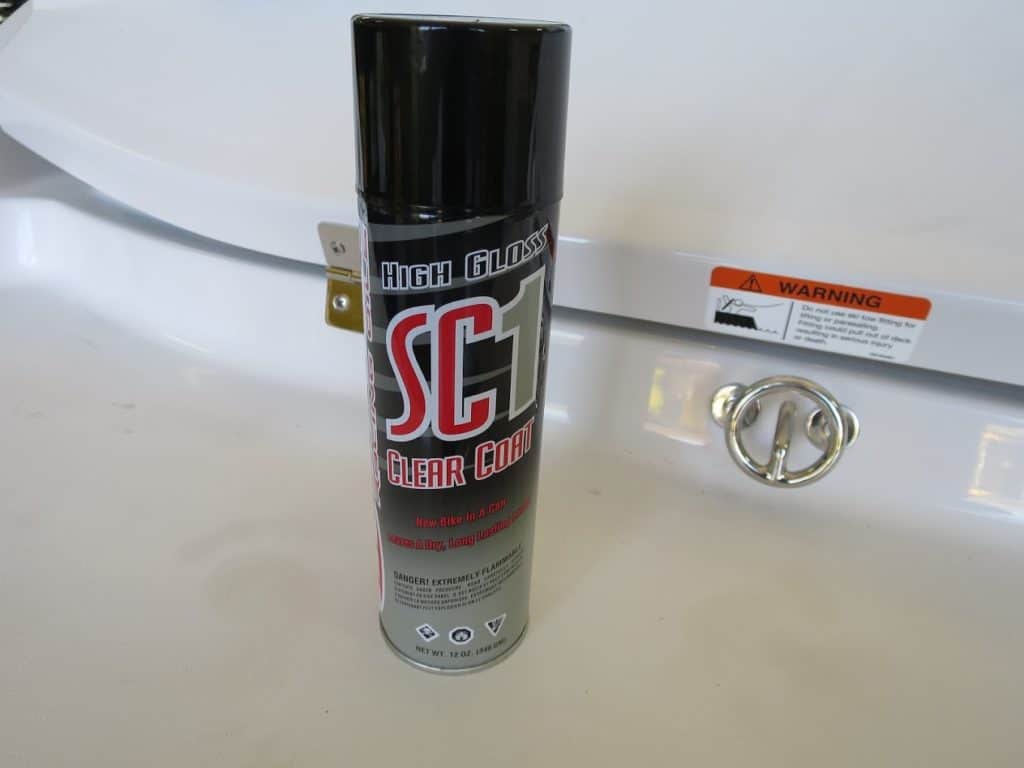 Cleaning a jet ski can be different than cleaning a car. You should avoid cleaners and especially waxes made for cars as the fiberglass/gel-coat is very different than the metal/paint on a car.
I'm a big fan of 3M Marine products, no joke I've had this stuff work miracles.
For general cleaning, you can use any marine soap like Meguiar's Marine/RV Boat Wash. Stick to the marine stuff as it's biodegradable.
To finish it all off, my secret is to use SC1 Spray*. There is nothing like this stuff and really makes your machine look better than new. Not only that but it helps protect the surface of the jet ski!
If you want the step by step on how to clean a jet ski I go into great detail here. After cleaning a few thousand jet skis you learn some very useful tricks and I share them all.
Do You Need These Items…?
Jet Ski Helmet? No, but there are cases where it does make sense to get a helmet. The problem is that there is not an official "jet ski helmet" and getting the wrong one could be really bad. You'll want a helmet that is breathable and won't get waterlogged. I have a guide on helmets and what to buy if you need to get one.
Goggles? It won't hurt to get goggles for when you ride. I usually stick to sunglasses and so do most people, but if you're serious about jumping waves a helmet and goggles are a must.
SeaScooter? While a SeaScooter is cool it's not something you would need for a Jet Ski. These are more for divers and snorkeling in the ocean. They do great in clear water but not so great in rivers and lakes. Another downside is that many of them are too big to fit in the storage of your jet ski.
GoPro? While it's not a "need" it sure is great to have one. You'll be amazed at what you catch with these cameras when you ride. I've gotten to the point where I turn my GoPro on for every ride to not only catch all the fun things I do but as a dashcam, in case I or someone in my group gets in a wreck. You can get a GoPro here*.
One More Thing… Even though the word "jet ski" refers to Kawasaki these accessories will work fine for Sea-Doo, Yamaha, Polaris, or Honda watercraft too.
While some of these jet ski accessories are not for everyone there are a few that every jet ski owner should have. Accessories like the life jacket, first aid kit, cover, solar charger, and proper clothing should be something you buy right away.
Let me know if I missed any accessories or if you have any questions about jet skis in the comment section below. Don't forget to share this post on Facebook or Twitter!