Cleaning a jet ski is simple, easy and fun to do.
There are a few things to keep in mind when cleaning, things like what chemicals to use, what to avoid, and what tools make it easy.
In this post, I want to show you how I clean a jet ski and the tips and tricks I've learned through the years.
Best Cleaners & Supplies
Below is a list of cleaners I suggest you use.
The supplies you need besides the cleaners are:
Wash rag*.
Wash bucket.
Hose.
Scrub brush.
I prefer using a wash rag over a sponge because you can get in tighter spots.
How To Clean A Jet Ski
Chock the wheels of the trailer and raise the nose of the jet ski up, so water can flow out the footwells.
Thoroughly rinse the unit with the garden hose. This helps knock any loose debris and salt that maybe sticking around.
Get a bucket and add some boat wash with water.
Clean the jet ski with a clean rag with the boat wash.
For filthy areas, like the footwells, spray some Simple Green on it to help loosen up the dirt. Avoid putting simple green on the aluminum trailers.
Thoroughly rinse off the jet ski from the soap.
Using a drying cloth, wipe down the machine, it's not clean until you dry it off.
Once dry, apply spray wax to protect the jet ski from the sun and water.
Cleaning the seats and other soft parts of the jet ski requires more steps that I cover here. Mold, black marks and more can stain a jet ski seat, so extra care needs to be done if your seats look like that.
The video below not only shows how to clean a jet ski, but also what to do for after-care riding in saltwater.
How To Remove Water Spots?
After cleaning a jet ski, you may notice some water spots even after drying.
Those spots are easy to remove with a water spot remover* or cleaner wax and a microfiber rag.
Avoid cleaner wax on plastic parts, use a plastic cleaner* instead.
Cleaning The Engine Compartment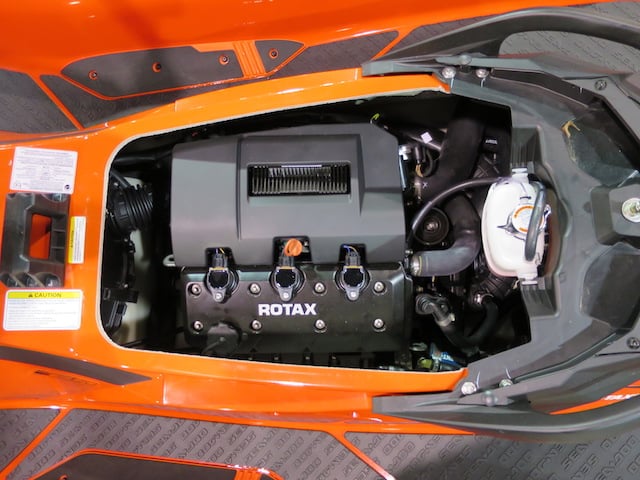 To clean the engine compartment of your jet ski is different from the rest of your PWC. Here are the steps to take to clean the engine area.
Remove drain plugs.
Lift the nose of the jet ski up, so water will drain out the drain plugs.
Remove the seats.
With the mist setting on your garden hose sprayer, lightly spray down the engine compartment.
Spray Simple Green on the engine and around the engine, let it sit for 5 minutes.
Gently rinse off the engine compartment of the Simple Green.
Leave the seats off to air dry for an hour.
It's important you let the engine compartment dry out before putting the seats back on. It doesn't need to be perfect, just not soaking wet.
How To Clean The Jet Pump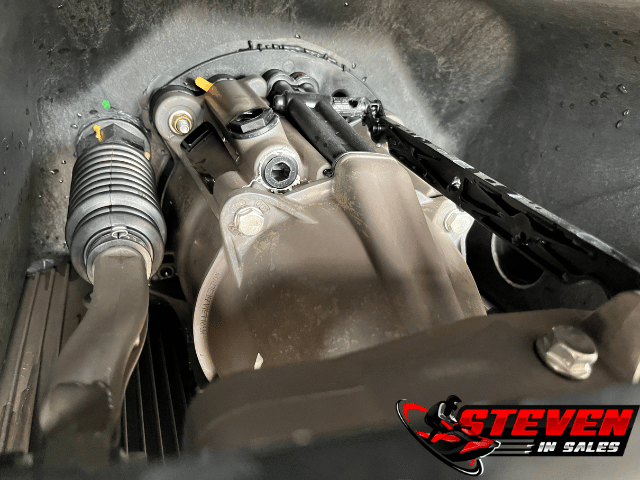 Don't forget to clean the jet pump of your jet ski, as it takes the most abuse, especially if you ride in saltwater.
Thoroughly wet the jet pump area with lots of water.
Use Salt-Away Sprayer* and coat the pump.
Let it sit for a few minutes and then rinse it off.
Let the jet pump dry out for an hour.
Spray anything metal and shiny with a silicone spray lube*.
Bottom Cleaning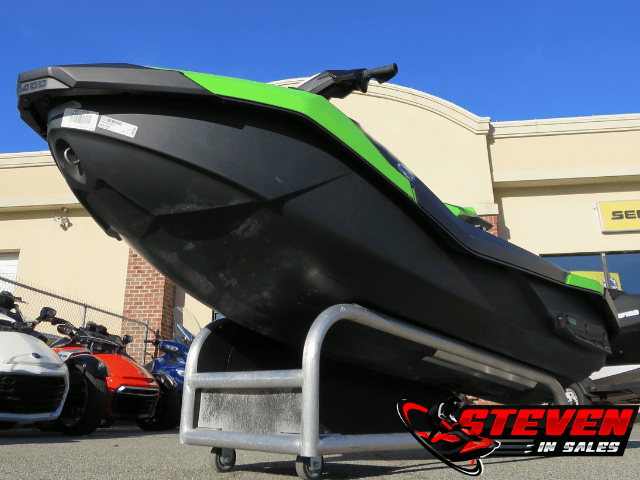 To clean the bottom of a jet ski hull requires more effort and more tools.
You will need a pressure washer*, Simple Green, and a long handle scrub brush*.
Get the jet ski tilted back on the trailer, so you can reach the underside. If you can, put the jet ski on a stand, as it makes it easier, no need to tilt if on a stand.
Using the pressure washer, try to remove as much of the grime as you can. Avoid going too hard with the pressure washer as you can damage the fiberglass or plastic.
Spray Simple Green on the rest of the grime that is left and let it sit for a few minutes.
Use the long handle scrub brush to work it in and loosen up the grime.
Pressure wash the underside of the jet ski again to remove any grime that was left.
If Simple Green does not lift the grime off, then you need to get a boat bottom cleaner*.
Important: Wear eye, face protection and clothing you don't mind getting stained!
Cleaning Cover
To clean the jet ski cover, you put it on a clean surface like your driveway and wet it down. Apply Simple Green over the cover and let it sit for a few minutes before rinsing it off.
The bad news is those black spots are not all mold and most of it won't come off. It's the sun changing the color of the materials, and it's there forever. You can use magic erasers, but that's micro sand paper, so I would not use it a lot. 
Jet ski covers are disposable, its job is to protect your machine, and your jet ski would look that bad if you didn't use the cover. So, if the cover is 3 to 5 years old, it's time to get a new one.
Covers you get from the manufacturer work the best, but are expensive. So, I suggest getting a cover for your cover to extend the life of them. This is very smart to do for long-term storage.
How To Wax A Jet Ski
Waxing a jet ski is very similar to waxing a car.
If the jet ski is old and the fiberglass is faded and chalky, you need to use a buffer and wax. This video below does an amazing job of showing you how.
If the jet ski is still new, and you only want to put a protective coating on it, then just about any marine spray wax will work. I really like SC1*, especially on the plastics, as nothing pops like it does.
How Often To Clean?
You should be cleaning your jet ski every month when riding regularly if not sooner to keep the fiberglass, plastic and vinyl looking good.
You should also be rinsing off and flushing your jet ski after every ride in saltwater. For fresh water, once a month is fine.
To rinse a jet ski off, you take the garden hose and wet down the jet ski everywhere. You should also mist the engine bay, but don't over do it and don't get water in the intake.
Saltwater finds its way into many places on the jet ski, and rinsing it off with fresh and clean water helps to extend the life of your jet ski. It's also a good idea to spray down metal and shiny parts with silicone spray lube once a month to further extend their lives when in saltwater.
Car Soap Is Allowed!
If boat soap is hard for you to get, then car soap will work.
I find boat soaps to work better on water spots, grime, mold and other little things that jet skis run into more than cars would.
I have cleaned many jet skis with car soap, it was often the go-to at the dealership because we had to clean so many different products. The real magic was using Simple Green on the tough dirt. There was also Purple Power* for the even tougher stains, but it will stain metals and drys your hands out like crazy. I would only use Purple Power as a last ditch effort and do a test spot as it's pretty strong.