A Jet Ski Stand is nice to have if you own a Sea-Doo, Yamaha, or a Kawasaki watercraft. Sometimes you need a PWC off of a trailer and on a Stand for working on or storing it for the winter.
What kind of Jet Ski Stand you should buy depends on what you're doing with it, who will use it, and what type of jet ski you put on it.
We have compiled a list of the Best Jet Ski Stands that we like and have used to help you find the one that works best for you.
Note: If you need to know how much your jet ski weighs, I have a post that covers that here.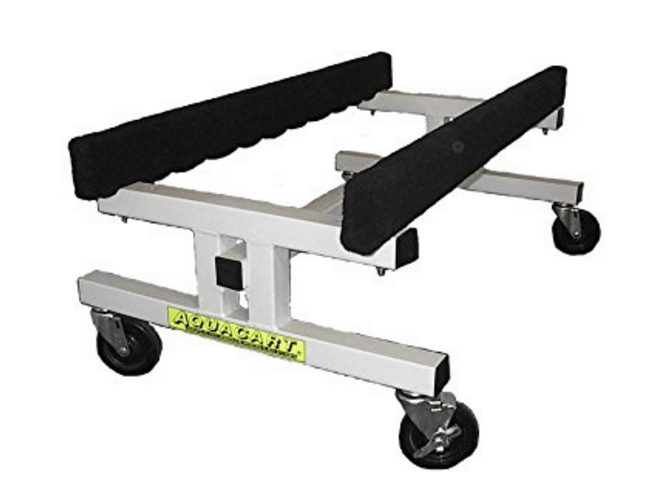 Aquacarts makes some of the best stands for PWC's on the market. The AQ-19b is actually one of my favorite stands to use.
This stand is just the right height for working on and for loading and unloading on a trailer.
The best thing about this stand is the wheels. These wheels are thick and big which makes it super nice to roll on many surfaces like concrete and carpet.
Weight
The weight capacity is about 1,300 pounds – that's quite a lot.
To give you an idea here is the weight of the heavier jet skis.
| Make | Model | Weight (lbs) |
| --- | --- | --- |
| Sea-Doo | GTX 230 | 805 |
| Yamaha | FX SVHO | 818 |
| Sea-Doo | GTX 300 | 819 |
| Yamaha | FX Cruiser SVHO | 820 |
| Yamaha | FX Limited SVHO | 822 |
| Sea-Doo | RXT-X 300 | 829 |
| Sea-Doo | WAKE 230 | 829 |
| Yamaha | FX HO | 836 |
| Yamaha | FX Cruiser HO | 838 |
| Sea-Doo | GTX Limited 300 | 849 |
| Sea-Doo | FISH PRO 170 | 858 |
| Kawasaki | STX 160 | 864 |
| Kawasaki | STX 160X | 864 |
| Kawasaki | STX 160LX | 877 |
| Kawasaki | ULTRA LX | 932 |
| Kawasaki | ULTRA 310R | 1047 |
| Kawasaki | ULTRA 310X | 1051 |
| Kawasaki | ULTRA 310LX | 1073 |
For the full list of jet ski weight click here.
Brakes
Two of the rolling wheels do have brakes. This makes it nice to lock the cart in one position when you're working on it.
---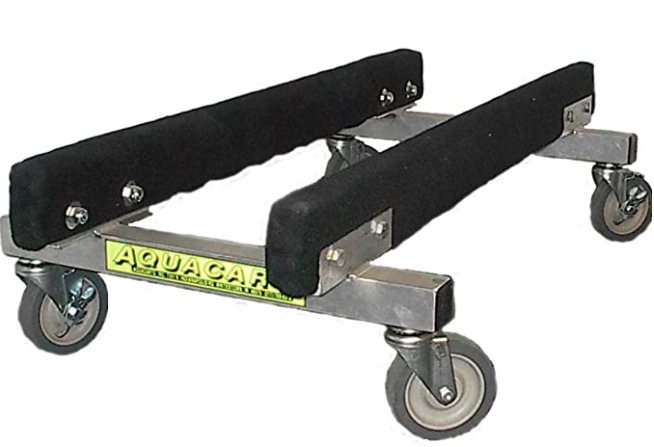 If you need a stand that is shorter to make it easier to work on or easier to display a watercraft then you might want to consider this Stand.
Made of aluminum so it can withstand the outdoors better.
The one problem some might have with this cart is that it will be harder to take a watercraft off of a trailer since it sits so low. If you have the manpower or equipment then this is not a problem.
---
If you have a stand-up jet ski, Sea-Doo Spark, Yamaha EX, or any lightweight simple watercraft then you don't need anything fancy. This dolly will work just fine for your needs.
You could put a Sea-Doo GTI or Yamaha VX on it and be fine, but I would not go with anything bigger.
It's smaller wheels are not the best if you need to roll it around beyond your garage so keep that in mind. And the lack of wheel locks means you need to keep it on level ground.
---
Make Your Own Stand?
You might see some people making stands out of wood or even PVC Pipe on the internet. We don't recommend doing that. You don't want to spend all this money on a nice new watercraft and have it ruined because a cheap homemade stand broke.
Plus, watercraft are getting heavier and heavier every year so you need to make sure your stand can hold up. Many of these wooden stands and PVC stands never hold up and also break in a few years because they can't handle the stress. So why deal with them?
Jet Ski Stands are actually quite affordable if you ask me. I've seen people spend hundreds on a homemade stand and I always think, "it would have been cheaper and easier to just buy a stand?".