A jet ski stand is nice to have if you own a Sea-Doo, Yamaha, or a Kawasaki watercraft. Sometimes you need a PWC off a trailer and on a stand for working on or storing it for the winter.
What kind of jet ski stand you should buy depends on what you're doing with it, who will use it, and what type of jet ski you put on it.
I have compiled a list of the best jet ski stands that work for most jet skis and storing options.
Before You Get A Jet Ski Stand
Before you get a jet ski stand, you need to know the weight of your jet ski.
I have compiled a list of the weight from Sea-Doo, Yamaha and Kawasaki here.
All jet ski stands have weight limits, and you must not go over them or the jet ski or stand may get damaged.
The Best Stand For Jet Skis
The best stand I've found for jet skis is the Aquacarts AQ-19b, but they're all quite good so long as you get one with the correct weight capacity.
Below are the jet ski stands listed out and at the very bottom will be a more affordable option, but there is a catch!
1. Aquacarts AQ-19b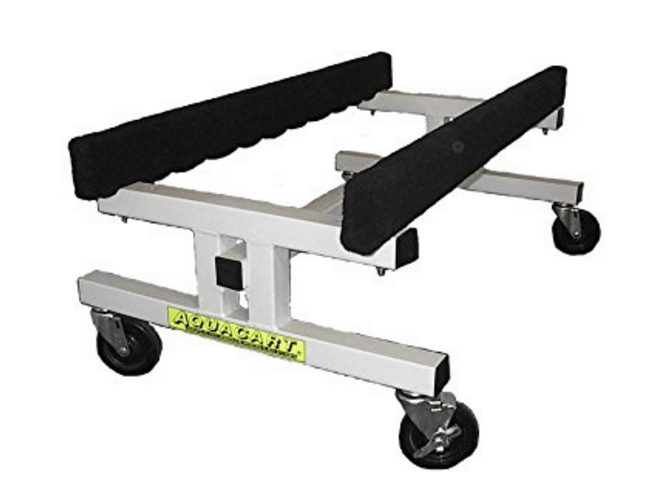 Aquacarts makes some of the best stands for PWC's on the market. The AQ-19b is actually one of my favorite stands to use, especially for getting the jet ski off a trailer.
Buy the AquaCart AQ-19b here. *
AquaCart AQ-19b Features
Tall enough to get off most jet ski trailers.
Carpeted bunks to protect the hull of the jet ski.
Large caster wheels, makes it easier to roll around on many types of floors.
Locking casters, so the jet ski won't roll away when working on it.
1300 lb capacity.
AquaCart AQ-19b Weight Capacity
The weight capacity is about 1,300 pounds – that's quite a lot.
To give you an idea, here is the weight of the heavier jet skis.
| Make | Model | Weight (lbs) |
| --- | --- | --- |
| Sea-Doo | GTX 230 | 805 |
| Yamaha | FX SVHO | 818 |
| Sea-Doo | GTX 300 | 819 |
| Yamaha | FX Cruiser SVHO | 820 |
| Yamaha | FX Limited SVHO | 822 |
| Sea-Doo | RXT-X 300 | 829 |
| Sea-Doo | WAKE 230 | 829 |
| Yamaha | FX HO | 836 |
| Yamaha | FX Cruiser HO | 838 |
| Sea-Doo | GTX Limited 300 | 849 |
| Sea-Doo | FISH PRO 170 | 858 |
| Kawasaki | STX 160 | 864 |
| Kawasaki | STX 160X | 864 |
| Kawasaki | STX 160LX | 877 |
| Kawasaki | ULTRA LX | 932 |
| Kawasaki | ULTRA 310R | 1047 |
| Kawasaki | ULTRA 310X | 1051 |
| Kawasaki | ULTRA 310LX | 1073 |
For the full list of jet ski weight, click here.
2. Aquacarts AQ-11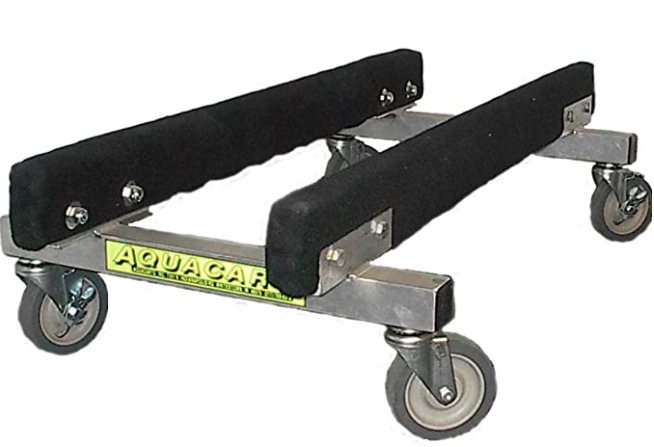 If you need a stand that is shorter to make it easier to work on or easier to display a watercraft, then you want the Aquacart AQ-11.
Made of aluminum, so it can withstand the outdoors better.
The one problem some might have with this cart is that it will be harder to take a watercraft off a trailer since it sits so low. If you have the manpower or equipment, then this is not a problem.
Get the Aquacart AQ-11 here. *
3. CE Smith Trailer Personal Watercraft (PWC) Dolly
If you have a stand-up jet ski, Sea-Doo Spark, Yamaha EX, or any lightweight simple watercraft then you don't need anything fancy. This dolly will work just fine for your needs.
You could put a Sea-Doo GTI or Yamaha VX on it and be fine, but I would not go with anything bigger.
Its smaller wheels are not the best if you need to roll it around beyond your garage, so keep that in mind. And the lack of wheel locks means you need to keep it on level ground.
But for the money, it's a great value for a metal jet ski stand.
Get the CE Smith Trailer Personal Watercraft Dolly here. *
4. DIY Jet Ski Stand
The last option will be the cheapest, but not the easiest, you can make your own jet ski stand.
I've seen guys make stands out of PVC pipe, but unless you got a small stand-up jet ski, I don't recommend it.
What I do suggest is making your own jet ski stands out of wood. If you got a saw, drill, bolts, washers and nuts, you can easily do this. A DIY stand won't be as sturdy and durable as the stands we've covered so far, but they are easy and cheap to make.
Wooden stands are how many jet ski dealerships store their watercraft, even Sea-Doo uses wooden crate stands to ship them. Below is the simplest design of a jet ski stand that many dealerships use.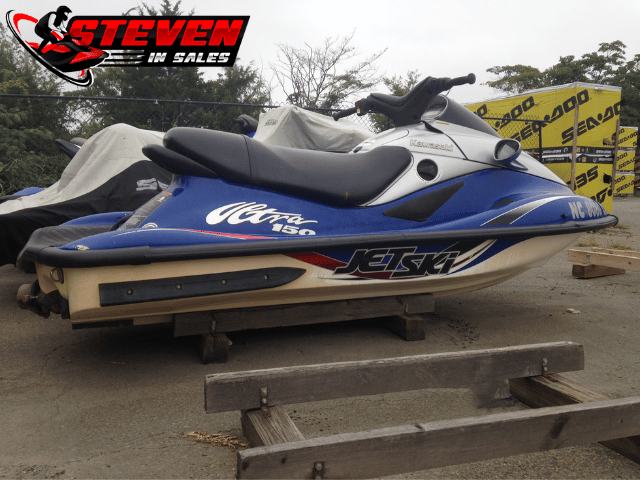 How To Build A Jet Ski Stand
I see many people overthink jet ski stands, many dealerships use this simple jet ski stand because it's easy to build and cheap. It does have some downsides, but its simplicity can't be beaten.
Using 4×4 and 2×4 construction lumber along with L-brackets and bolts, you can make this simple jet ski stand.
You'll want to use treated lumber to get the most life out of the stand, or paint them with your favorite outdoor sealer. I suggest Thompson Water Seal* if you want to protect the wood from the elements.
You'll need two 2×4 pieces at 3 feet long and two 4×4 pieces at 2 feet long. Every jet ski is different, so you may need to adjust the sizes to fit your jet ski. Use your trailer bunks as a guide to know how wide and deep you should make your jet ski stand.
This simple jet ski stand can be made with one 2x4x8 and one 4x4x6. At the time of writing this section, the lumber cost is about $15. Combined with screws, brackets and other items, you'll be under $50 for the whole stand. Add casters to make it mobile and give it more height, make sure the casters can support the weight of the jet ski.
You can put carpeted padding* on the bunks if you want the extra protection, if not, then sand the insider corners as that is where the jet ski will touch.
Downsides Of The Simple DIY Jet Ski Stand
There are a few downsides to this simple DIY jet ski stand.
It sits low to the ground, so if your trailer is high, it can be a pain for larger jet skis to get on and off the trailer. You can make it higher by using more 4×4 posts and building up, doing this will require longer screws to hold the 4×4 posts together.
It doesn't last as long, the lumber will decay overtime, even though it's treated. Depending on where you keep it, you can get 3 to 5 years out of this stand.
Requires some basic woodworking tools. You'll need some basic tools to make this work, but it doesn't get any simpler and cheaper than this design.
More DIY Jet Ski Stands
If you're looking for a bigger, more heavy-duty jet ski stand that sits higher, there are many videos that show you how below.
How To Transfer Jet Ski To Stand?
If you need a jet ski stand or cart, you might be wondering how you move the jet ski from the trailer to the stand?
The best way to move a jet ski off a trailer and onto a cart is to slide it as shown in the video below.
The way jet ski dealerships do it is by using a forklift with extensions or lift/crane. Not everyone has a forklift or a lift handy, so sliding is the next best option.
Then, to get the jet ski back on the trailer, you line it up in the back and using the ratchet bow hook you crank it onto the trailer.
Both ways are no easy, but with a few friends it's not that hard. I don't suggest doing it by yourself as it can be dangerous.