It was bound to happen; Yamaha came out with their Spark equivalent. I must say there are quite a few things that they did that Seadoo could learn from, and a few others that Seadoo leads the way.
I want to go over some of the key improvements and features that are worth mentioning for this new watercraft. I know I've been quite biased to Seadoo, but I think 2017 Yamaha EX has some features that need to be pointed out from someone who is not a big-name magazine.
One big reason you should read this is that I'm not being sponsored by Yamaha or Sea-Doo. Everything I say is my words and money is not being exchanged to say it. I have a strong background in the jet ski world, and I want to share my opinion.
**Note: This post was created in 2017 so the prices would have changed but a lot of what is said still holds true in 2022. **
No 2 Seater
One of the first things I've noticed on the 2017 Yamaha EX is that they only have a 3 seater option, this was probably too costly to make two different hulls.
I do want to point out that in this Rec-Lite category a 3 seater is really a 2 seater and a 2 seater is really a 1 seater. Maybe two adults and one child on a 3 seater, but 3 grown men are not going to fit on a 3 seater in the REC-LITE category – let's be real.
Not going after this 2 seater category Yamaha will miss out on the cheaper models and thus lose a good portion of customers.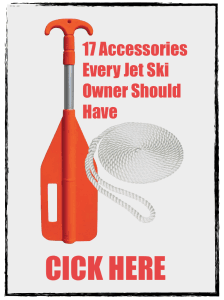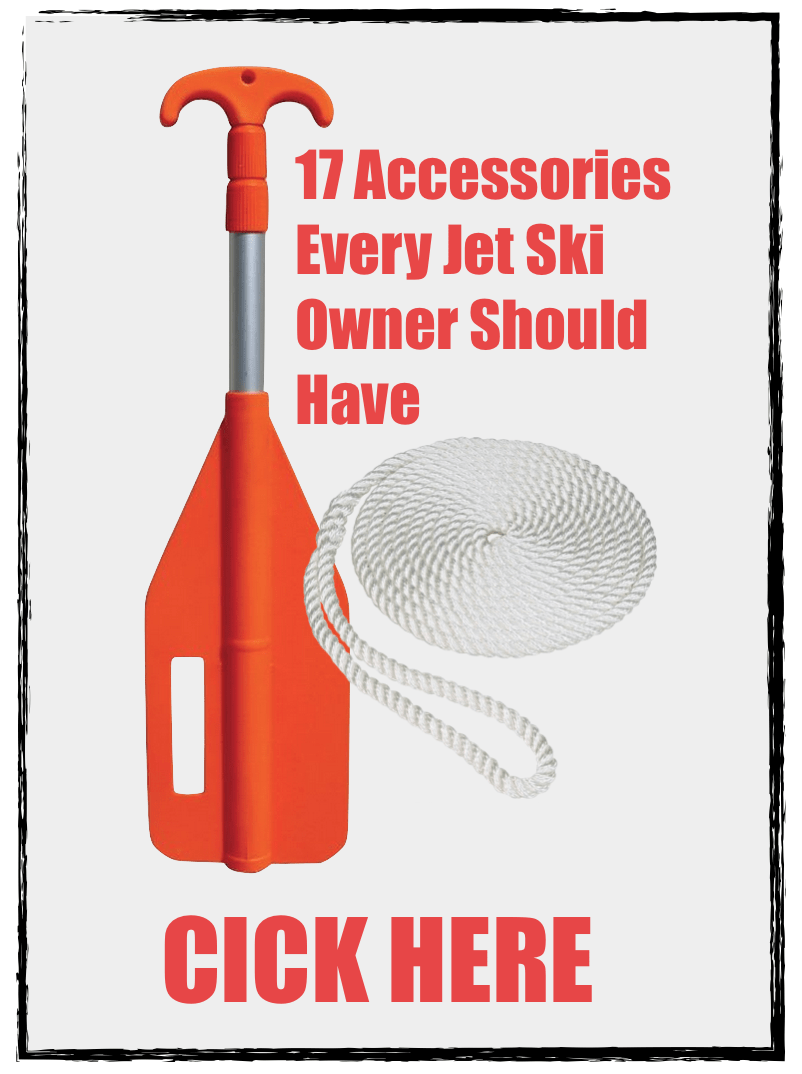 Different Body
I'm quite surprised that Yamaha didn't go after the Ploy-Tec body as Seadoo did. It could be due to Patent issues, but I figured Yamaha would have a workaround to this matter. But Yamaha uses the Fiberglass that they use on their bigger machines.
They still use a plastic-style seat holder, which does help cut down on weight but is not entirely plastic. This could be a reason why they didn't go with a 2 seater, as it would be too expensive to make with a fiberglass body.
Having the fiberglass body will help soothe the people who never liked the Plastic ploy-tec bodies. Both fiberglass and ploy-tech have their advantages and disadvantages so really all you got to do is pick your poison on this one.
Weight
The weight on the Sparks Vs Yamaha EX is quite a bit different. The EX went with the heavier fiberglass and weighs in at 577 pounds. The Spark uses Polytec, and it weighs in at 421 pounds. That is 156 pounds lighter for the Spark, or about one human smaller.
That can make a difference in ride and performance.
But Yamaha doesn't seem too worried about that.
Engine
Yamaha is using the TR-1 engine in the EX series, but it is a bit different. They have made some modifications to make it lighter, and it only produces 100HP. That is 10 more horsepower (about a lawnmower more HP) than the Spark at 90HP.
The 10HP more is needed since the craft is 156 pounds heavier. Both the 90HP Spark and the 100HP EX do about 50 mph. Which is in my opinion fast enough for anyone looking to get into the Sport.
Fuel Economy
Here is what is blowing my mind. Yamaha is "claiming" better fuel efficiency than the Spark. They're not giving hard numbers but say 14% advantage over the Spark.
The Yamaha could be more fuel-efficient, but I just have a hard time believing it.
You see the EX is 156 pounds heavier and fuels a hungrier engine. So how are they getting better fuel economy when it's all stacked against them?
We may never know since Yamaha is not big on giving out specs and unless a third-party confirms it we just have to take their word for it.
What I do know is that the 90HP Seadoo Spark uses about 2.4 gallons per hour at wide open throttle – that's stupid good for a jet ski. So to be 14% better the EX should do about 2.10 gallons per hour at wide open throttle (I assume this as Yamaha has not told us yet).
If this is true, this is not a big difference. If fuel economy was a big concern, then go with the 2up 60HP Spark since it only uses about 1.6 gallons per hour at wide open throttle.
Check out my list of must-have Sea-Doo Spark Accessories!
Fuel Tank
This is where I must say Yamaha did a good job at. They put a big 13.2 gallon gas tank in the EX. The Spark is only at 7.9 gallons. That is a noticeable difference in ride time and going to a gas station to fill up.
One thing I do like about the EX is that they placed the Gas Cap on the outside where its easy to get to.

The Spark you have to take off the seat to put gas in the craft.

Both the Spark and EX will run on the 87 octane or the "cheap gas".
There is one problem with a bigger gas tank when full it will be an even heavier watercraft compared to Seadoo Spark if it was filled up too.
Also, one other problem and it deals with the seat, which I'll cover a bit later in this write-up, the REC-LITE series is not meant for people who like to ride for long distances.The REC-LITE watercraft is for people who want to ride for an hour or two on the lake or river, and not built for the long distance travel trips.
Sure you could do it, but this brings me to my next point.
The Seat
The biggest problem with any REC-LITE Jet Ski is that the seats on them just suck. You may not understand it when you sit on one at the dealership, but ride one for about 45 minutes and your butt will start to hurt.
This is where Yamaha didn't get it right. Yamaha did what Seadoo did and made small and thin seats with no extra foam padding. I get why they did it, to save on the price, but it'd be good to have a touring seat available with these watercrafts.
I'm sure when buying an EX or Spark the last thing through people's minds is the seat, but trust me I've owned and ridden many styles of watercraft, and the Seat is the most crucial part of it.
Just you wait, There will be a touring seat option in the future. Until then I have a little workaround here.
Mirrors
When you step up to the EX Sport you do get the dual mirrors which no model of the Spark has. This is important if you plan on doing any towing of tubes and wakeboards. Some states require you to have mirrors to pull tubes or at least have a spotter.
Also, one thing I do like about the EX Sport is that it comes from the factory with a manual reverse. Seadoo does have a manual reverse option, but you have to get it installed. To be honest, I would not add the manual reverse, and I would just look at the iBR model instead since it will be a better value.
Storage Space
If you're looking at the REC-LITE series of watercraft, then Storage Space should NOT be a concern for you as they don't have much.
Let's face it, what are you bringing anyways?
Everything you possibly need can be stored in a dry bag and latched or hooked to the watercraft somehow. Also, a dry bag is needed as the storage on a REC-LITE is not dry.
Yamaha EX has about 10 gallons of storage, which is quite a lot compared to the Spark with Convenience Package at 7.42 gallons.
The downfall of the storage on the EX is a bit awkward. Like most watercraft, you have most of your storage under the hood, but under the hood of the EX is a joke.
I can maybe fit my wallet and phone under the front hood? Why even bother creating storage there? They would have been better off placing the dry screw-off compartment they put on their bigger units there – that would have been a more significant win if you ask me.
The EX does give you a nice big glove box storage which is a huge deal. The glove box is the storage you use most often and needs to be big.
But what about the rest of the storage? Well, it's under the seat which is not a smart place to put it. What if you need to get to something and it's under the seat? You and everyone else on the jet ski will need to get off the seat so that you can get it out. This is quite crazy on such a small watercraft; someone is more than likely to fall in the water.
So the only real storage space on the EX is the glove box. One thing I also noticed is that there is no real space to place a cover if you get one. The EX splits its 10 gallons of storage up into smaller storage areas, but you need one big storage area to place a cover or even an anchor in. The Spark with Convenience Package has a big front storage that is enough to put a cover and a few other things if you need to. It just seems the overall storage on the EX is bigger, but not more practical.
Engine Access
One good thing is that Yamaha EX has better access to the engine than the Spark does. Sure you can get to all the important stuff on your Spark through the access panel on the side, but the EX has the top access.
Color
I think Seadoo won the color part hands down. The EX only comes in one color unless you upgrade to the EX Sport which has 2 colors. The EX DELUXE will have two color options too, but you can't get the colors of the EX DELUXE on the base EX.
While on the other hand, the Spark is shipping with 5 color options, and a couple more color options that you can get Panel Kits for. Plus the Sparks have the graphics kits to make it your own.
This one color option or two for the more expensive models is perfect for dealers since they won't have too many skews, but not ideal for the customer. There are some people who just don't care about the color, and the green and white EX will be just fine.
One of the biggest selling features of the Spark is the different colored panels. If you don't like the color you have now and want to change it you can with the panel kits that Seadoo Sells. Or if someone rides your Spark and they damage a piece of the removable panels – just pop it off and put a new one on. This modular aspect of the Spark is a really big feature.
Size
The Spark and the EX are about the same size.
The 3up Spark is 120 inches long and the EX is 123 inches long.
The 3up Spark is 46 inches wide and the EX is 46 inches wide.
So both watercraft will be about the same as being stable in the water. I feel like the EX will look bigger in person, but both are about the same size.
The Spark will be about 156 pounds lighter by dry weight. This is only really important if you pull with a car or small truck.
Price
So let's talk about money. I don't like talking about price since there could be promotions going on and the price is different across the world. But let's set a base of MSRP for the United States for what we're basing this all on.
Since the EX best compares to the 3up 90HP Spark with Front storage that is what I'll base the price on.
EX Vs Base 3up 90HP Spark
So the EX MSRP is $6,599. The 3up 90HP Spark Base goes for $6,499. Now the Spark seems cheaper, but it does not have the front storage factored in so when we do that the Spark jumps up to $6,638.99. (not hard numbers just round about what it would cost).
Both the EX and the 3up Spark at this price point lack reverse and both I would say are very similarly matched.
When I look at the Base EX vs the 3up Spark Base with front storage I feel like the EX wins. The EX is slightly cheaper and offers more storage and a bigger gas tank. Plus the color on the Base EX is not bad and is fresh new look. Winner: EX Base!
EX Sport Vs 3up Spark
Now, this is where it gets interesting.
The EX Sport is priced at $7,599. The EX Sport is an EX with manual reverse and mirrors, so you're thinking just take the Base 3up Spark and add the manual reverse to it. Well, you would be right but the Spark would still be cheaper.
This is why it's interesting…
The EX Sport is about the same price as a Fully loaded 3up 90HP iBR Spark. This Fully loaded Spark is $7,499.
Yes, $100 cheaper and you get more.
The 3up 90HP iBR Conv. Package Plus Spark is $100 cheaper and it gets iBR (brakes, neutral, and reverse) and digital key with a learning key for new riders or the kids. So the Spark will start in neutral, have brakes for stopping and reverse all done with a flip of a trigger on the left side of the handlebars. While the EX Sport has an old manual reverse that is on the same side of the throttle making emergency maneuvers kind of hard.
Even though the EX has a bigger gas tank you can't compete with all the extras the Fully Loaded 3up Spark has. So this makes the 3up 90HP iBR Spark the clear winner! Winner: 3up 90hp iBR Spark.
EX Deluxe Vs 3up Spark
This should really be called EX Deluxe vs GTI 90. As you can see from the last comparison the Spark came out cheaper and a better value. The EX Deluxe compares to the 3up 90HP iBR Spark in features but fails to compete in price.
I consider the 2017 GTI 90 to be the best watercraft out there in 2017 and talk more about why here.
The EX Deluxe is priced at $8,599 but competes in features of the Spark that is priced at $7,499. That's a $1,000 difference. And yes I know the EX Deluxe will have mirrors, padded footwells, and few other small features but that doesn't justify $1,000 more.
The reason why it should be EX Deluxe VS GTI 90 is that the GTI 90 starts at $8,899. For $300 more you can get a watercraft that is light-years ahead.
Here is what you get for $300 more on the GTI 90…
More Stable
Drier of a ride
More Comfortable Seat
iBR (brakes, starts in neutral, reverse)
30 gallons of storage that is pretty dry
A 3 Seater that can fit normal people
More comfortable grips
Soft padded footwells
The ability to add features like a ski-pylon
Fast key and a slow key for the kids or someone who has never driven a watercraft before.
To be honest you'll be crazy to buy the EX Deluxe, sorry Yamaha but the price point is too much to be justified. I would not hesitate and just buy a GTI 90 over the EX Deluxe. About the only thing the EX Deluxe has over the GTI 90 is the ability to spin it out a lot easier.
The kicker is that the GTI 90 is only 41 pounds heavier, but yet you get a ton more with it. You get over twice the fuel capacity and the bigger seat that is softer and drier ride and let's not forget 3 times the storage and its much drier too.
I'm a real big fan of the GTI 90 and really think it's going to be a big hit in 2017.
Winner: GTI 90 (aka GTI)
Overall
Really, whichever model you pick you're going to like it. I never have seen anyone buy a Jet Ski and not like it.
Yamaha has really brought in a good competitor to the Sparks. There are some great features that Seadoo could learn from. I really think the Base EX is a good machine and competes very well.
I just don't think Yamaha expected Seadoo to come out with the GTI 90 for 2017 so that threw a wrench in the Deluxe system.
Whatever watercraft you do get you got to make sure you get the correct accessories with it!
If you liked this post make sure to share it on Facebook and Twitter!