Having the correct gear when riding a watercraft is very important. This goes for footwear like shoes, sandals, and flip-flops.
Wearing the wrong shoes when riding a jet ski can actually cause you to lose grip and really hurt yourself.
The problem you'll run into when picking the best jet ski shoes is that there are too many to choose from. How do you know you're picking the correct shoes if there are so many different types? – Let's talk about it!
What Not To Wear
I want to start this off with the kind of shoes or sandals you should not wear when riding a jet ski. These types of shoes don't do good under slippery conditions or come off way too easily.
1. Crocs
The first kind to not wear is Crocs. They may seem like the perfect footwear when riding a jet ski, but they're not so great in wet conditions.
They don't give you the traction you need when riding. Crocs can also fall off your feet if they're not put on properly.
2. Flip Flops
The next kind of footwear to avoid is the basic flip-flop. Flip-flops can come off very easily and offer no real protection.
It's not when you're on the jet ski you should worry, but when you're getting on and off that you need to worry. Flip-flops offer no protection from rocks that you might land on when hopping off the watercraft when you beach it.
Also, flip-flops don't offer protection from the sun and no real protection on cold winter rides.
3. Going Barefoot
I would avoid riding a jet ski barefoot or with no shoes at all. I have personally cut my foot either on something sticking out of the jet ski or hopping on or off the jet ski.
Going barefoot also provides no protection on slimy algae boat ramps. Even many shoes don't offer much protection, so I if you see green algae you need to be extra careful. I carry a deck brush in my truck to loosen up the algae on the ramps. The algae forms due to the ramp not being used much.
The Best Shoes To Wear
The best thing to have on your feet when riding a jet ski is called "water shoes".
Water shoes come in many different styles and colors to fit your needs.
They offer the best protection, grip, and comfort you need when on your jet ski. They also don't hold water and feel as comfortable as regular tennis shoes.
You can use water shoes for more than just riding on a jet ski. They work well at the beach, the backyard, water parks, or even hopping off the jet ski to grab some lunch.
1. Basic Water Shoe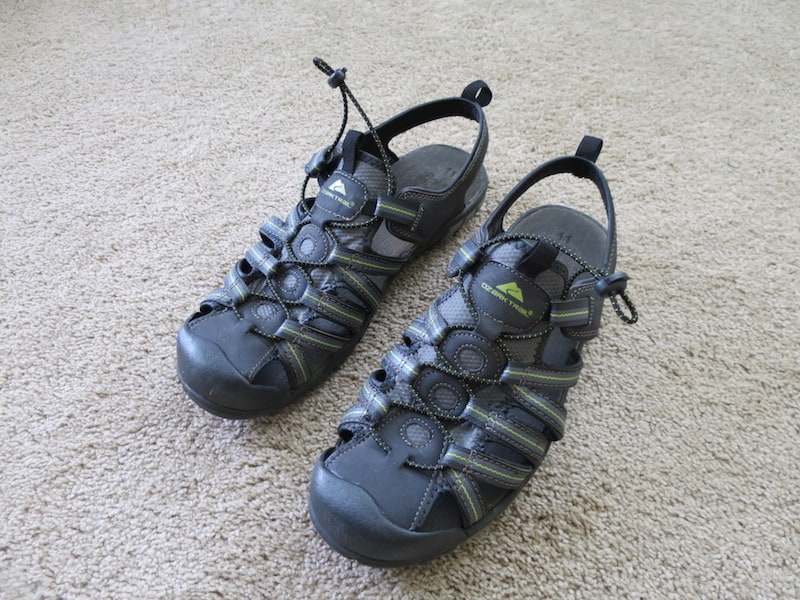 Up first is the basic water shoe like this one.*
They look the part of a water shoe, but are light on the feet. They allow water to escape quickly and work very well if all you're doing is riding a jet ski or swimming.
The basic water shoe is like a slipper where you slide your foot into it, but you have a pull-tight cord for a snug fit.
The bottom of the shoe is rubber to give you the best grip, which you need around wet boat launches.
If you need something simple and in a good price range, then this style of water shoe will work fine.
2. Real Water Shoe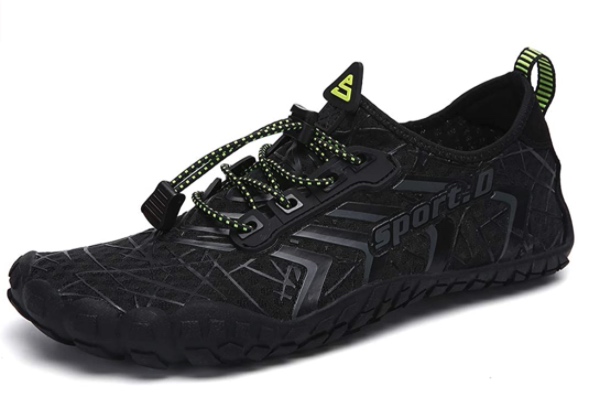 I call the next option a "real water shoe"* because it's hard to differentiate them from a tennis shoe. I've had people stop me before getting into the water to let me know I have my tennis shoes on – that's how real these shoes can look.
Perks
They look like a normal sneaker.
Don't hold water and dry quickly.
The best comfort for long rides or unknown ground conditions.
It's like putting on any other shoe and stays on like any other shoe.
Offers protection from the sun.
Some protection from the cold rides in the winter.
Once you start to wear shoes like this, it will be difficult to go back to anything else.
These shoes have a feel of a normal tennis shoe and even have laces that are pull-tight.
Factors To Consider When Buying Water Shoes
Compared to other shoes, jet ski water shoes don't hold on to water and dry quickly. They also allow your foot to breathe more while still giving you some protection and grip.
Here are things to consider when buying water shoes for your jet ski:
Full foot protection – You want the shoe to give you a good amount of protection. Flip-flops and similar shoes don't provide much protection, the sun can burn your feet and rocks can cut you if you're not careful.
Solid bottom – You want a solid and thick bottom for your shoe. You need all the traction you can get, the ramps get slippery and with rocks or even fishing lures can cut your feet if you're not careful.
Stays put – The water shoe needs something that keeps it on your feet, often a pull string or laces. You need to shoe to stay your foot as you'll be bouncing around on the jet ski and if you fall off or go for a swim you don't want them to fall off.
Water Shoe Traction
When it comes to jet skis, you'll be in a wet environment, not only wet but hot and sharp objects all around.
Algae likes to form on boat launches and docks, especially when they're not used often. Algae is very slippery, but it's easy to fix by brushing the area with a dock brush to loosen it up.
Let's not forget the areas will be hot with the jet skis baking in the sun. Many jet skis dark color mats and will be hot on the feet. You also have the metal docks and steps that many marina's and boat launches have that get hot in the sun.
Lastly, the footwells of jet skis and the docks will be wet and slippery. Getting in and out of a jet ski tends to be around wet areas, so be extra careful and make sure you have the correct water shoes.
You'll Need More Jet Ski Clothing
Jet ski shoes are not the only must-have for your new watercraft.
There are the obvious things like sunglasses, sunscreen, but the not so obvious, like wetsuit bottoms that everyone needs while riding a jet ski.
Check out my guide on what to wear while on a jet ski here.