Within the Rec-Lite category of watercraft exist the Freestyle class.
Both Sea-Doo and Yamaha have jet skis that compete in this field; Sea-Doo has the Trixx and Yamaha has the JetBlaster.
While both the Trixx and the JetBlaster are very similar, they differ on many things too. This comparison guide will go through each one to find the one that best fits your needs.
Sea-Doo Trixx vs. Yamaha JetBlaster
| | | | |
| --- | --- | --- | --- |
| Model | Spark Trixx 2 up | Spark Trixx 3 up | JetBlaster |
| MSRP | $9,099 | $9,699 | $10,899 |
| Top Speed (MPH) | 49 | 49 | 51 |
| Top Speed (KPH) | 79 | 79 | 82 |
| HP | 90 | 90 | 110 |
| Weight (lbs) | 428 | 439 | 549 |
| Storage Capacity (US Gal) | 0.42 | 0.42 | 7.7 |
| Seating Capacity | 2 | 3 | 3 |
| Transmission | iBR | iBR | RIDE |
| Fuel Capacity | 7.9 | 7.9 | 13.2 |
| Length (Inches) | 110 | 120 | 123.6 |
| Width (Inches) | 46.4 | 46.4 | 44.5 |
| Height (Inches) | 42.1 | 42.1 | 46.5 |
| Hull | Polytec | Polytec | NanoXcel2 |
| Cooling | Closed-Loop | Closed-Loop | Open-Loop |
| Reboarding Step | No | No | Yes |
| Mirrors | No | No | Yes |
| Trim | Extended VTS | Extended VTS | Custom-Tuned |
| Driving Modes | Yes | Yes | No |
| Fuel Type | 87 | 87 | 87 |
| Height Adjust Handlebars | Yes | Yes | No |
More Details On The Sea-Doo Trixx
More Details On The Yamaha JetBlaster
Sea-Doo Trixx Pros:
Have two options for seating capacity, 2up and 3up.
Cheaper than the JetBlaster.
Weighs less.
Shorter Length, more playful.
Modular deck.
Closed-Loop Cooling.
Extended VTS.
More color options.
Yamaha Jet Blaster Pros:
Slightly faster than both Trixx models.
More HP.
More storage capacity standard.
Larger fuel tank.
Reboarding step.
Mirrors.
Seating Capacity
The JetBlaster is only a 3 person capacity while the Trixx comes in 2 and 3 person capacity options.
The JetBlaster and Trixx are in the Rec-Lite category, so in reality, a 3 seater is really a 2 seater, and a 2 seater is really a 1 seater when you have "normal" sized adults.
You may get two adults and one child on a 3 seater, but you won't get 3 full-grown men without it being extremely tipsy.
Both the JetBlaster and Trixx are stable with one person, I can stand on the side without flipping it over.
2up vs. 3up
The Sea-Doo Trixx is the only one with a 2 seater (2up) and 3 seater (3up) option. Well, they're calling the 2up a 1up now, but it's the 2up body.
This is important because if you plan on riding these jet skis as they should, the 2up will be easier and more fun.
The 3up adds a rear extension and a slightly longer seat. The extension doesn't keep you from doing wheelies, but not having it does make it a little easier.
The reason to get the 3up over the 2up is if you ever plan on doing any pull sports as by law in many states you need a 3 seater for safety reasons. A 2up can pull a tube, but it may not be legal where you live, especially if you don't have mirrors.
Trim and Wheelies
Both the Yamaha JetBlaster and Sea-Doo Trixx have a VTS (variable trim system) that is different from other models in the lineup.
Both are adjusted to allow the watercraft to be more vertical and do wheelies, as seen in the video below.
The Trixx wins in the wheelie department as its lighter, smaller frame, along with its extended VTS, makes it far easier and more predictable.
Yamaha has come out saying the JetBlaster is more focused on being a wave jumper instead.
Horsepower, Fuel Capacity, And Weight
The Yamaha JetBlaster beats the Sea-Doo Trixx in horsepower and fuel capacity, for sure.
The JetBlaster has 20 more HP and 5.3 gallons more fuel capacity.
But…
The Sea-Doo Trixx 3up is 110 pounds lighter than the JetBlaster, and the 2up is 121 pounds lighter. That is basically a whole person lighter, and why the JetBlaster is not much faster.
This weight difference is noticeable, especially when doing tricks and flinging the PWCs around.
Fill Up
The Trixx will also be cheaper to fill up since it is a smaller fuel tank. But I honestly rather have the larger fuel tank the JetBlaster has to fuel up less often.
The JetBlaster may weigh more and have a more fuel hungrier engine, but the difference in fuel tank size is still better overall with the JetBlaster when compared evenly.
Storage Capacity
The JetBlaster gets 7.7 gallons of storage from the factory, while the Trixx only gives you the glovebox at 0.42 gallons.
You can add a front bucket storage for the Trixx to give you an extra 7 gallons for a total of 7.42 gallons.
Front Bucket
Once you add the front bucket storage to the Trixx, the storage is far more useable. On the other hand, the JetBlaster storage is greater, but it's more spread out, and not easy to store something large like a cover or even a life jacket.
For example, I have the front bucket storage on my Spark, and I can easily fit a folding paddle and a cover or even a life jacket.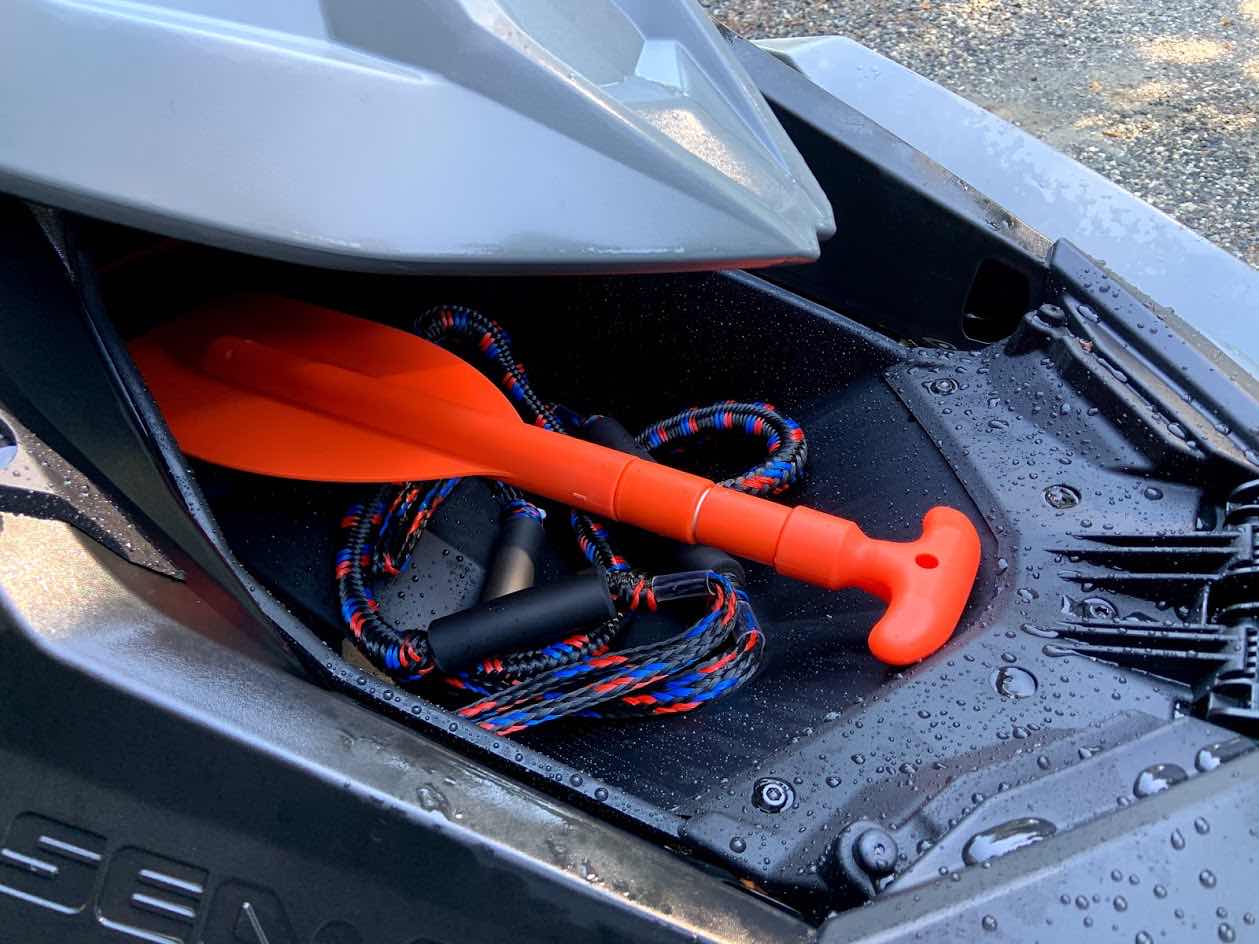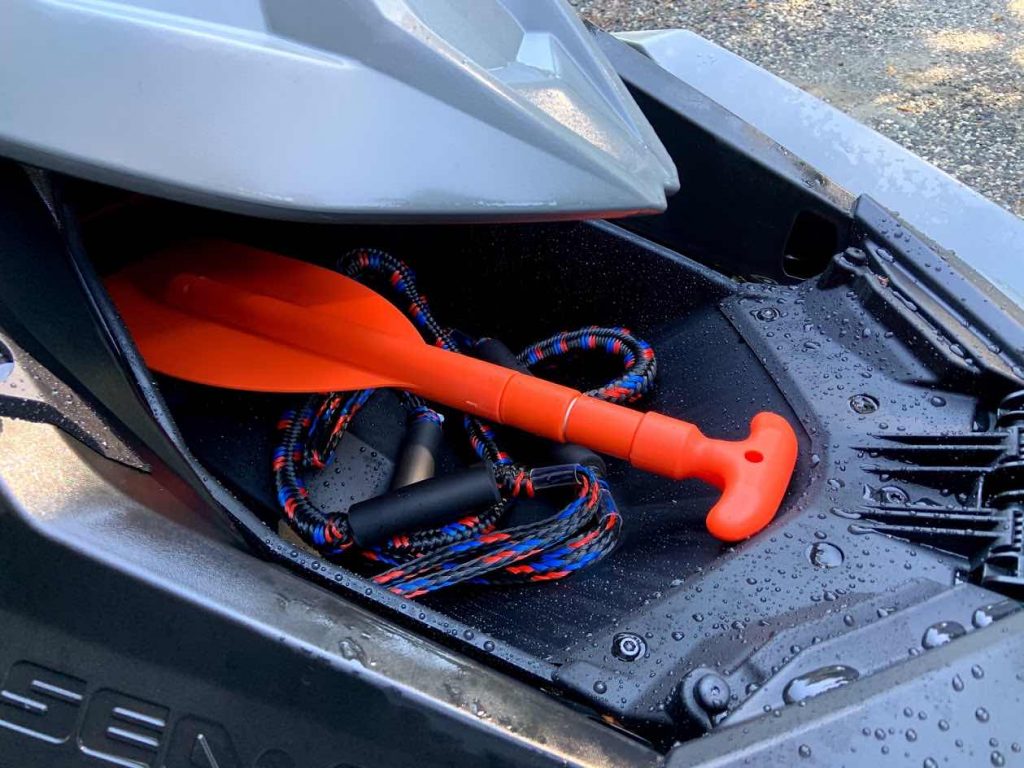 You can buy a front bucket storage to your Spark*. It's not hard to install, but it does require you to drill into the deck, so not for the faint of heart.
I do suggest getting a few jet ski accessories talked about here when you do get your jet ski.
Mirrors
The Sea-Doo Trixx does not come with mirrors, but the Yamaha JetBlaster does.
You can buy mirrors for your Spark here*.
Mirrors on a jet ski are essential if you plan on doing any pull sports. In many states, it's a legal requirement to have mirrors, and some states even require both mirrors and a spotter.
Reboarding Step
Only the Yamaha JetBlaster comes with a reboarding step from the factory.
If you're not a nimble person, the reboarding step is a must. Of course, you can get back on the watercraft without one, but the step makes it easier.
You can add a reboarding step to the 2up and 3up Trixx.
It's only a few bolts to install the reboarding step on the Trixx, but you need some sealant as you do puncture the hull and need to let the sealant dry before putting it in the water. It's not hard to install yourself; I say it's easier than the front bucket storage, but you need to be sure to use the sealant and let it dry.
Transmission – iBR vs RIDE
The Sea-Doo Trixx uses iBR, which is intelligent brake and reverse. iBR controls your forward, neutral, reverse, and brakes.
The Yamaha JetBlaster uses RIDE, which also is the forward, neutral, reverse, and "brakes."
Sea-Doo First
Sea-Doo came out with iBR first and used the word "brakes," Yamaha RIDE came out later and called it "dual throttle."
They're both similar but have slight quirks that make them different.
Controls
Just know, the right hand is forward, and the left is reverse and braking.
To learn more, I have a guide that goes over the transmission of a jet ski here.
Driving Modes
The Sea-Doo Trixx comes with two driving modes, normal and sport.
Normal mode is what you start in, and it's a slow takeoff and a granular speed increase until you get to top speed.
Sport mode is full power; nothing holds you back.
The Yamaha JetBlaster has just one mode, which is fast.
Which One Should You Get?
Both the Sea-Doo Trixx and Yamaha JetBlaster are great jet skis with pros and cons for each.
One model may suit someone else more than the other, so it's not a winner-take-all competition.
I find the Sea-Doo Trixx better if you want a more playful jet ski first and a family jet ski second.
I find the Yamaha JetBlaster to be more of a family jet ski first and a playful jet ski second.
I prefer JetBlaster for pull sports due to the engine, fuel tank size, mirrors, and larger frame.
But the Sea-Doo Trixx will be more fun spinning out, doing wheelies, jumping waves, and other fun stuff.