When you're a beginner in the jet ski world, it can be very confusing and at times awkward. I saw this all the time when I sold them.
I would often get asked – what is the best jet ski for beginners?
Many assume to go with the Spark or EX…
But those watercraft have got to be the worst for beginners. — Let's talk about it.
What Should Beginner Jet Ski Owners Get?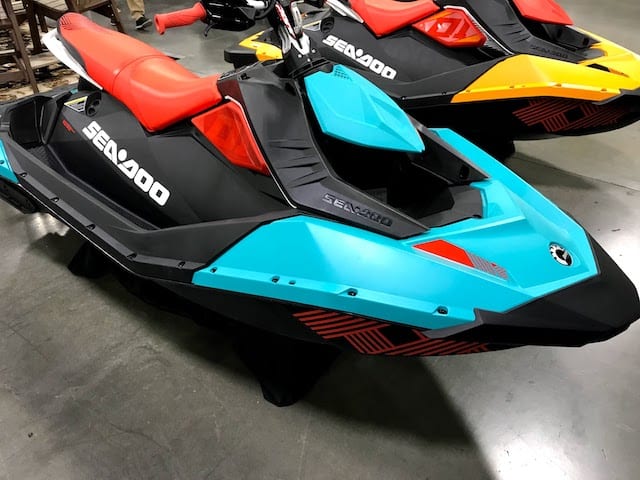 I see it posted everywhere – You should get a Spark or Ex for your very first watercraft!
No… you shouldn't.
Coming from someone who has sold many watercraft and done far too many test drives with people new to jet skis, I can honestly say a Sea-Doo Spark or Yamaha EX or any Rec-Lite category of watercraft is not where you should start.
The Best Jet Ski For Beginners
The best jet ski for beginners is Sea-Doo GTI or Yamaha VX or Kawasaki STX-160. These models of watercraft fall under the recreation category, anything in this category will be a great option for beginners.
While many think the Sea-Doo Spark or Yamaha EX are the best jet skis for the money, they're not the best purchase for someone entirely new to jet skis.
Why Is The Recreation Category Ideal?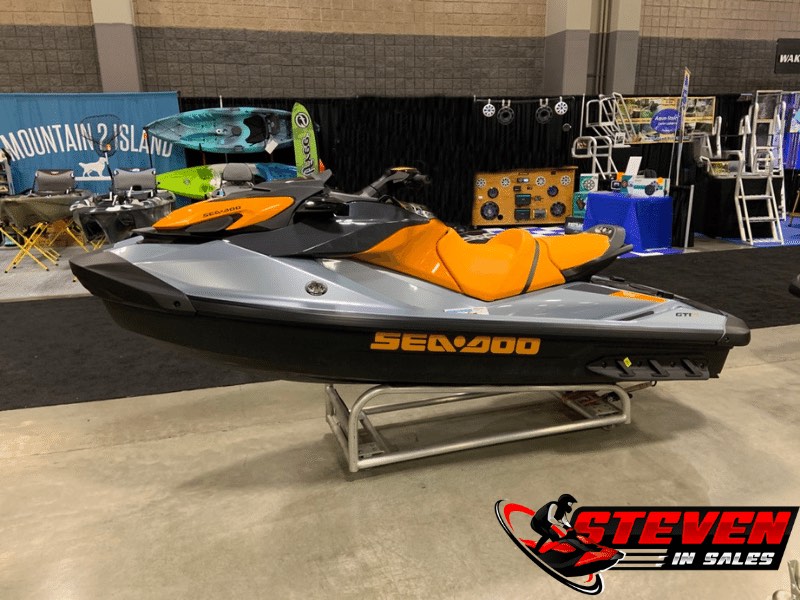 There are 2 reasons to go with the recreation category.
The first reason is that this category will more than likely have iBR or RIDE, or even reverse.
The second reason is that the recreation category will be more stable than the Rec-Lite category and more perfect for a family.
Why Stable Matters
A recreation category jet ski will be more stable, which is ideal for pulling tubes and riding more than one person on it at a time.
To be honest, when it comes to the smaller Spark and EX, a 2-seater is really a 1-seater, and a 3-seater is really a 2-seater. That is, if you're an "average size".
The best kind of jet ski for people new to the sport will be one that is stable and trusting!
Recreation Watercraft Are Made For Normal-Sized People
As someone over 200 pounds, I find the Sea-Doo GTI or Yamaha VX to be more comfortable and more trusting, especially when riding with passengers.
Let's not forget all the stuff you're going to carry, like tubes, ropes, and all the jet ski accessories. All this extra weight affects how the jet ski will perform, and a jet ski that is less stable is not new rider friendly.
A recreation category watercraft will have more storage than the Rec-Lite ones. And when you're new, you don't know what stuff you really need until you need it, so you might as well bring all the stuff you can.
Get Brakes!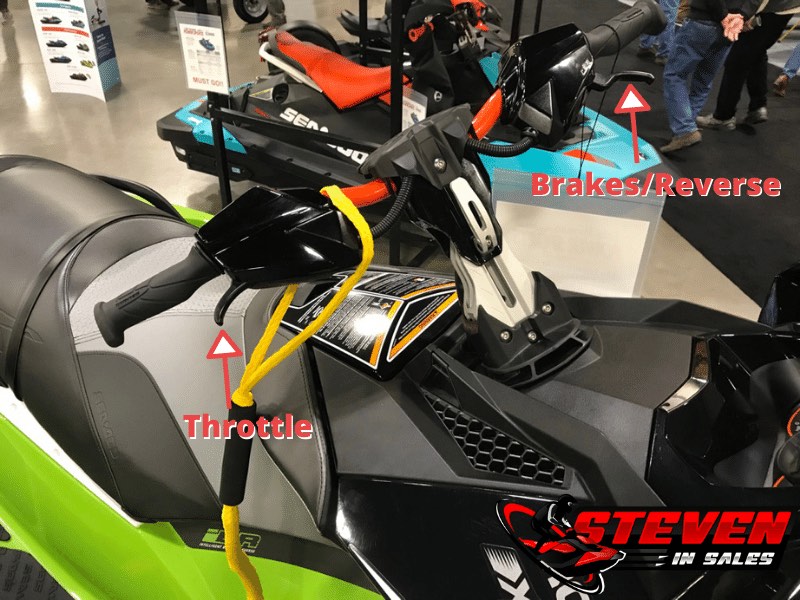 While I don't think you should start off with a Spark or EX. If you want to get one, and you're new, feel free to get one.
Just make sure to get the Spark or EX with iBR or RIDE on them.
Docking Is Hard For Beginners
Being able to dock and control the watercraft is the hardest for beginners to understand.
But throw a beginner on a Jet Ski with iBR or RIDE, and they get the hang of it quickly. They'll be docking like a pro in minutes.
What is iBR or RIDE?
If you never heard of iBR or RIDE before, they are Sea-Doo (iBR) and Yamaha's (RIDE) way of braking, reverse, neutral, and forward on a watercraft.
Braking is entirely new, well, Sea-Doo came out with it in 2009 and Yamaha's RIDE came in 2015, but once you use it, you never want to go back. Kawasaki has released their version of brakes in 2022, so all major brands have at least one model with brakes.
If brakes are not an option, then at least get a machine with a manual reverse as that makes docking so much easier, not as easy as iBR or RIDE, but still super helpful.
When you don't have brakes or reverse, and yes, they do sell watercraft without them like the base model Spark and base model EX, docking is something that takes longer to learn.
Video On How To Drive
See our guide on how to drive a jet ski here.
Other Important Things
Jet skis are fast; there is no denying that. But many of them come with an option to allow you to slow down and learn the watercraft.
For example, Sea-Doo has a learning key which can restrict the power of the craft. Yamaha has a fob that can do the same and Kawasaki does have a slow key too.
These slow options are perfect for new riders or for the buddy who thinks he knows what he's doing, but he doesn't.
Why Have A Slow Key?
And I know what many of you are thinking. A "slow key," really?! I want to go fast! And when I tell you that many of the slow keys restrict you to around 35 mph, I can hear them laughing from here.
What many new riders don't get is that 35 mph is fast if you've never been on a jet ski before.
Sure it feels slow in your car, but in the car you have a whole roll cage and AC blowing on you while you're jamming to music. A jet ski doesn't have a windshield or a roll cage or really anything around you. You don't even have a helmet, so you hear all the rushing wind in your ears – there is no other feeling like it (besides a motorcycle).
I've had many new riders never go beyond 35 mph as they deem it fast enough, that slow key makes perfect sense if you're new. Over time, you'll get used to it, and you'll want to go faster. But let's walk before we run!
Stay Away From Big Engines
If you're new, like super new and never owned a boat or a motorcycle, then avoid the big engines.
Anything that is under 200 HP is more than enough for the average person. A 90 HP or 130 HP engine is still plenty and still fast for the average person too.
If you're new, honestly stay away from 300 HP watercraft. Those suckers are no joke. At least have some riding experience on watercraft before you go to 300HP.
Not only that, but engines over 200 HP tend to have superchargers, and they require more maintenance and use more gas.
What About The Kids?
If you have kids who want a jet ski, the best thing you can do is sign them up for the boaters safety course. Many states actually require a boaters safety course for people under a certain age.
Even if you're not required to take one, I still recommend you take the course, no matter how old you are.
It seems silly that we require a driver's license for operating a tiny car, but in many states, as long as you're over a certain age, you can strap yourself to a 300HP rocket of a jet ski and that's okay?
Small Engines For The Kids
If you're getting a jet ski for the kids, they have taken the safety course and of legal age to drive, then a Spark might be good for them. A GTI/VX would be good too, but a Spark would be cheaper. Or even consider a used (good) watercraft as your first one.
The great thing about the Sea-Doo Spark or even Yamaha EX is that they have the smallest engines and don't go the fastest.
But this does bring back to my point of having iBR or RIDE. I, personally, would rather have my kids on a machine with brakes just in case something happens. If someone pulls out in front of them, they have brakes and can better control the situation.
Remember
Remember, I'm just some guy on the internet. Your needs may be different and a jet ski with no reverse or whatever might be perfect for you. Or you might hate the looks of all the recreation models but love the looks of the 300 HP models.
It's okay to get what you want. Many of the higher-end models with plenty of power still have the features that can help to keep you in better control with the use of the learning key or different driving modes.
From all the years of selling jet skis, the best jet ski for beginners will always be something from the recreation category, especially if it has brakes.
The next step at this point is comparing all the models and see which one fits your needs the best. I have a post that covers all 2023 watercraft here.
If you're looking at getting a new jet ski, I have 25 tips that can help you.