What to know when buying a used jet ski?
Before writing this, I went around and looked at the websites that supposedly gave you pointers on what you should do before the purchase of a Used Jetski. All the sites I ran into pretty much gave junk advice.
Some of these sites were just News sites. Taking advice from a News site is like taking advice from me on how to fly a plane, I never been on a plane so why would you listen to me?
Some of these sites did offer some good advice, but from all the years of selling and working on Jet Skis, I have compiled my own list of things I look out for when selling or buying a Jet Ski that will be very useful to you. I'm not going to say I know everything about selling and buying a Used Jet Ski but I've sold and bought a few hundred so I do have some pointers and tips that you might find useful.
1. Don't Buy 2-Stroke Jet Ski
I made this the first one because it's got to be the most important one. Some manufacturers still to this day make 2-Stroke Jet Ski's, but that does not mean you should consider one.
2-Stroke Engines are being phased out since they pollute so much more than 4-Stroke Engines. Also, parts are getting harder to find which means shops are less likely to work on them.
About the only thing a 2-Stroke Jet Ski is good for these days is parts. Just about every 2-Stroke I run into nowadays has low compression or something else majorly wrong with it.
If you're wondering what a 2-Stroke Jet Ski looks like then you need to see if it has a dip-stick. A 2-Stroke Jet Ski will not have a Dip Stick since it burns the oil instead while a 4-Stroke will have a dipstick.
The first 4-stroke Sea-Doo came out in 2002 and the last Sea-Doo 2-stroke was made in 2007. If it's a Sea-Doo and made on or after 2008 then it's 100% a 4-Stroke.
Check out the Checklist for buying a used watercraft here
2. Engine Hours Don't Really Matter
When reading the News article, they said a Jet Ski is made to last for only 300 hours. I burst out laughing when I saw this. Yes, 300 hours is quite a lot of hours, but I've seen Jet Skis with over 300 hours last longer than some with under 50 hours.
Would I buy a Jet Ski with 300 hours on it? Probably. It all depends on the shape of the craft, the compression, the pump, the hull, and many other factors.
Tip: Buy a Compression Gauge (Amazon Link Ad) to check compression of each cylinder. You want the compression to be above 100PSI and each cylinder to be close to each other in compression.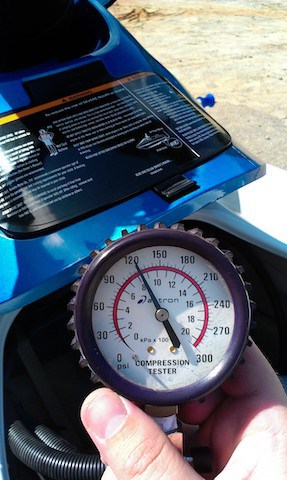 When a watercraft has 300 hours on it, that tells me that they had 300 enjoyable hours. Someone with that many hours has taken care of the Jet Ski to be able to achieve that many hours.
I've seen a couple of low hour Jet Skis blow up because it was never taken care of. You would be surprised by how many people never did their yearly service. If you want to keep a watercraft in tip-top shape just do your yearly service and get it winterized every year and you'll be fine. You can even buy oil change kits and do your own oil changes if you wanted to. Just make sure when you do your own oil changes that you have an oil extractor like this one (Amazon Link Ad) to remove the oil.
So what I'm trying to say is that don't base your buying decision on engine hours as there are many more important factors to consider such as maintenance, hull condition, and water testing it.
To help you better understand hours, we have a chart below that shows you the scale of what is good hours compared to how old the machine is. So, a jet ski that is 10 years old you would expect 300 hours on it. Anything that is over 13 years old or over 400 hours might not be worth it to buy in my opinion. Always get it checked out like I've mentioned above as I've seen low hour jet skis break too.


How many hours can you get out of a jet ski? – I've seen Jet Skis go over 300 hours before and that wouldn't stop me from buying like I mention so far. But when you get a watercraft that is over 10 years old with over 400 hours on it then I consider that a good lifespan for that jet ski for the market's sake. Sure, it's possible to find jet skis with over 400 hours on it and they could be fine but the market has a bad stigma with such a high number.
Jet Ski Engine Lifespan? – If it's a 2-stroke engine I would happy to see 300 hours out of that engine. If it's a 4-stroke that has been taken care of you could possibly see 1,000 hours. I get that 1,000 hours from rental companies as they often overachieve that number quickly.
Average Hours Per Year for a Jet Ski? – The average jet ski gets anywhere from 30 to 40 hours a year put on it. I've created a jet ski hour calculator here so you can see if the jet ski you're looking at has a low, normal, or bad amount of hours.
How To Check Hours on Jet Ski? – If the jet ski has a gauge for speed then it has an hour meter. Luckily the hour meter on watercraft made in the last 10 years has been easy to see with it often right on the gauge sometimes at the bottom. Some models do have a smaller screen that you might have to scroll through by pressing a "menu" button either on the gauge or handlebars. If you can't find it you can always take it the local dealer to have them read it or have the seller supply service records with the hours on it to give you an idea.
If you want even more helpful advice when buying a Used Jet Ski then check out my checklist here.
3. Water Test It!
This should be common sense, never buy a used Jet Ski unless they let you water test it. When Water Testing it make sure the watercraft takes off instantly. It doesn't usually matter the power of the Jet Ski as they all take off like a rocket. Also, check the RPM's, you want something over 7000 RPMs at full throttle, but this can be different for every ski.
Basically, when you go full throttle with the Jet Ski, it should put a smile on your face!
Important! Even when buying from a dealership you always want to water test it before buying it! The dealer may say the watercraft is fine, but only a test drive will confirm that.
4. Check For Damages
The first thing I check is the seats on a Jet Ski. If the Seats are tearing it means that the person never really kept a cover on the watercraft. If you're too lazy to put a cover on a Jet Ski, then that also means you're too lazy to do regular maintenance.
Slight tears on the seat is not that bad. There's going to be some tears on seats of jet ski's 8 years or older. This is due to people riding it and bouncing up and down when they ride. It's when you have chunks of a seat missing is when you need to worry, not tears where people sit. You can always get a seat cover (Amazon Link Ad) to replace the old seat. Seat covers may need a upholstery person to install it.
Fiberglass damage is to be expected on used Jet Skis. No one is perfect, and docking can be hard to do on a watercraft so do expect some damage. I don't usually sweat the small stuff like fiberglass damage smaller than a quarter, but I do concern myself with fiberglass damage on the bottom of the ski.
You will get some marks on the underside of the watercraft from people beaching a jet ski but if you have chunks missing from the lower part of the watercraft then run very far from that deal.
Check for Rust around the engine and pump. If the paint on the engine is flaking off, I would avoid the craft as it is just a matter of time before you have some issue. Rust or Corrosion is notorious for giving electrical problems in the future due to the grounds getting eaten away and giving you crazy errors on your gauge.
Make sure you get your local dealer to check it out before you write the check. Your dealer will know about all the quirks about that particular model and can tell you things that you might have overlooked. Your dealer can also check the compression and pump for any damage.
Low compression means the engine is blown and you should avoid any watercraft with a blown engine.
Has it been sunk? To check to see if the watercraft was sunk is simple. Take the seats off and see how heavy they feel. A watercraft that has been sunk will have very heavy seats, like to the point where you can't lift them. It doesn't matter if it was sunk last year, the water stays in the seat's foam for a long time. Waterlogged seats can tell you if you might have problems in the future from a sunken watercraft.
Bonus: How Much Should You Pay?
I've been getting many comments lately about how much one should pay for a used Jet Ski.
So I've created a guide on how much you should pay for a used jet ski here.
In this guide, I show you how much to expect to pay along with other helpful tips that point out problems of particular jet ski models.
More Factors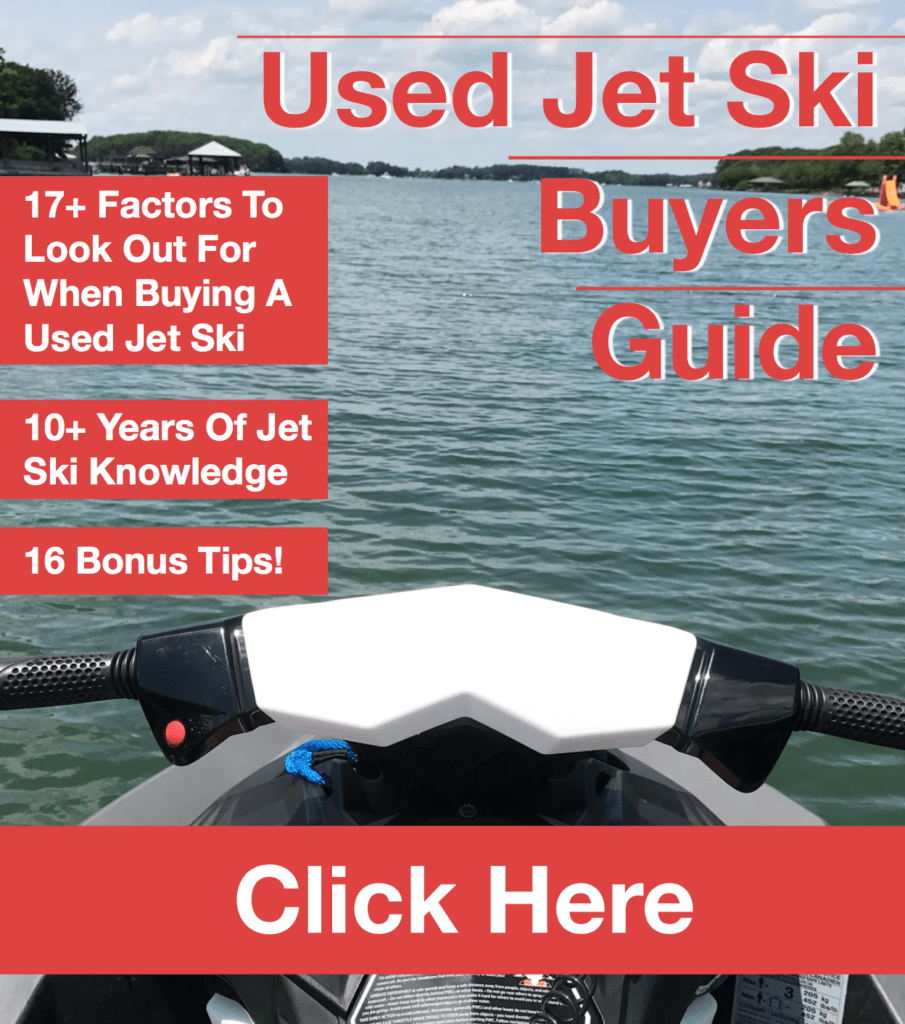 It is not possible for me to squeeze 10 years of my knowledge of buying used jet skis into one post. Instead, I created a book that goes over the 17+ factors that I look at when buying a used jet ski. If you ever wonder if the used jet ski you're looking at is worth it or you don't know where to start then this book is a must-have.
Don't Be Fooled! Learn Things Like…
The truth about supercharged jet skis.
What to pay for a jet ski and trailer.
What are good or bad hours for a jet ski?
What Jet Skis to avoid and what ones to buy.
When the best time to buy and from who.
What good engine oil and a good battery look like.
Why a jet pump can tell us a lot about a used jet ski.
The SCAMS that sellers try to play when selling a used jet ski.
Click Here For " Used Jet Ski Buyers Guide "
5. Consider New!?
Why are you buying a used watercraft? Price? Did you know Seadoo makes a new Jet Ski that starts at $5,699 in 2022? It's called the Spark, and it really has hurt the used market. You get a new Jet Ski with a warranty for the price of a used jet ski. The Spark is half the cost, half the weight, uses a third of the gas of some new Jet Skis.
If you're interested in new, then check out my guide on all 2022 watercraft here.
If you're not sure what used Seadoo watercraft you should buy, I've created this list of the units I recommend. This will help you get a general idea of what I consider good machines and have given the least amount of problems.
One More Thing!
If you're planning on getting a Jet Ski then make sure you get all the correct safety gear and accessories. There are many other little things and tips you should also be aware of too! I've compiled a HUGE list of accessories and tips into one helpful guide here that can help you with this.
If you liked this post make sure to share it on Facebook and Twitter!