I want to do a post on the lesser-known Wear Ring. The wear ring is a part of the drive of a Jet Ski or more importantly Sea-Doo. The wear ring can be a love-hate relationship but serves an important role in protecting your Watercraft.
The Purpose of the Wear Ring
The reason why Seadoo does a wear ring is to protect it from any major damage that might come from not having a wear ring.
A wear ring is quite simple, it's a thick piece of plastic that wraps around the impeller. The gap between the impeller and the wear ring is very tight because it needs to be in order to push the water out.
It's best to think of a Jet Pump on a jet ski as a jet engine on a plane. The Jet Planes engines have blades with very tight tolerances in order to create the thrust for taking off. Jet Ski's have very tight tolerances for the purpose to create thrust in water to have you move forward.
The problem is that water is more likely to contain debris like sticks, rocks, dirt, or sand in them. So you're likely to suck up such debris. Some of this debris can really do damage like sticks and rocks.
So what happens when you do suck something up? Well if it's small enough then nothing really happens. If it's big enough it can stop the impeller and thus shut the engine off.
The good news is that the Engineers at Seadoo have figured out the solution. You can't remove all the rocks and sticks from the lakes and oceans, but you can better prepare your watercraft for an event where it sucks something up.
So what Seadoo did and what many other manufacturers refuse to do is place a plastic guard around the impeller which will take the abuse. The idea is that it's easier and CHEAPER to replace something that is plastic than the whole metal housing.
Other manufacturers don't use anything to protect the impeller and its housing from damage and if you do suck something up it ends up costing you $1000's instead of $100's like it would if you had a wear ring.
How Often Do You Suck Stuff Up?
Sounds kind of scary doesn't it? Sucking up rocks and stuff into the watercraft and doing damage.
The truth is that is quite rare to do it unless you're not being careful. I've been playing with watercrafts for most of my life and I have yet to suck anything up. But that does not mean I'll never suck up anything, and If I do then it's nice knowing my Seadoo has a wear ring to help protect me the best it can.
To avoid sucking up stuff it's best to follow some rules…
Always start the engine in waist deep or deeper water.
Avoid shallow ground and markers.
Avoid sucking up ropes.
Avoid riding after a heavy rainstorm since many sticks break free and hide in the water.
Avoid debris in the water like you avoid potholes in the road.
Always be aware of your surroundings.
I've seen just about anything getting sucked up into the pump of a Watercraft. Here is even a picture of someone who sucked up a Lake Map. The blue outer ring is actually the wear ring and didn't take much damage but this little bit of paper can stop any watercraft with or without a wear ring. So make sure to avoid sucking stuff up.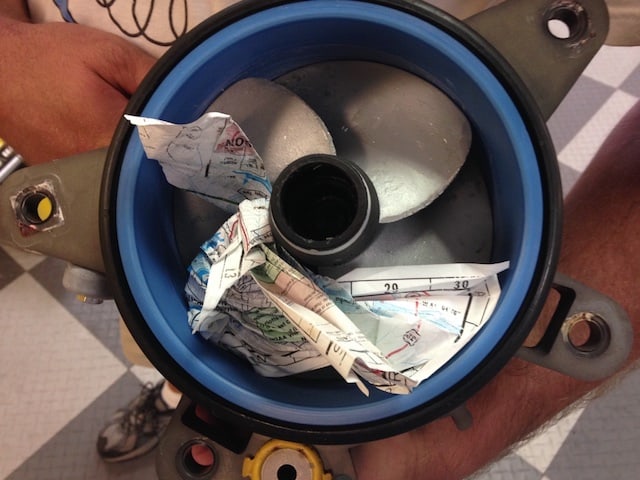 Slipping Gears
One common thing many people say after damaging a wear ring is that they say it feels like its slipping gears or not shifting. Jet Ski's do not have transmissions if the engine is on the then impeller is moving.
The forward and reverse are done by moving a bucking up and down to redirect the thrust.
The slipping or not feeling like the engine is catching until later is because the wear ring has a groove cut into it. This grove allows water to escape around the impeller instead of through the impeller. This makes the craft feel like it wants to take off and is giving you all the power in the world but you're just not moving that much.
The reason for the Grove is due to sucking something up. It could be many things, but its best to get the machine to your local jet ski dealer to have them fix the issue.
Is the Wear Ring a Maintenance Thing
You know I'm always surprised I get this question, but many people are told lies about the wear ring. One question I get is that someone at another competing dealership says you need to replace the wear ring often, like doing it as apart of the oil change.
This is NOT true.
The wear ring only needs to be replaced if it becomes damaged. If it becomes damage its because it is protecting the drive system from any major damage do to sucking up rocks or sticks. The wear ring actually can save you some money in the event you do suck something up compared to a watercraft without a wear ring. A wear ring is a good thing.
Is a wear ring perfect? NO, but its better than the other options out there.
But Rocks Don't Float
It can be shocking to be going or just starting your engine and you hear a noise you never heard before and the engine shuts off. Sucking up rocks is not the end of the world.
Many people believe that they didn't do anything wrong. Some of the responses I've gotten from people after sucking up rocks is that "rocks don't float, so how can I suck up rocks?". What happens is that the engine gets started too close to land and the watercraft is basically a super powerful vacuum and will suck anything in that is close enough to the intake. Or more common is when someone drives over a shoal marker or drives over shallow water and the pump sucks up some rocks (we see this often when the lake water is down)
Its best to avoid shallow markers and always start your watercraft in water that is more than waist deep.
Don't Flip It!!!
If you do suck something up the golden rule is to never flip the machine over. NEVER!
I don't know where the idea came from where everyone flips over a jet ski to get to the intake, but it needs to STOP. It's dangerous to do that and if done wrong you can do serious damage to the machine no matter who makes it.
The best thing to do is to tow it land and put it on a trailer. Disconnect the battery and then look at the intake for damage.
Or call your local Jet Ski Dealer for help.
Why Don't They Put A Screen Over The Intake?
I get this often. A screen over the intake would solve many of the problems with sucking rocks and other debris in. But it also stops the water from coming in too.
All watercraft have an intake grate which blocks big things from coming in, but you'll never see a mesh or anything being placed in front of the intake of a jet ski.
No matter the style of mesh you can't place something in front of the intake to stop rocks. With engines going as high as 300HP many of the small mesh would get destroyed by the power of the engine of the watercraft.
Don't put anything in or near the intake of the watercraft. If the mesh idea worked then the manufactures would be doing it.
Is The Wear Ring Perfect?
No, the wear ring is not perfect but it does help the whole housing. Sometimes something so big can come in and damage the wear ring and the impeller. So it's important to be careful when riding and be aware of your surroundings.
Here is a picture of a damaged impeller and wear ring…