When it comes to a jetski life jacket, there are about 3 different types you can buy.
I've bought all 3 types and compared each one to find the best jet ski life jacket.
I've tested each one while on my jet ski and off in the water. I have gotten family and friends to wear them to see how they like each one. I'm feeling confident that we have found the best options for most people.
Note: Life jackets are also called PFD or personal flotation device. They can also go by life vest too.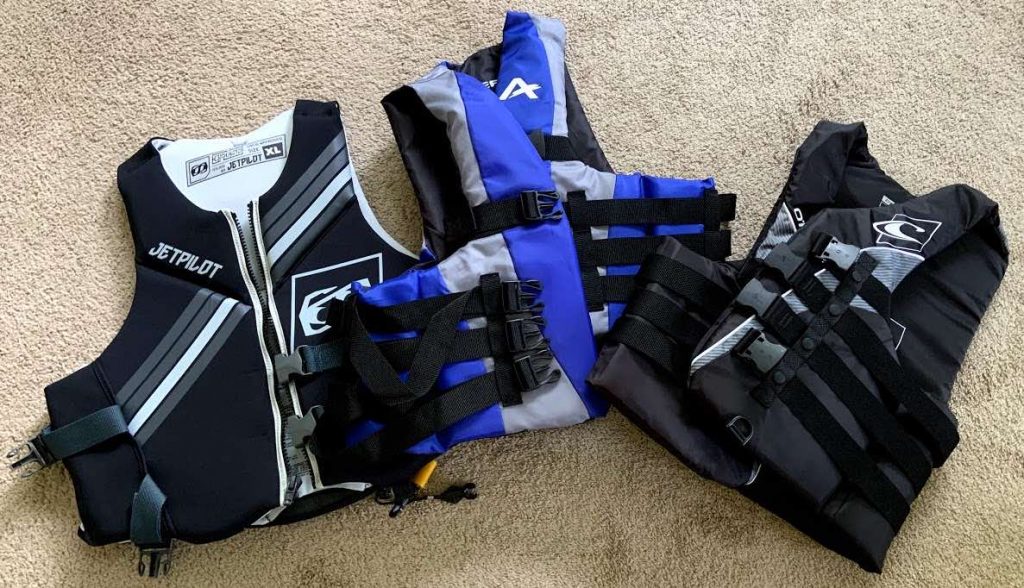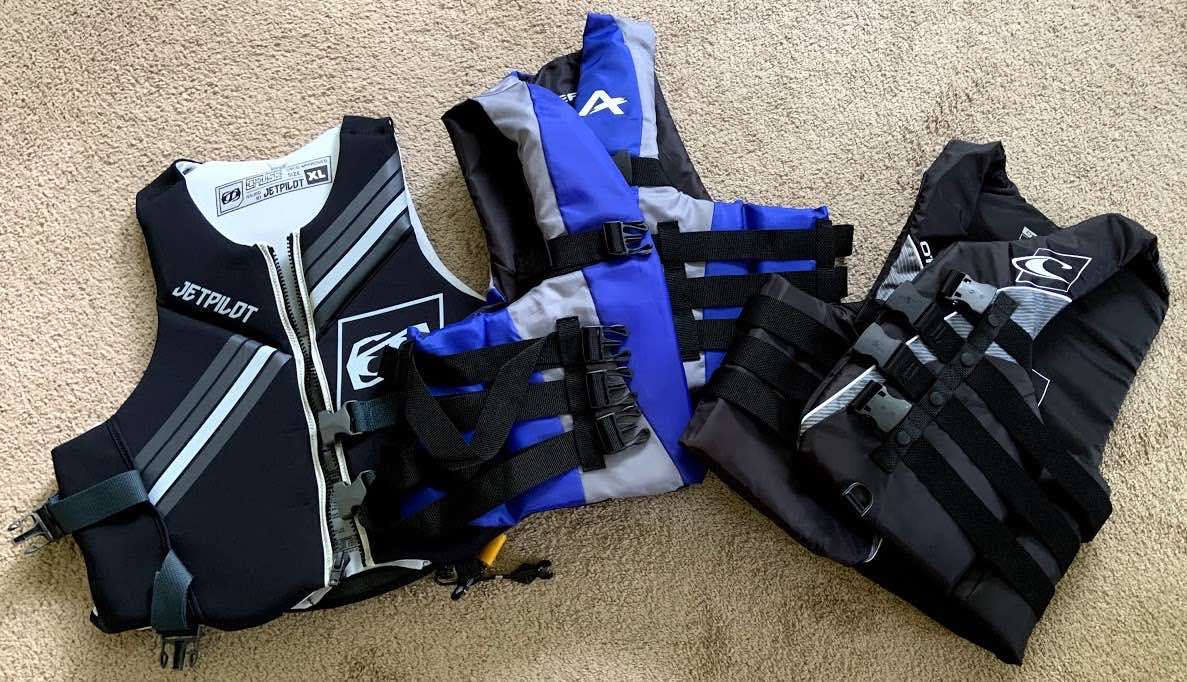 The Best Overall Life Jacket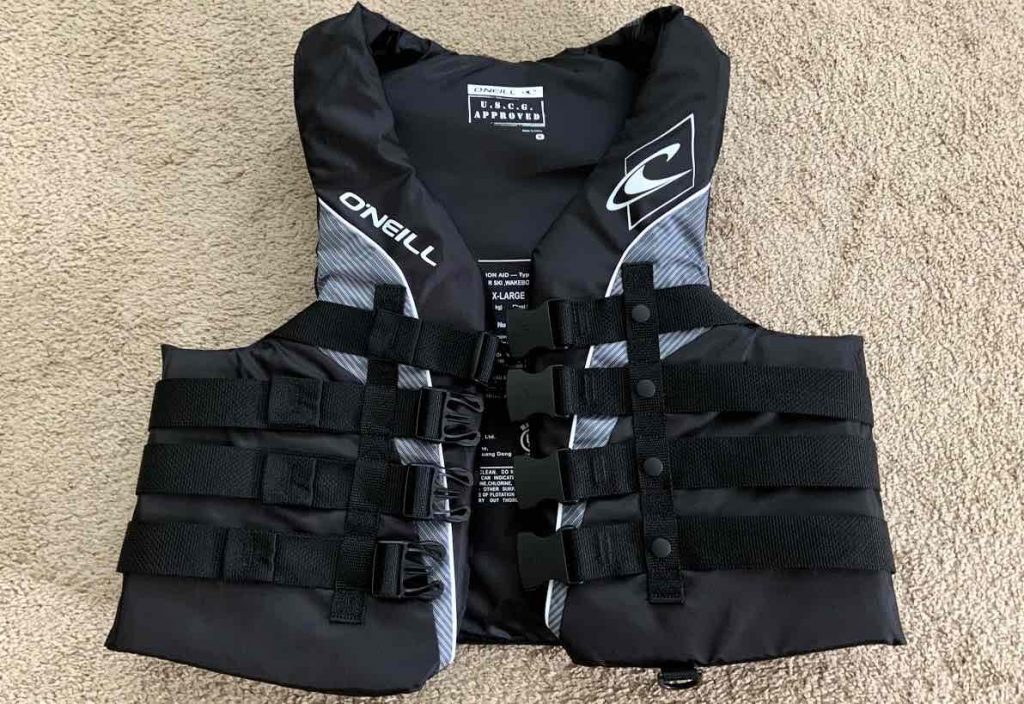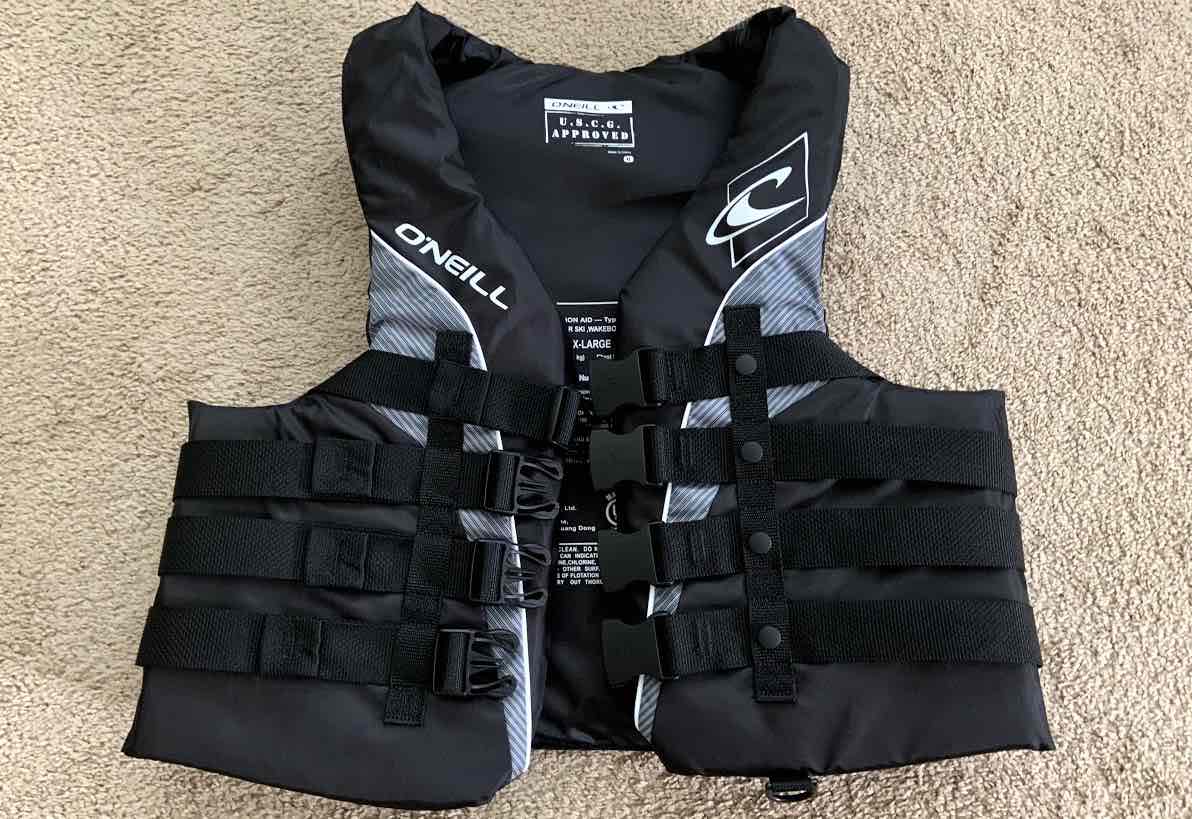 The best life jacket overall is the O'Neill Men's Superlite USCG Life Vest on Amazon*.
This life jacket wins overall because of price, features, and ease of use.
I can hand this to someone who's never worn a life jacket before, and they know what to do. Sometimes zippers and racing-style life jackets can confuse people.
Lanyard Hook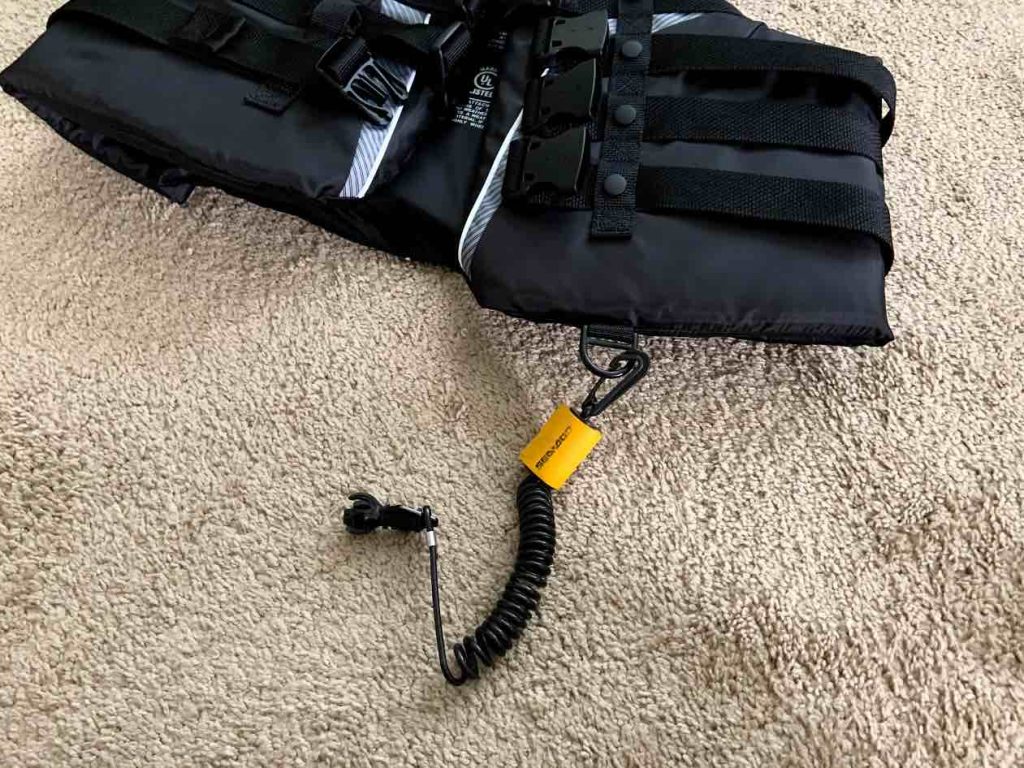 Not only that, but it has something that every life jacket should have, a lanyard hook. This is kind of a big deal for people who own Sea-Doo's. This hook is where you attach your key, so if you fall off, the key goes with you, and the engine shuts off.
Yamaha and Kawasaki don't worry about this because the lanyard wraps around their hands. I'm not a fan of the lanyards that wrap around your hand as many people forget to put them on, and it rubs your wrist too much and gets in the way, especially when docking. When attaching the lanyard to the life jacket, it never leaves the life jacket, so I don't lose the key.
Nylon Perks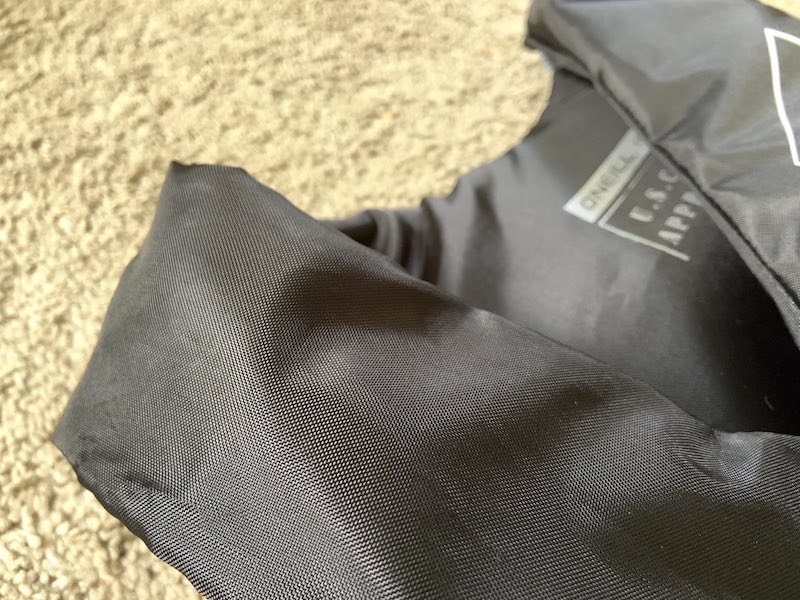 The biggest perk of this life jacket is that it's made of nylon. Nylon doesn't hold water, and it dries super quickly.
This style of life jacket feels light, and almost like you're not wearing much at all. If you plan on getting wet, this is the kind of life jacket you want to be wearing.
The Most Comfortable Life Jacket
The most comfortable life jacket is the Jet Pilot Cause Neoprene CGA Vest on Amazon*.
Neoprene vs Nylon
To understand why this life jacket is so comfortable, we need to talk about Nylon vs. Neoprene life jackets.
A neoprene life jacket is a softer material and feels a lot better on your skin. As you can see from the picture below, the neoprene life jacket is more "squishy." The material of this life jacket is also softer on the skin so if you have sensitive skin a neoprene life jacket is a must.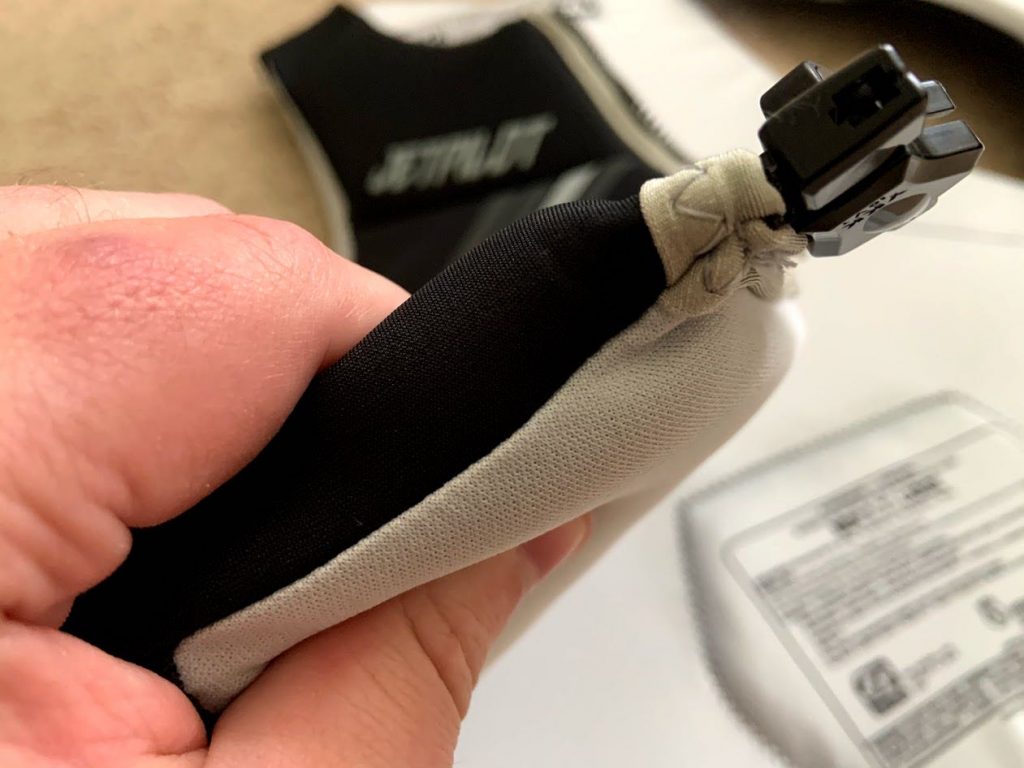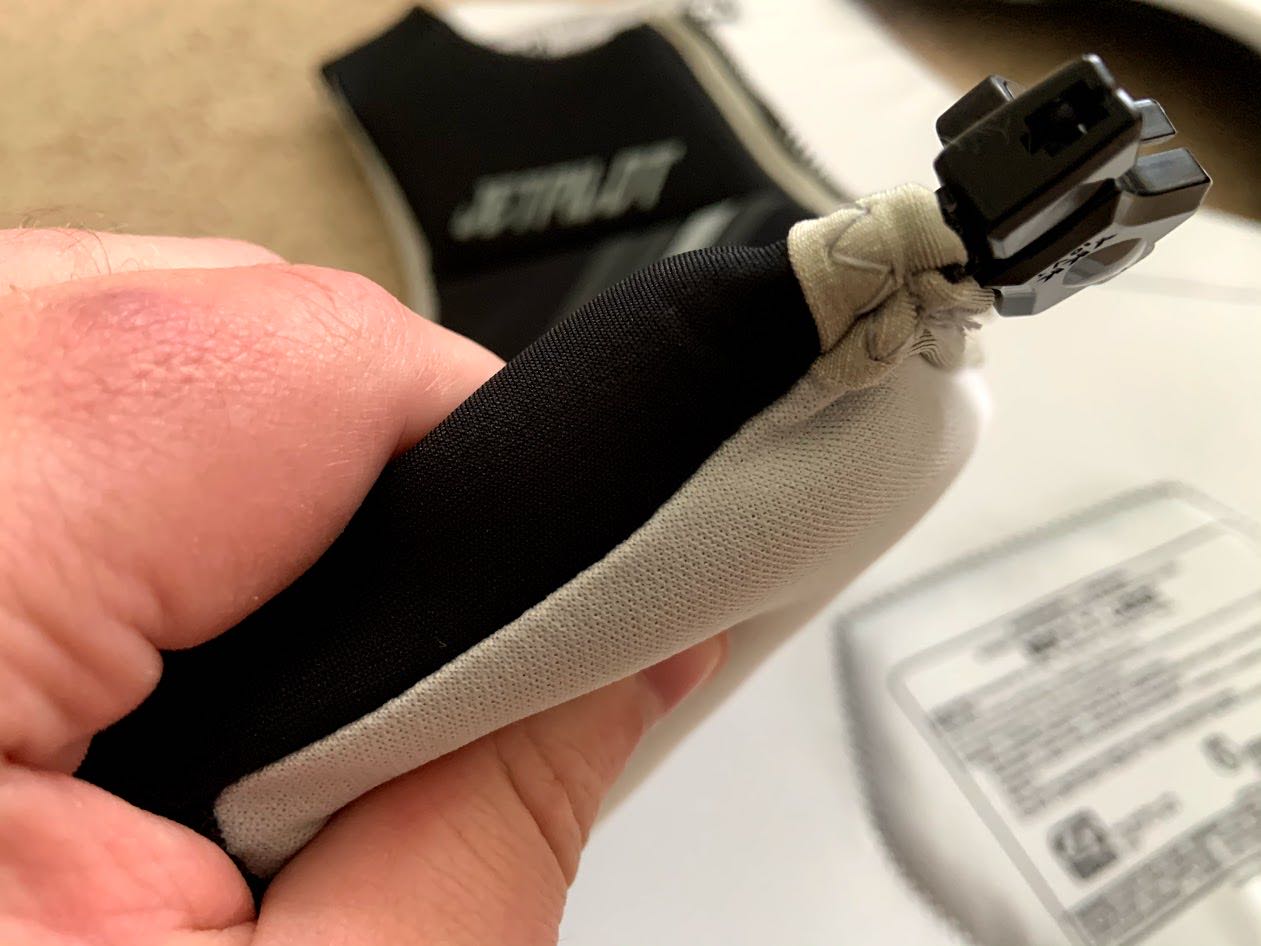 Perks of Neoprene Life Jackets
If you plan on doing long rides, especially in the colder months, neoprene is the best option.
A neoprene life jacket feels more like wearing a jacket, especially when many use a zipper.
The zipper can be kind of confusing at first, but most people get it. There are some styles with a zipper on the side, they're mostly found on racing-style life jackets.
The buckles also allow you to adjust the fit, so the life jacket can fit your body.
The Cons Of Neoprene
The biggest con of a neoprene life jacket is that it feels heavier, especially after getting wet. The best way I can put it is that it's like wearing a wet sponge that floats.
It still dries quickly, but the weight of the neoprene material makes it feel heavier than nylon.
Neoprene life jackets are your premium life jackets, so they tend to cost more too.
Why Go With Neoprene?
If you ride with no shirt and want a super comfortable life jacket, you go with neoprene.
If you ride with a shirt, then going with a nylon life jacket will feel better.
If you do long rides, then you for sure want the neoprene. The neoprene material is more flexible than the nylon life jackets with the harder foam inserts.
The Best Affordable Life Jacket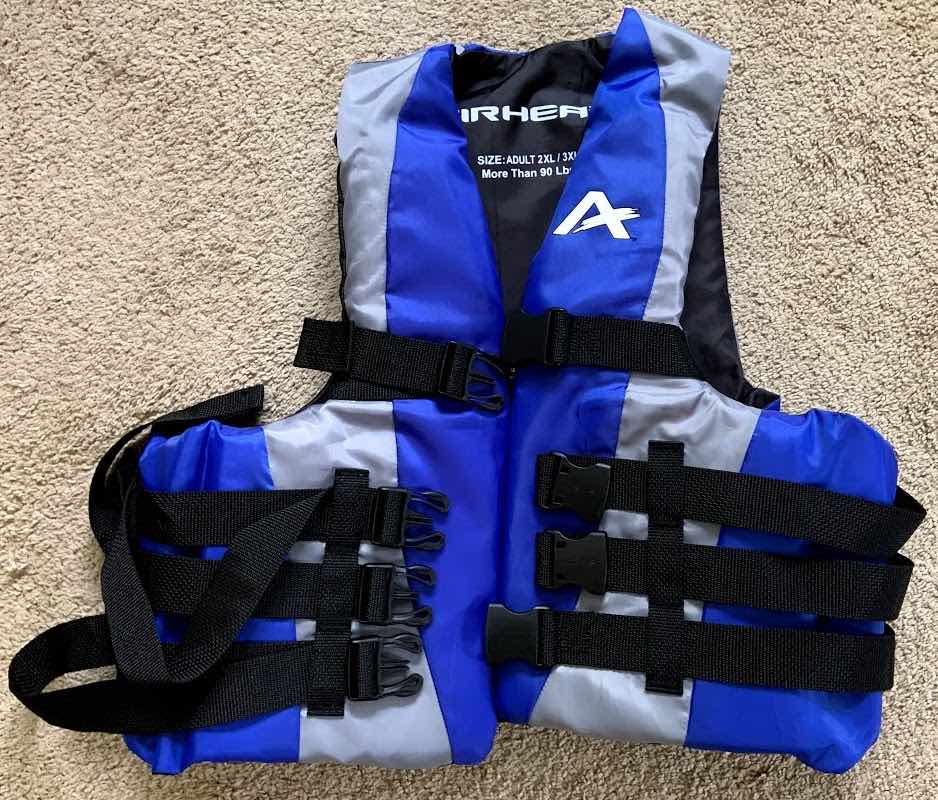 The affordable pick goes to AIRHEAD CLASSIC Family Series Vest on Amazon*.
This is your standard nylon life jacket with no extra features.
This life jacket lacks the lanyard hook and is one of the reasons it's not the best overall pick.
The cut of this life jacket I found to be not as good as the O'Neill Men's Superlite USCG Life Vest. Oddly enough, the wife finds it to be more comfortable.
This life jacket would be the best option if you just need a few around for when guests come over.
Do They Make Life Jackets For Women?
Every men's life jacket is unisex, but they do make life jackets for women.
The cut is different in women's life jackets around the chest area. They also run a little smaller and the torso area doesn't go down as far as the unisex models.
What Size Life Jacket Should You Get?
This video does a great job showing you to size and fit a life jacket.
If you can, try on the life jackets before you buy them.
When trying on life jackets put your arms out to your side like you would if you were floating in the water. With the help of someone else have them lift the shoulders of the life jacket. If it goes above your cheeks the life jacket is too big.
One of the best things you can do is buy a life jacket in every size. Buy a medium, a large, and XL, so when family and friends come over, you got them covered too.
Best Life Jacket For Kids?
When it comes to life jackets for kids, you need to go to a physical store.
Life jackets made for kids are very different than the generic ones made for adults. You need to try them on and make sure it's a proper fit.
Here is a great video showing you sizing for kids life jackets.
When Should You Replace A Life Jacket?
If the life jacket is cracking or fading, then it's time to replace it.
Most life jackets tend to crack or break after about five years, so that is when I buy new ones. You should replace your life jacket after 5 years for sure.
A life jacket that is cracking or fading means the material is breaking down. The material will start to stretch and become loose, affecting your ability to float.
The cracks also allow water to fill new chambers, thus affecting your ability to float. It also allows the inner foam to escape if pieces of it break off, lowering the ability for you to float.
Types Of Life Jackets
You'll need a coast guard approved life jacket for your jet ski. There are also five different types of life jackets. The type you need for your jet ski is TYPE 3.
Here are the other types of life jackets.
Type 1 – "Off-Shore life jacket." Best for open, rough, or remote water where rescue can be slow.
Type 2 – "Near-Shore life jacket." Best for calm water where you can be rescued fast.
Type 3 – "A Floatation Aid." This is the type used for jet skis and used best in calm water where chances of rescue are fast. This is generally the most comfortable style of life jackets.
Type 4 – "Throwable Device." Not a life jacket but more like a throw cushion or throw ring. This is for boats as you need as many life jackets or throws as you do people on board.
Type 5 – "Special-Use". This is where you see the inflatable life jackets and most often used by police, fire department, and search & rescue. You also see many fishermen using the inflatable kind as it is less bulky. This style life jacket is not allowed on jet skis – only Type 3 is allowed.
Are Life Jackets Required For JetSkis?
Yes, most places require a life jacket when on a jet ski even if the jet ski engine is off.
I've had water patrol stop me and ask that I wear a life jacket even when boarding and getting off my jet ski. The reason is that you can still fall in the water and hurt yourself at the dock so it's better to be safe.
Even if where you live doesn't require a life jacket, you need to wear one anyway. You never know what can happen, and a life jacket could save your life.
What Else Do You Need For A Life Jacket?
Every jet ski needs a whistle.
I've found it easier to buy a whistle for every life jacket I own and attach it permanently.
You can get packs of whistles here*.
I always thought it was silly to require by law to have a whistle but allow people to keep it in the jet ski. You want it on your person so if you fall off; you can blow it to get other boaters' attention.
You can wrap the whistle around one of the straps up top on your life jacket, so it's always in reach of your mouth.
What Color Life Jacket Should You Buy?
The brighter, the better.
You want people to see you, especially when on a jetski. Also, if you fall in the water, you want other boaters to see you too.
Darker color life jackets tend to blend in with the water making it harder to see.
So if you're given the option, go with bright colors for your jet ski life jackets.
What To Do After Using A Life Jacket?
You'll want to leave the life jacket out so it can drip dry.
Not allowing the life jacket to dry can lead to mold growth.
Place the life jacket somewhere shady as the sun can cause them to fade and crack, thus hurting the ability of the life jacket to function.
What Not To Do With A Life Jacket?
Never alter your life jacket; if it doesn't fit, you get another one that does.
Never attach anything heavy to the life jacket.
Never use the life jacket as a bumper or fender as it can destroy the inner foam.
Never put your life jacket in the washer or dryer, only let it drip dry.
Avoid putting the life jacket near a heat source like a radiator, heater, or any direct heat source.