Riding in the ocean and riding in a lake are 2 very different experiences and each requires the right watercraft. I noticed this painfully well when I took my Spark out in the ocean.
Not saying the Spark was terrible for ocean riding but there were other machines that I thought would be better instead. Let's talk about what PWC's I believe are best for the ocean or lake riding.
Best PWC For The Ocean
While I love riding my Sea-Doo Spark or even a Yamaha EX both are not what I would take out to the ocean.
For the longest time, I consider any of the bigger models from Kawasaki like the Ultra 310R to be the best of any ocean-going watercraft.
But in 2018 Sea-Doo did a great job on the ST3 hull and does wonderfully in the rough ocean water. The new hull is super stable and makes you feel very confident in the water.
I'm naturally a Sea-Doo loving guy, but this time I'm not going to say they're the best. Even though I strongly love the closed-loop cooling system that Sea-Doo uses especially for saltwater conditions but instead Yamaha took me by surprise.
A Workhorse In The Ocean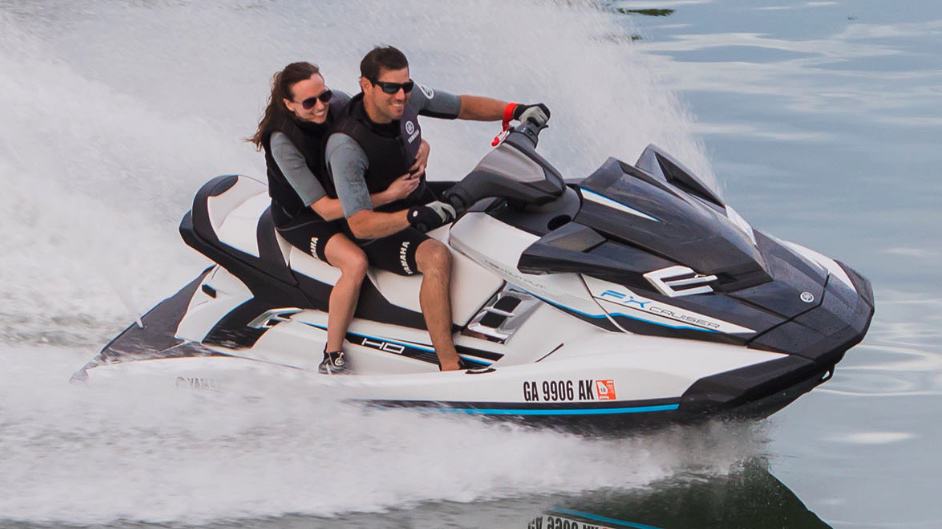 This is going to be my personal opinion, but I'm going to say the FX series from Yamaha took the cake.
I was watching a banana boat rides business taking people in and out all day long and kept using the same FX Cruiser HO. They rode the machine hard and came in hard. These guys were doing rides every 30 minutes, and the machine just kept going.
You see, from someone who rides jet skis all the time and babies them seeing these guys ride made me want to shout. They started the machine in lower then waist-deep water, which is a big no-no, and came in hot with them too.
Each time they took someone out I kept expecting something to break or them to suck something up. This is a powerful machine, and less than waist-deep water in the ocean means seashells or something is going through that pump. Not to mention the coming in hot all the time on to shore is not the best for the hull.
But that FX model kept going. Sometimes they may have a false or rough start, but the machine would eventually get it and take off. That could be due to them pulling 4 to 6 people on a tube using one small jet ski – not only is that not smart but illegal in most places. I guess this vacation spot allowed for this or they have some permit or something?
That alone was not what did it for me. It was the fact that I came to this spot last year and they had the same machine. For a whole year or better yet an entire summer they rode this thing hard, and it was back for another year. That says a lot about Yamaha FX, it's a workhorse of a machine in the ocean, and if this business depends on it to make them money and they used it multiple years, then that tells you a lot.
What About Wave Jumping In The Ocean?
Enough of me gushing over that FX being a workhorse. One of the big reasons to go to the ocean is for the waves and then to jump them.
If you never jump any waves before on your Jet Ski then don't try it unless you had practice. You'll be amazed how much air you can get on these things. Just check out this video of people jumping waves on a Sea-Doo.
It's a RocketShip At this Point!
When it comes to jumping waves in the ocean my all-time favorite machine would be the RXP-X 300. Small frame, nimble body, with way too much power.
Slap the RXP-X in Sport Mode and watch a trigger-happy machine launch in the air. No other feeling in the world like it. Quite scary the first time you do it and often fall off – so no beginners try this. Also, make sure the safety lanyard is attached to you before you do this.
If you do this for a living (hardcore stuff), you'll jump the waves on a stand-up Jet Ski. Just check out the insane freestyle done below!
Yes, he's jumping and doing backflips on a Jet Ski!