What jet ski anchor to use can be confusing, especially for new PWC owners. I tell people the best jet ski anchor can vary depending on where you use it. Everyone you meet will have a different opinion on it, and the problem is that most of everyone's opinions are correct.
That is because the best anchor to use and how to use it vary so much that it can be hard to give a definite answer. What I can do instead is show you some options and get you going in the right direction for anchoring your PWC.
Best Jet Ski Anchor Listed
Here are the best jet ski anchors listed from the best to least.
Screw Jet Ski Anchor
Sandbag Jet Ski Anchor
Mushroom Jet Ski Anchor
Let's go over what each jet ski anchor is for and how to use them.
Why People Anchor Jet Skis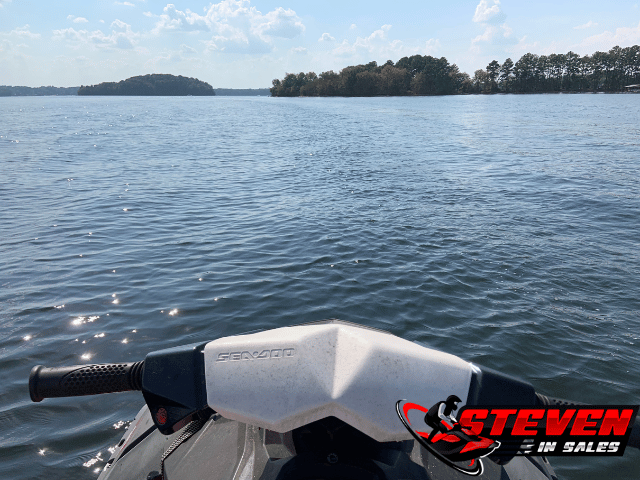 The biggest reason for getting a PWC anchor is to keep from beaching your watercraft. Sometimes the beach will have rocks and other items that could damage the hull. Even constant beaching on sand can damage the fiberglass over time.
While some places may have docks, you will find that many people still prefer to anchor off the shore instead. This is because the docks can get busy and often can do just as much damage if the water is really choppy, and you don't have the correct fenders in place.
Important: When beaching or anchoring offshore, remember that your waverunners are powerful vacuums and will suck up anything in front of the intake. Always start your jet ski in more than waist deep water to avoid sucking up sand and rocks. Also, watch out for the anchor line too!
Types Of Jet Ski Anchors
Every kind of anchor has its purpose, and ones made for jet skis can hold their weight. Here is each type and how they work.
Jet Ski Sandbag Anchor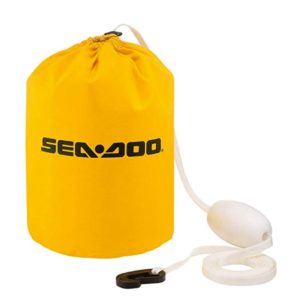 Sandbag anchors are the most popular and the best jet ski anchor, but they do have their limitations. The reason why the bag style works well is that it doesn't take up much space and won't bounce around and damage things.
You fill it up with sand, or if you have rocks near you then put those in the bag, you're going for as much weight as possible. When done, all you do is dump the contents of the bag and throw the bag back in the jet ski.
The downside is that this anchor doesn't work well in rough areas. If you pull in a cove, and it's calm with no crashing waves, then the sandbag anchor will work well. If you do have crashing waves or just a busy area, then the sandbag won't work well at all.
I'm a fan of the Sea-Doo New OEM Sand Bag Anchor here* for when it comes to sandbag anchors.
Fluke anchor
A fluke jet ski anchor might be the one you think of when you think anchor. A fluke anchor can come in many styles, with each having its own purpose.
A Fluke-style anchor is what you'll use when you want to anchor in the middle of the water. A mushroom anchor will work well with the design we talk about below, but a fluke will work better for anchoring in the middle.
The Fluke anchor works best in Sand and Muddy areas with sand being the best place to use it.
If you don't plan on anchoring your jet ski in the middle of the water, then this anchor might be overkill for you. The people that might anchor in the middle are people that are divers or fisherman. Some fancy preparation will be needed if you want to anchor in the middle of the water, here is a great video on that here.
If you do go with the Fluke Anchor you'll need some anchor chain with shackles like this here* and of course the anchor line.
Mushroom Jet Ski Anchor
The mushroom anchor is one of my favorites as it's like the sandbag anchor in that it uses mostly weight to hold you.
The heavier the weight, the more the anchor will stay but the more you have to carry. You also have to worry about it bouncing around so make sure to secure it down. I even go as far as wrapping my anchors in a towel to keep it from scraping anything in the storage.
When looking at any anchor try to get the ones with a plastic or vinyl coating on them as that will help to cut down on scratching your jet ski when you pull it out of the water. The vinyl coating also helps to keep corrosion away too.
You can get away with an 8-pound weight, but I like to use a 10-pound mushroom anchor like this one *for my jet skis.
If you want to anchor in the river or places with rocks, brush, or even mud then get something like the MarineNow Black PVC Vinyl Coated River Anchor*.
Jet Ski Screw Anchors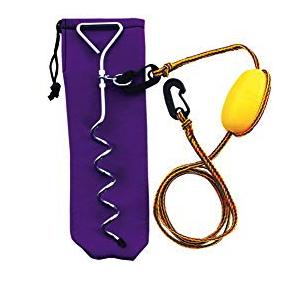 The screw anchor works well if you need to have the ski not go anywhere. You screw the anchor in, and a clip or hook allows you to tie the anchor line to your jet ski.
I would use the screw anchor when I'm going to eat or spend a good amount of time away from the jet ski. I like how you have to physically screw the anchor into the sand for it to work and this helps me know it's not going anywhere quickly.
Click here to learn about Kwik Tek A-3 Screw Anchor System.*
What Jet Ski Anchor Should You Buy?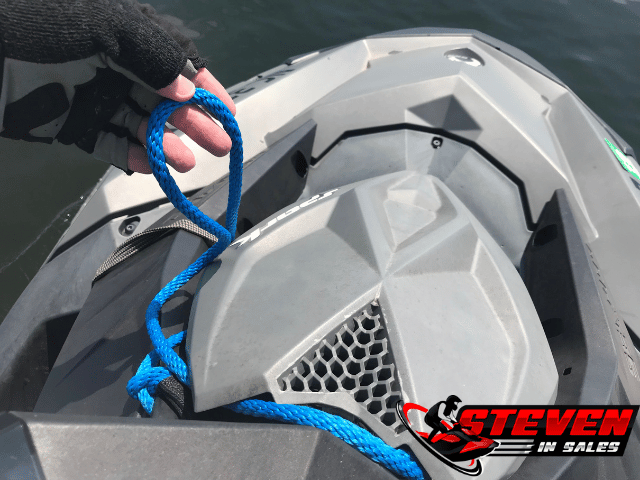 If you are wondering what jet ski anchor to buy then do what I do; purchase the screw, mushroom, and sandbag jet ski anchor. I know it sounds a bit overkill but every time you anchor can be a different location with different needs. Sometimes the water is super calm, and you just need to run to the restroom that is right off the shore, so you'll throw the mushroom anchor out.
Or if you plan on staying out a while then use the screw anchor.
Or if you ride in a group and someone needs to borrow an anchor you'll have spares.
The best part is that the sandbag anchor can be used as the bag to hold the other two anchors and can be the spare one if something happens to the others or if someone needs to borrow one.
How To Anchor a Jet Ski
Here is an excellent video showing you how to use an anchor.
How Much Rope?
If you're just hanging around in a calm cove, then you can follow the 5:1 ratio. With 5:1 this means that if you're in 5 feet of water then use 25 feet of rope. Make sure to tie to the front hook also known as the bow hook when anchoring.
Tip: Use 3/8'' rope for your anchoring. I know this may sound thick to some, but this rope can also be used as your tow rope if you or someone in your riding group breaks down.
What To Avoid
To put it simply, an anchor is often just dead weight. I know some people that will use old kettlebells or old weights to keep their jet ski in place. While these dead weights will work, they won't last long. Kettlebells and workout weights will rust when exposed to that much water and quickly break apart.
Plus, workout weights are usually oddly shaped and don't fit well in jet skis. So it's best not to use them. The best jet ski anchor is not weights but an actual purpose-made anchor.