Trailers seem to be the forgotten hero of the recreational world. Without them, we would not be able to get our toys to the locations we need.
One of the most common questions I get is what accessories do I need for my jet ski trailer? Jet Ski Trailers seem so simple that you would think you don't need much to get going with them, right? WRONG!
Let's go over the must-have jet ski trailer accessories!
Adjustable Trailer Jack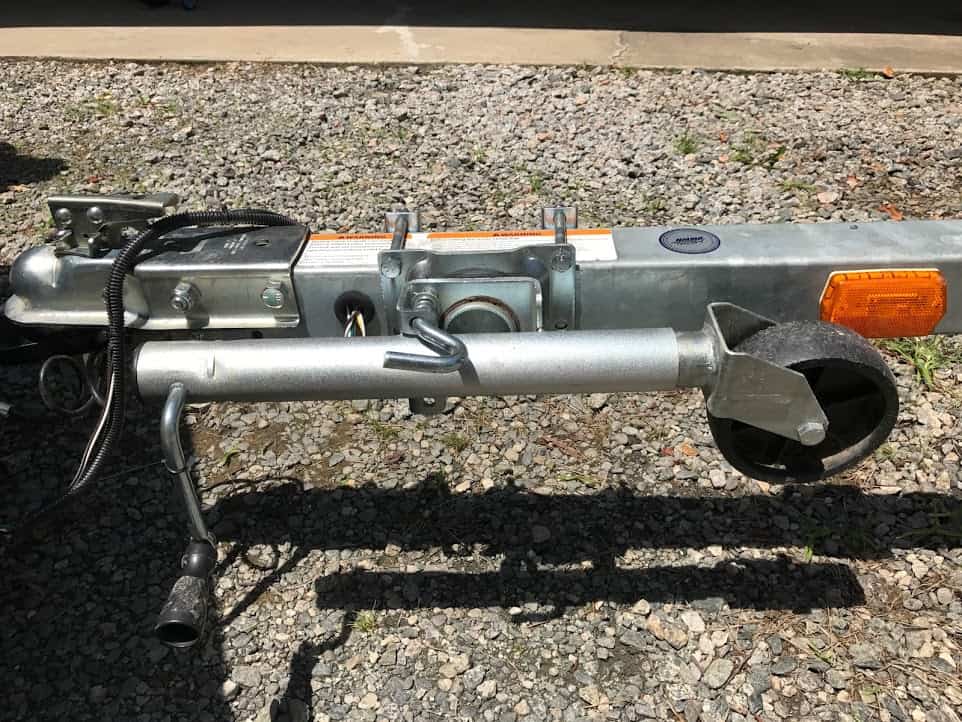 Need Level = 9
The tongue jack (Amazon Link Ad)is a must-have for anyone with a heavy trailer.
Another feature of this tongue jack is the ability to move your trailer around without the need for a truck. Most tongue jacks have a wheel that will assist you in moving around the garage or concrete.
I would have given the tongue jack a perfect 10 but sometimes some trailers are so perfectly balanced that it becomes pointless. Most of the time trailers are heavy and using the jack is a must-have so 9 suits it just fine. For many, a tongue jack is a must-have accessory for your jet ski trailer.
Spare Tire
Need Level = 10
Having a spare tire is a must-have! The need level should be 11 because it's so important. If the tire goes out then what? Leaving the trailer behind can be a huge risk for someone to steal your stuff.
Here is a link to the most common spare tire (Amazon Link Ad), but you might have to contact the local trailer dealer you bought it from to get the correct one.
Also, you'll need a place to mount the spare tire. This is the spare tire mount I use for my trailers.  (Amazon Link Ad)
Tip: Sometimes you can get a trailer tongue jack with a spare tire mount on the opposite of it.
Jet Ski Trailer Strap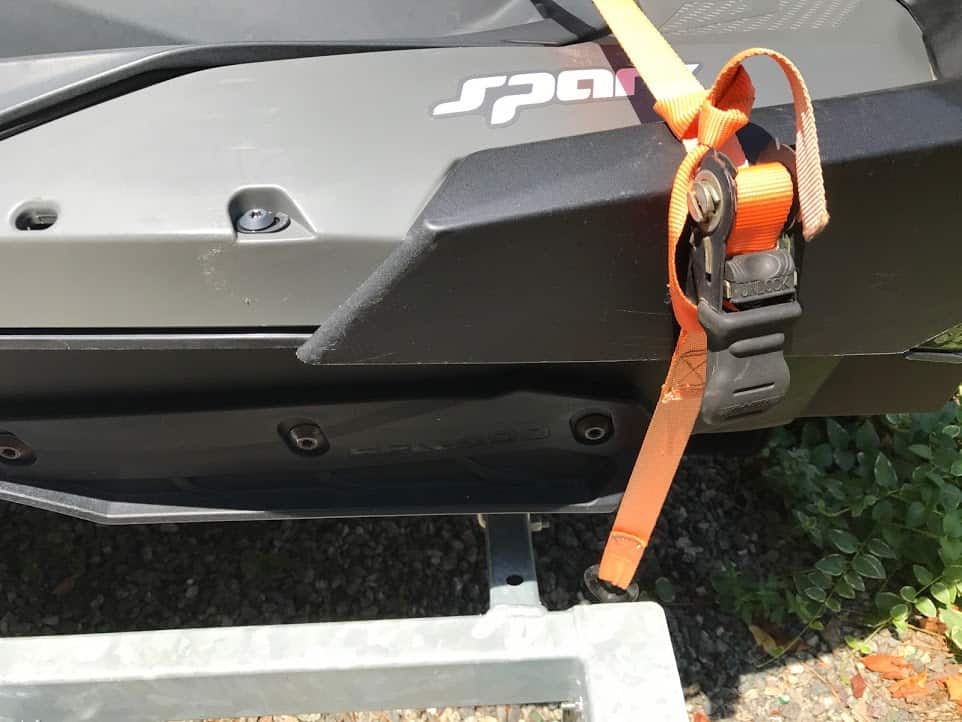 Need Level = 9
The stuff you're hauling is probably important so having good straps is important. Plus the price on straps is so great for what they do you would be crazy to not use them.
You can get ratchet straps for your trailer here (Amazon Link Ad).
Tip: How you use a strap is simple. You place the strap through the center hole and then back to the top. Remember – Center then Top.
There have been a few times that a rear strap has saved the jet ski I was towing. For example, I had the front strap of a jet ski trailer break and if it wasn't for the rear strap the jet ski would have ended up on the road.
Overtime straps wear out due to the sun and water. The front straps seem to be the one that fails first so it's important you replace it every 5 years. The same goes for rear straps, they should be replaced every 5 years especially if they start to tear or fade.
Wheel Chocks For Trailers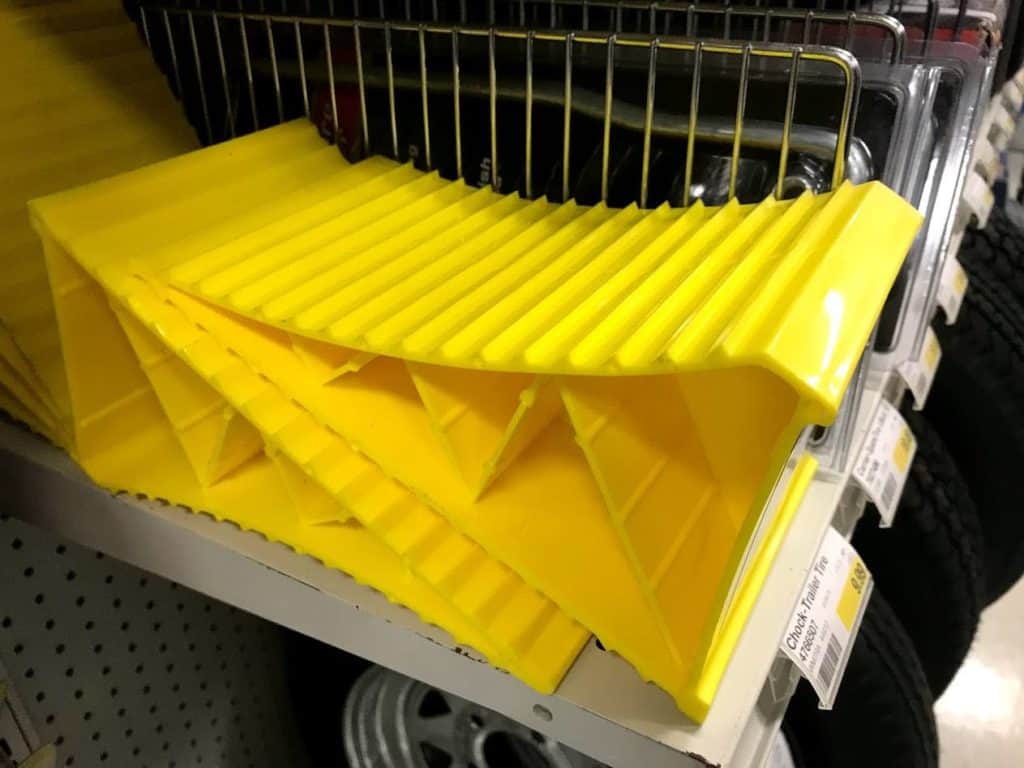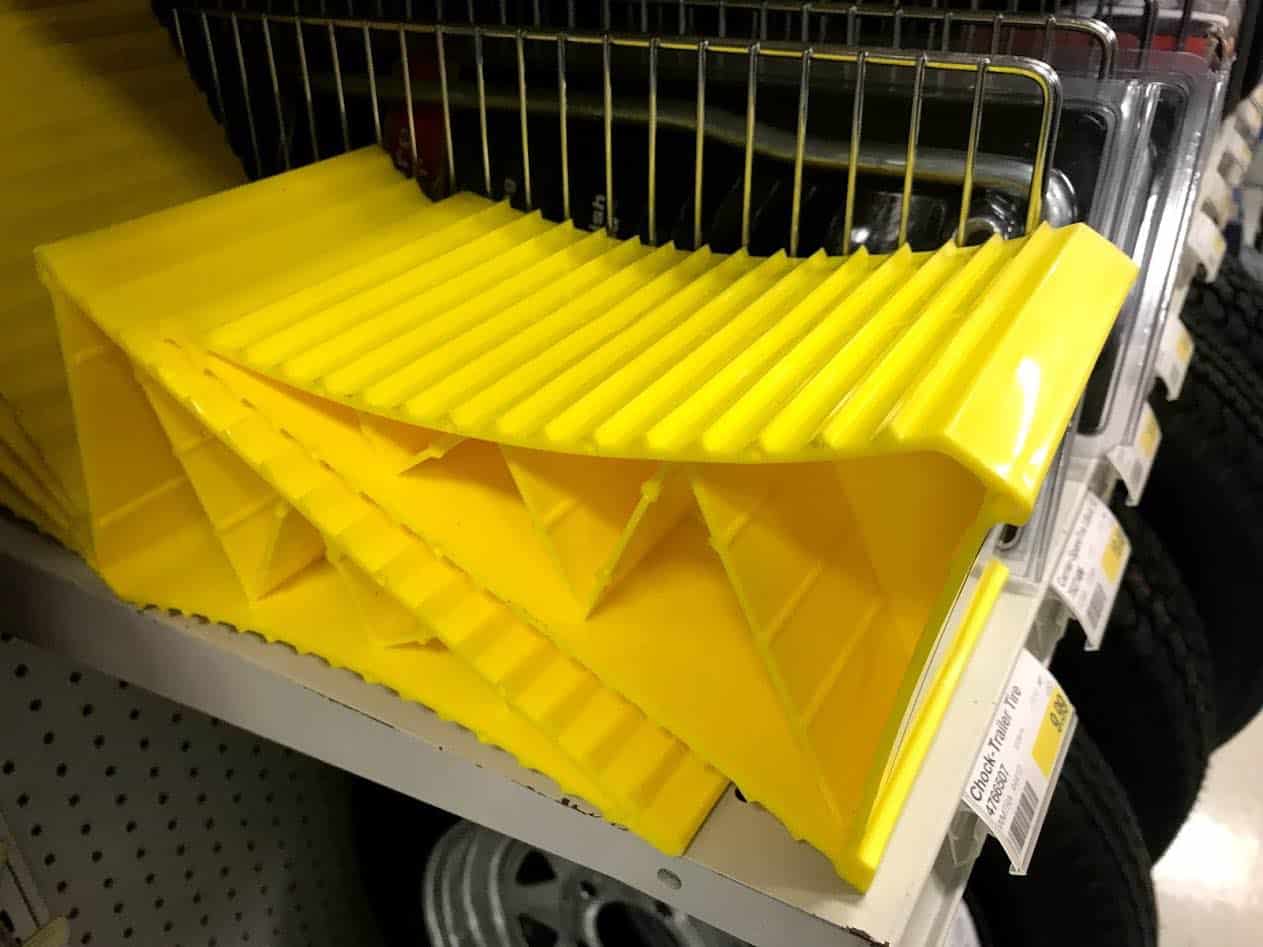 Need Level = 6
Blocking or chocking the wheels off is very important. The good news is that you don't need anything special to chock wheels off.
I use bricks to block my wheels off on all my trailers since they're so cheap and I have plenty of them.
I do highly recommend these wheel chocks (Amazon Link Ad). These are all rubber wheel chocks for trailer work the best. They give great grip which the plastic ones lack.
Backing up to the Trailer
Need Level Pro = 1
Need Level Not Pro = 10
There is nothing harder than backing up to the trailer to hook up. You don't have to overshoot and damage your truck. You want to be perfect where all you got to do is just drop the trailer down on the ball.
This task has gotten easier when all modern trucks and cars have backup cameras, but not everyone has a truck with these cameras.
The simple solution is to get these backup alignment balls (Amazon Link Ad). Just place one on the receiver and the other on the trailer and back up to the trailer. When the balls touch you have reached where you need to be.
Trailer Lock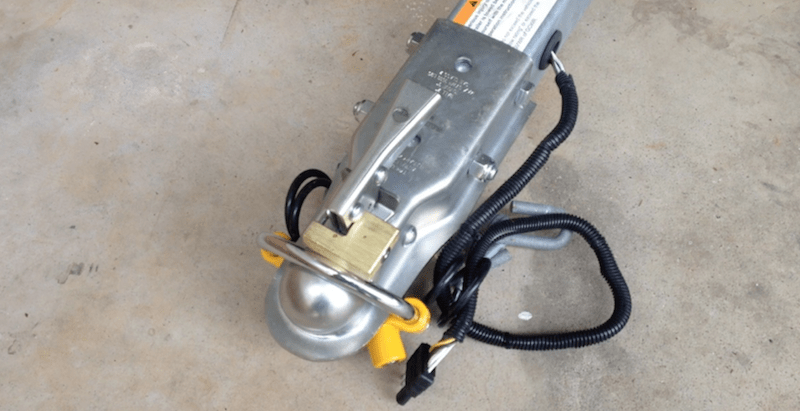 Need Level = 10
You got to have a Trailer Lock. You don't want the simple locks that anyone can break. You can get a lock for the tongue of your trailer here (Amazon Link Ad).
Don't forget to pick up the locking hitch-pin (Amazon Link Ad). Even if you have a lock in the trailer anyone can come up and pull the hitch out of your truck and hook up to their tuck. A hitch lock will keep this from happening.
Trailer Lights Adapters
Need Level = 10
Many trailers still use the flat wire design while all truck manufacturers have gone to the round adaptor. More than likely you'll need the adapters so your lights work. The good news is that these trailer light adaptors (Amazon Link Ad) are simple and affordable.
Trailer light adaptors are often overlooked by beginners when it comes to jet ski trailer accessories.
Trailer Guides
Need Level = 5
Backing up a trailer is just not easy. The good news is that Trailer Guides exist to help you backing up a boat trailer.  (Amazon Link Ad)
These things attach to just about any trailer, and I mean any trailer and gives you a better view of your trailers when backing up.
One trick I've learned is to drop the tailgate of your truck and look back to the trailer. For when you can't do this then these trailer guides come into play.