You never really know how hard it can be to fill up your watercraft when you first get it. Sure some of us have access to the gas docks, but what if you're so low on gas you can't make it to the gas docks? What type of gas cans or jugs do I buy for my watercraft or boat? What is the easiest way to put gas into my jet ski or boat?
I never really consider this a problem until I had customers coming in often complaining about how difficult it can be to put gas in their watercraft. So I have figured out all the best ways to solve this problem by trying to keep the cost down as much as possible.
Super Easy Gas Fill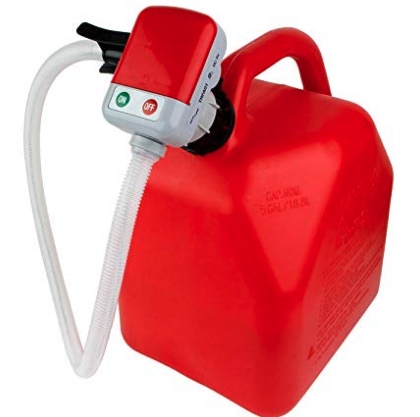 The best way just so happens to be the not-so-cheap way. I like this method so much that I only use it for my watercraft and boats. I found this Battery-Operated Liquid Transfer Pump (Amazon Link Ad) that sucks out the gas from the standard gas cans. It cannot be any simpler than this! No need to lift the heavy gas can up in the air and makes no mess as you control the flow. Also since it runs on batteries you can put gas in your watercraft anywhere.
I know it's obvious, but be careful when dealing with gasoline. It's combustible so make sure to follow and read all directions on the products you buy that relate to gas.
Rolling Tank
The next option is to buy one of these rolling tanks like this here (Amazon Link Ad). These bad boys can hold quite a bit of gas, almost a full tank for any watercraft. The great thing about this is that it uses gravity to flow the gas down and since docks sit higher than watercraft in water it's super simple to fill up your watercraft.
The bad news about this tank is that it is too big. The bigger it is the heavier it will be to fill up and move around.
The good news is that it's too big. You can fill up your watercraft in one shot.
Oldie but a goodie
I still use these racing fuel jugs like these here (Amazon Link Ad) to fill up my watercraft. They have the right amount of grab handles to hold the jugs. They're not too big or cumbersome. They can be equipped with moveable nozzles to put the gas right where you want it.