Your cell phone is probably the most important thing you keep on you at all times. So, it only makes sense to carry it with you everywhere you go, even when jet skiing.
Where you keep your phone is important, you don't want it to get wet or damaged while riding a jet ski.
I've created a list of all the best places to keep your phone when jet skiing and tips I've learned through the years.
1. Built-In Phone Holder
Since 2018, the larger Sea-Doo watercraft have had a padded phone holder that is watertight inside the glove box.
Both Yamaha and Kawasaki also have places to keep your phone dry and protected too, but just like Sea-Doo, it's not on every model.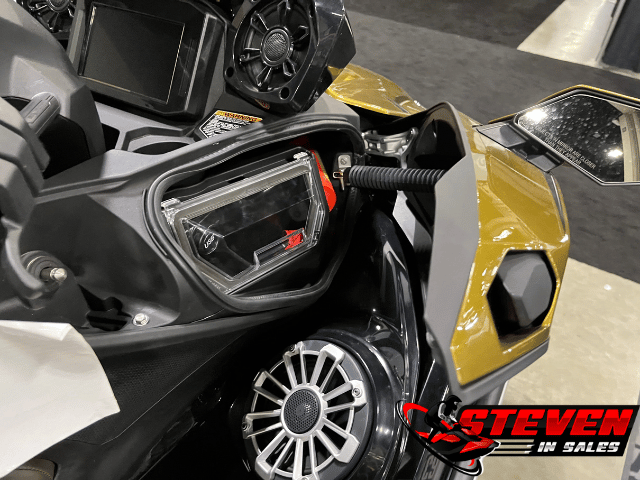 Kawasaki phone storage above, Yamaha waverunner phone storage below. Both in their glove boxes.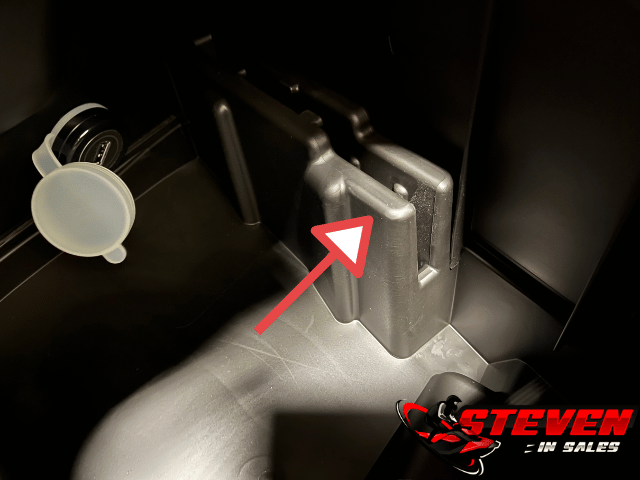 What's great about the built-in phone storage is that many models allow you to connect directly to the jet ski like you would with your car and play music, get directions, or even take calls.
Here is how the Sea-Doo BRP Connect works:
2. Glove Box
The next best place to store your phone is in the glove box.
If you have a jet ski that has the phone storage built in like in the last section, that is located in the glove box. Everyone else without the built-in option can still use the glove box.
What's important is that you put the phone in a protective container. Glove boxes on jet skis can be quite large, and you don't want it bouncing around and damaging your screen.
I suggest a protective hard case that is also waterproof*.
Many of these cases allow you to store your phone, wallet, boater's license and anything important. Then you keep this case in your glove box for easy access to your items.
Important: Make sure to buy a case that is a bright color, don't do dark colors because if it falls in the water it's much harder to find.
3. Dry Bag
Not every jet ski has a large enough glove box, but many of them have plenty of storage in the front.
When storing your phone, I suggest getting a dry box like in the last section, but to group everything together, I suggest putting the dry box into a dry bag.
A dry bag* is larger and softer, but you can fit more items in it. I keep a spare shirt and a small towel in mine to add padding, but I also have a hard case dry box for my phone.
You could use a book bag, but it needs to be one that is watertight and dries quickly. Normal bookbags get soggy and moldy, so I don't recommend them to people.
The picture above is my bright orange dry bag floating in the water to show its water tight and easy to spot. I love this thing and something I always carry with me when riding my jet ski. In fact, it's already packed before getting near the jet ski, I've learned this less the hard way.
4. Under Seat Storage
Yamaha waverunners are more popular about having dry under seat storage on most models.
Sea-Doo has a few and so does Kawasaki, but not anywhere near as much as Yamaha.
While you have many models with under seat storage, it's not my go-to suggestion for phone storage. You want to have your phone near you, and to get to the under seat storage means taking the seat off. To get the seat off, you or the passenger needs to get off the seat, and it's a real balancing act.
But if you want the driest place to keep your phone, it still needs to be in a protective case, under seat storage will be it.
Note: It does get warm near the engine, so not the best spot on hot days.
5. Armband Phone Holder
You can buy armband phone holders* that strap to your arm and keep your phone near-by.
I like this idea, mostly because your phone is easy to get to, and you can hear it better if it starts to ring.
There are downsides, one is that these cases are not water tight, so if your phone can't handle getting wet it's a no-go. The last problem is that it's not as secure as the other options, but people wear these things when running and mountain biking, so it's not that bad.
If done right, it's the prefect solution for navigating the lake, as you can use your phone GPS.
6. External Storage
All the jet ski manufacturers are coming out with more add-ons for watercraft like never before.
One such example is external storage and cooler bags.
7. Life Jacket With Pockets
You can buy life jackets with pockets* to use on a jet ski and keep your phone in.
It's not common for every life jacket to have pockets, and to be honest, it's silly that they don't.
When buying a life jacket for a jet ski, it's important it's a TYPE III. It's dangerous to use anything else for jet skiing and water sports.
I also suggest getting life jackets with the bottom hooks that allow you to attach the safety lanyard.
Can You Take Your Phone Jet Skiing?
You can take your phone when riding a jet ski, it's a good idea, and many jet skis today have spots to secure them.
A phone is a must-have when riding a jet ski, especially on lakes or renting one. With your phone, you can call for help, get directions, or help to locate lost friends.
I'm such a big supporter of having your phone on your jet ski I suggest, if you can afford it, getting your jet ski a phone.
The downside of taking your phone is that it's a wet ride. While most jet skis have dry storage, it's not 100% dry, and even then, you're wet and your wet hands will touch your phone. The other downside is that it's a bouncy ride, unless you're securing your phone, it can get damaged from all the bouncing.
Can You Use A Ziploc Bag?
If you're in a pinch, a Ziploc bag will work, but I suggest wrapping your phone in a cloth rag or shirt to give it protection.
I would make sure the Ziploc bag is airtight, or even double bag it if your phone can't handle getting wet.
The big downside to "lunch" plastic baggies is that the plastic is thin and melts easily with the plastic of your phone. So, on a hot day a plastic bag should be avoided, or at least wrap the phone in a cloth rag.
Do Jet Skis Have Storage Compartments?
Just about every jet ski, except standup jet skis, will have some type of storage compartment.
The storage compartments on jet skis are not always water tight, so it's important you have a dry bag or box to keep your phone in. Ziploc bags will work in a pinch, but it's not ideal, especially on hot days.
What Should You Wear While Jet Skiing?
There is proper clothing you need to wear while jet skiing that I go over here.
There are also a few things you should not wear, that I go over here.
Do You Get Wet While Jet Skiing?
You will most likely get wet while jet skiing.
I say most likely because it's possible to not get wet if you have the right jet ski, calm day, and experience, but it's a losing battle.
When boating, expect to get wet.
How Not To Lose Your Phone While Jet Skiing?
The best way to not lose your phone while riding a jet ski is to keep it in a sealed container somewhere secure on the jet ski.
This can be a dry box or bag inside the glove box or front storage.
Before you even get on the jet ski, put everything in your dry box or bag and carry that to the jet ski. As someone who's lost 2 wallets while jet skiing, I've learned this the hard way. Always check your pockets before you get near the jet ski and have everything in the SEALED dry bag.