There is nothing more fun than going out with the family with a big inflatable towable tube. But did you know getting the wrong towable tube can get you in trouble if you don't have the right craft to pull it?
To avoid this mistake and to also help you find the best towable tube that fits your needs correctly I have compiled a guide. This guide shows what you should get when buying tubes for your Boat, Jet Ski, or even Pontoon.
I also give you some helpful tips that can make your life a bit easier when you're out pulling the tube around.
What's the Best!?
My top 3 Towable Tubes are…
Big Mable Towable (Amazon Link Ad)
AIRHEAD AHSL-4W Slice 2 Person Towable Tube (Amazon Link Ad)
AIRHEAD HD-3 Hot Dog Towable (Amazon Link Ad)
Big Mable is, in my opinion, the best tube I have ever come across. This tube has never let me down and has held up to the countless times out on the water. About the only thing, it did not hold up to was when it was used in snow, it's not made for snow so don't do that!!!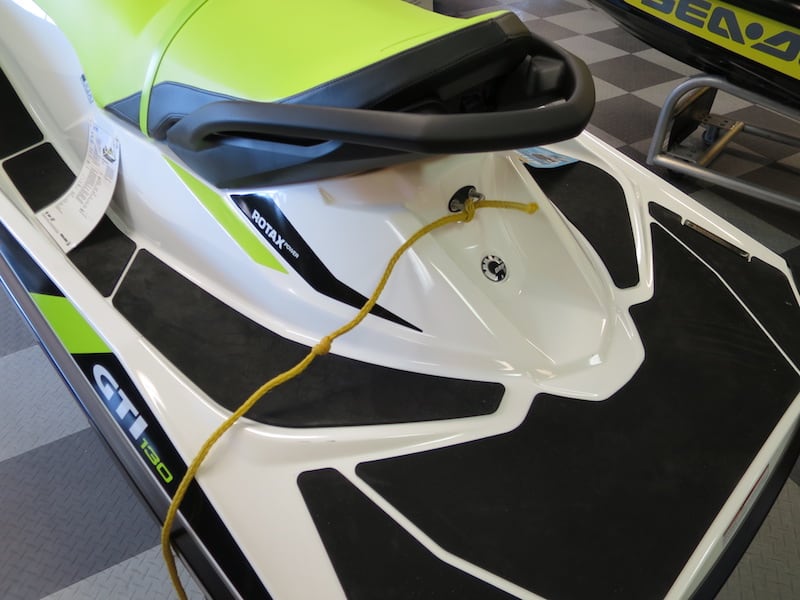 The Slice 2 Person Tube came in second place for the simple fact that it's the best 2 person tube for Jet Skis. It is just big enough for two people and easy to carry around compared to other tubes. The reason why it's perfect for a Jet Ski will be shown below – it has to do with the LAW.
Not everyone wants to work hard when tubing and also want to feel secure. This is why the Big Mable and the Hot Dog Towable Tube are the top towable tubes in my opinion. The Hot Dog Tube is straightforward and easy to ride on. You don't get drenched like normal tubes and is by far the coolest towable tube around.
It's the Law!
No one ever mentions how important riding capacity is when it comes to towable tubes. When using a towable tube behind a big boat, you don't have much to worry about when it comes to capacity.
When it comes to Jet Ski's, you do have to worry about the capacity that your tube can hold. Most states, if not all, require you only to have a tube with no more than 2 people on it. This number could be as low as 1 person on the tube if your watercraft does not have mirrors or is a 2 person watercraft.
Why the capacity restrictions? In case someone gets hurt you need enough room on the watercraft to get them back to safety. Most watercrafts are 3 person capacity, and a few are 2 person capacity. It usually states your watercraft capacity somewhere on the machine or in the owners manual.
This is why the best towable tubes for jet skis are a capacity of no more than 2 persons.
Another point that many people tend to forget about is that you need life jackets when on the tubes. Make sure to get the correct sizes for life jackets. I have a guide to help you find the best life jackets here.
Tips!
I'm about to give you the best advice when it comes to pulling towable tubes especially if you're using a jet ski. Buy a Shock Tube like this one (Amazon Link Ad) here to keep from sucking up tow ropes.
If you want to keep the tow rope out of the water but also make the towing experience better then consider the Booster Ball Here (Amazon Link Ad). The Booster Ball helps to keep the rope out of the water which cuts down on the splashing in the face that can really annoy you. The best part is that it absorbs shock too!
Don't Forget This!
Every inflatable towable tube will need to be inflated. When buying an inflatable pump for your towable tube its best to get one that runs on 12 volts. More than likely you won't be near a house outlet and your boat or truck will have a 12-volt plug you can use.
One thing to keep in mind when looking for a good inflatable pump is to get one that also deflates too. Trust me on this. Towable tubes are easier to store when they're deflated, and it makes it simpler to store them so that no one steals them.
The best inflator for towable tubes has got to be the AIRHEAD AHP-12H Hi Output Air Pump (12-Volt) (Amazon Link Ad).
Common Questions
Since many people looking to get a tube might be new to the sport, I want to answer some of the more common questions I get asked about towable tubes.
What Speed? – The fun doesn't start til you get past 10mph. I like to be around 15mph, but these speeds depend on the person you're pulling. There is no need to go too fast as hitting the water too quickly is like hitting concrete – just don't do it.
Weight Limit? – You know, not many towable tube manufacturers actually mention weight capacity. It's best to use common sense when it comes to using these tubes. I'm a big guy and I feel like 2 person tubes are one person for me and 3 person tubes are really 2 person tubes for me.
One Person on a 2-Person or 3-Person Tube? – It is not much of a problem to have one person on a multi-person tube. It can make it harder to stay in place because of the extra room, and I would recommend getting a single person tube if all you plan on doing is having one person on a tube all the time.
Are Towable Tubes Heavy? – Good question! These tubes can get huge; some can be as big as a mattress. But unlike a mattress, they're not that heavy. It's about as heavy as an Air Mattress because it's very similar to one. I find it easier to carry an inflated tube compared to a deflated tube, but a deflated one is easier to store away. Even if the tube is soaking wet it's not much heavier then dry; they don't hold much water either.
Age Limits? – This depends on the laws of your state and the person in control of the boat or watercraft. I've seen people of all ages ride towable tubes, but keep in mind that there needs to be common sense and safety in place before anyone goes on a tube. Make sure to look up the age restrictions on towable tubes before riding and to see what gear you should have on too!
How much Horse Power (HP) Do I Need? – I've had 60HP Pontoons pull my 240-pound self around no problem, even had a 90HP Jet Ski pull me like there was no tomorrow. Honestly, anything over 150HP is just overkilled when it comes to pulling towable tubes.
What Tow Rope Should I Buy? –
Starter Pack
If you're new and not sure what to buy then check out this combination of AIRHEAD AHRE-12 Rebel Tube, Rope and Pump Kit.  (Amazon Link Ad)This is an affordable way to get a tube, rope, and even an air pump.
Other Contenders…
AIRHEAD AHM2-2 Mach 2 Towable (Amazon Link Ad) – Cockpit style towable tube that fits two people nicely. The reviews on this tube are fantastic which helps the buying process.
Airhead AHBL-12 Blast 1-Rider Towable (Amazon Link Ad) – Probably my favorite 1-Person Tube mostly for how affordable it is, and it's a good quality tube too. If you just need something simple and sits one person then consider this tube.
SPORTSSTUFF 53-1750 Poparazzi Towable (Amazon Link Ad) – Need a super versatile towable? You can do a lot with this tube and is a blast to ride. It's going to be a little more than other tubes but its well worth the value it gives.