Do you ever feel like you have to replace your jet ski battery every year?
It can be quite puzzling why the battery in your Sea-Doo, Yamaha, or even Kawasaki keeps dying and needs to be replaced often. Maybe your jet ski battery won't stay charged even after charging it?
Let's go over all the ways your jet ski battery keeps dying or won't hold a charge.
1. Inactivity
The number one reason a jet ski battery dies or becomes weak is because it's not being used enough.
People tend to only drive their jet ski during the warm months and then let it sit during the winter. When the jet ski battery sits for long enough, the internal plates start to sulfate, and it kills the battery.
If your jet ski will be sitting for months without being ridden, you need to keep the battery on a smart charger or a solar charger.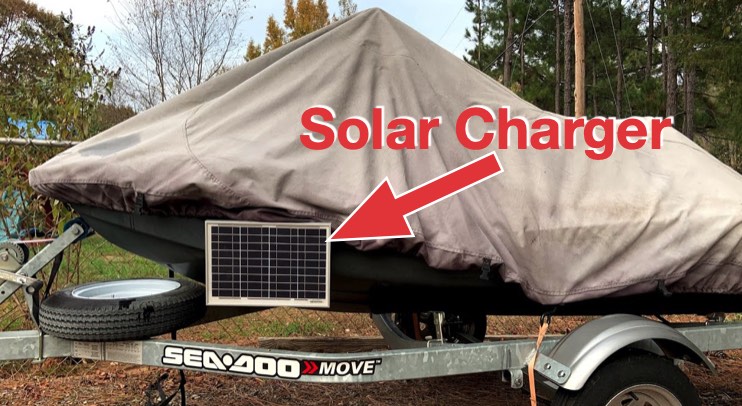 I use a solar battery charger that is under 5-watt and keep it plugged up when I'm done riding for the day. On my last battery, I got over 5 years out of it, which is quite a lot more than the 1-year others get. The solar battery charger is so affordable and easy to do that I'm surprised more people don't know about this trick!
2. Battery Is Cold
A jet ski battery will die or become weak if left in the cold for too long.
When you winterize your jet ski, it's best to take the battery out and keep it in your garage or some place where the wind and cold won't get to it that much. You don't need to cover the battery, it's best you don't, just don't want it outside in the elements.
You can put the smart battery charger on it every so often to keep it topped up. Most importantly, charge the battery the night before you want to go for a ride at the start of the season and it will be fine.
3. Not Using The Correct Battery Charger – Overcharging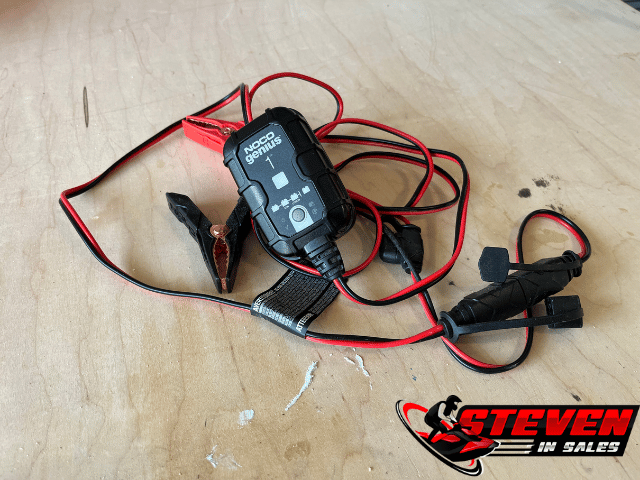 Using the incorrect battery charger will cause a battery to fail or not charge completely. A bad battery charger can also make it seem the battery is charged even when it's not.
If you're using a battery charger that plugs into the wall, you need to make sure it's a smart battery charger like this one here*. This smart battery charger needs to be 12 volts and at 500ma or 2 amps of charging power.
You don't want to rush a charge into a jet ski battery, they're too small and anything over 2 amps is asking for trouble. Also, a smart batter charger will turn on and off when the battery needs it, which prevents overcharging. Don't use the old-school trickle chargers, as they can overcharge a battery.
If you're using a solar charger, you must make sure it's 12 volts and under 5-watt. Too much wattage and you'll cook the battery, but you can use a charge controller that will regulate this charge and protect the battery; a charger controller is more effort and not worth it if a lower wattage solar panel will do. For best results, I find a solar charger between 1 and 5 watts to be the best, here is one I suggest you buy*.
4. Battery Failure
Sometimes lead-acid batteries just fail, even new ones can have a manufacturer defect right out the box.
Jet ski batteries take a lot of abuse from the wave jumping to the heat and cold.
The internal plates are not always the strongest, they're heavy, but can be brittle if they suffer enough abuse. The non-sealed ones also dry out and loose water, which they need to make power.
If charging the battery won't bring it back to life, then it's a dud and needs to be replaced. Even if it's a new battery, I've seen them fail, and it's just the luck of the draw, but they should have some warranty within a certain time frame.
I suggest when buying a sealed, ready to go battery, that you have the store do a load test on it before you leave. Any jet ski dealership or autoparts store can easily do this and should be doing it, as they know some new batteries can be dead.
5. Improper Battery Size


I'm surprised how common it is to see people bring in jet skis with entirely wrong size battery and complain of starting issues.
You must make sure you have the correct size battery for your jet ski. They're all 12 volts, but they come in many different physical sizes, and that affects starting power.
I would see people bring in a jet ski with a battery half the size, with blocks of wood to make it fit. Sure, it might start the jet ski a few times, but it will fail as it can't keep up with the jet ski needs.
Not only that, but the battery is loose fitting and bounces around, which destroys the battery. The battery must fit snug in its compartment or else the internal plates get destroyed and kill the battery.
6. Battery Hooked Up Wrong
I'll be fair, the batteries on some jet skis are a pain to replace.
It's because of the odd placement of batteries that many jet ski owners hook them up backwards; they put the positive on negative and negative on positive.
Hooking the battery up backwards is not a good thing, in the best case it blows a fuse and worst case it blows the computer.
The order you hook up the battery can also affect the battery. When you connect the battery you do positive first then negative, and when you disconnect the battery you do negative first and then positive.
For the non-sealed batteries, they have a vent hose that is supposed to connect to the jet ski that vents out. If you don't hook that up right, the battery acid spills into the bilge and corrodes things. Also, hydrogen gas goes into your bilge, which is very bad too, so make sure to vent your battery! Not every jet ski battery has a vent, usually if you have screw caps on top of the battery it needs to be vented.
7. It's Not Your Battery
Plenty of starting issues may seem to be related to your battery, but not all of them are your battery.
To be fair, the vast majority of problems I've seen with jet skis not starting relate to the battery needing a charge or replaced. Also, batteries lie, so don't trust them, get a new or charge it even if you don't think you need to.
Things like a bad starter relay can make it seem like it's a bad battery, or even a blown fuse!
I go into great details on why your jet ski won't start and what to do here.
Signs Of A Bad Battery
How you know you have a dead battery is when you put your key on and all your jet ski does is click multiple times. This is not to be confused with one click you get from a bad starter relay.
Also, a battery could be so bad that the watercraft doesn't even turn over or barely does anything. Some watercraft will even say "12 volt low" to let you know the battery is weak.