What they don't tell you!
So you're thinking about getting a Seadoo Spark? Is it worth it? YES! and little bit of a no too.
The Seadoo Spark is not for everyone. Many people will not like it and will truly think it's crap. You can't make everyone happy. I have ridden one and in fact, I own one too. What I want to do is give you my unbiased review of it. Don't forget to check out the 17 must have accessories for any jet ski!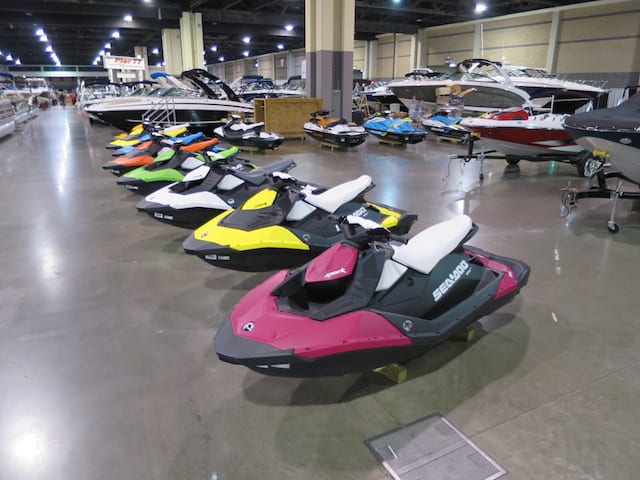 How it started
I like to think that Seadoo is the Apple of the watercraft world in the way they release new products. The Spark has got to be Seadoo's iPhone. Five color options, 2 seater or 3 seater and two engine options.
Before they released the Spark we all taught Seadoo should really release a cheaper watercraft that was a 2 seater with a small engine. We actually thought that Seadoo would have put their new Evinrude 2-stroke Engine in a Jet Ski and would have called it something crazy like GTI-S or something similar.
We got the small details wrong but the concept was correct, Seadoo released a more affordable watercraft in September 2013. The world loved it!
First Ride
I can actually remember the first ride on the Spark. It was December and as soon as we got it off the truck we bust it out of the crate, put gas in it and took it to the lake. It was about 20 degrees out but no one cared because everyone wanted to ride it.
What we noticed when riding it was that we never really got wet nor did we want to get that cold lake water on us. We could easily spin it out and jump our own wakes. The top speed was 50MPH but it felt like 80MPH since the Spark Watercraft is so small.
Fuel Cost
To satisfy the demand for the sparks we actually did a test ride on it for two days. The Spark got a lot more attention than the bigger watercraft. From 10am to 5pm for both days we always had someone out on the spark really putting it through its paces. It cost us about $25 to fill it up and we didn't have to fill it back up til later in the next day.
We're talking about $25 is what it cost to run a Spark from 10 to 5 at full throttle. This is incredibly cheap for a watercraft, a normal size watercraft would be double that.
The Demand
I never expected to sell out of Seadoo Spark but we did and it happen during the summer. The demand for Sparks are huge! The price point is great and since writing this post in February we have sold 10% of our Spark Inventory so far.
My Spark
-3up 90HP Licorice base model with manual reverse added
So I did end up getting a Spark for myself and I love it! Super great on gas, super playful, very light weight, and has everything you need in a watercraft. But this wouldn't be an unbiased review if I didn't talk about the bad parts of the spark.
The bad: I really only have one bad thing to say about the spark, and Seadoo could easily fix it. The seat sucks! The seat is not the most comfortable thing in the world. I wouldn't mind having a seat that has extra padding in it and was a little wider. After about 45 minutes of riding my butt starts to hurt and I end up standing instead.
Pay attention Seadoo!
If Seadoo could make a big touring seat, the Spark would easily be the best watercraft ever made. This is coming from a guy who has ridden every model of Sea-Doo (except LRV and HX) they have ever made.
What I got on my spark
I never got the front storage bucket because I never really need to carry anything. Everything I have either fits in the glove box or in the side access panel for the Saftey Kit. I also never got the reboarding step either. While at the dock I tested to see if I could get on the Spark without the step and I could so I never felt the need for one.
What the spark comes with
The Spark has everything you need such as a Gas Guage, RPM Guage, and Hour meter. You also get a Sport mode and Touring Mode on the 90HP engine Spark. The Spark also comes with a Closed-Loop cooling system that never takes in ocean or lake water so you don't have to worry about corrosion or debris for your engine. The closed loop cooling system also helps with winterizing your spark since the engine doesn't use water to cool it so you don't have to flush the engine out when winter comes. You still have to worry about the exhaust since it does take in water to cool and muffle it.
Check out the Sea Doo Spark Buyers Guide
The Spark does NOT come with a cover but I never bought one. I do recommend one but I never had a problem with fading from the sun for my Sea doo Spark. The Spark is not like a normal boat where its made from fiberglass, which is porous and dries out when exposed to the sun. The Spark is made of plastic which does not dry out and does have UV protectants in it. The cover does keep the leaves and anything else nature will throw at it.